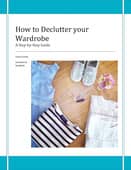 You'll learn the revolutionary system I used to declutter my own clothes. I now live with a capsule wardrobe of 25 items and it's super easy to get ready in the morning!
With this guide you will be able to reduce your wardrobe (to the number of items you are comfortable with) and rock what's left!
Best of all, it's absolutely free!