The cupboards are brimming with stuff, and there's no space in the storeroom. You have tried stuffing things in the drawers, but that's only making things worse. You get frustrated because there's no place in the home where your extra stuff could go.
Then suddenly, you look up, and there's your unfinished attic. Hmm, can some of your things go up there? Well, of course, you can, because what else are the attics for? I mean, sure, using the attic space will be tough, but an organized home is worth the effort, right?
If you're stuck with tons of holiday decorations, seasonal clothing, camping gear, sports equipment, and innumerable other things, I hear you. Today, I'll share five genius attic storage ideas you can follow right now and reduce that mess you've been dealing with. So, without any delay, let's get to work and use that attic storage space the right way!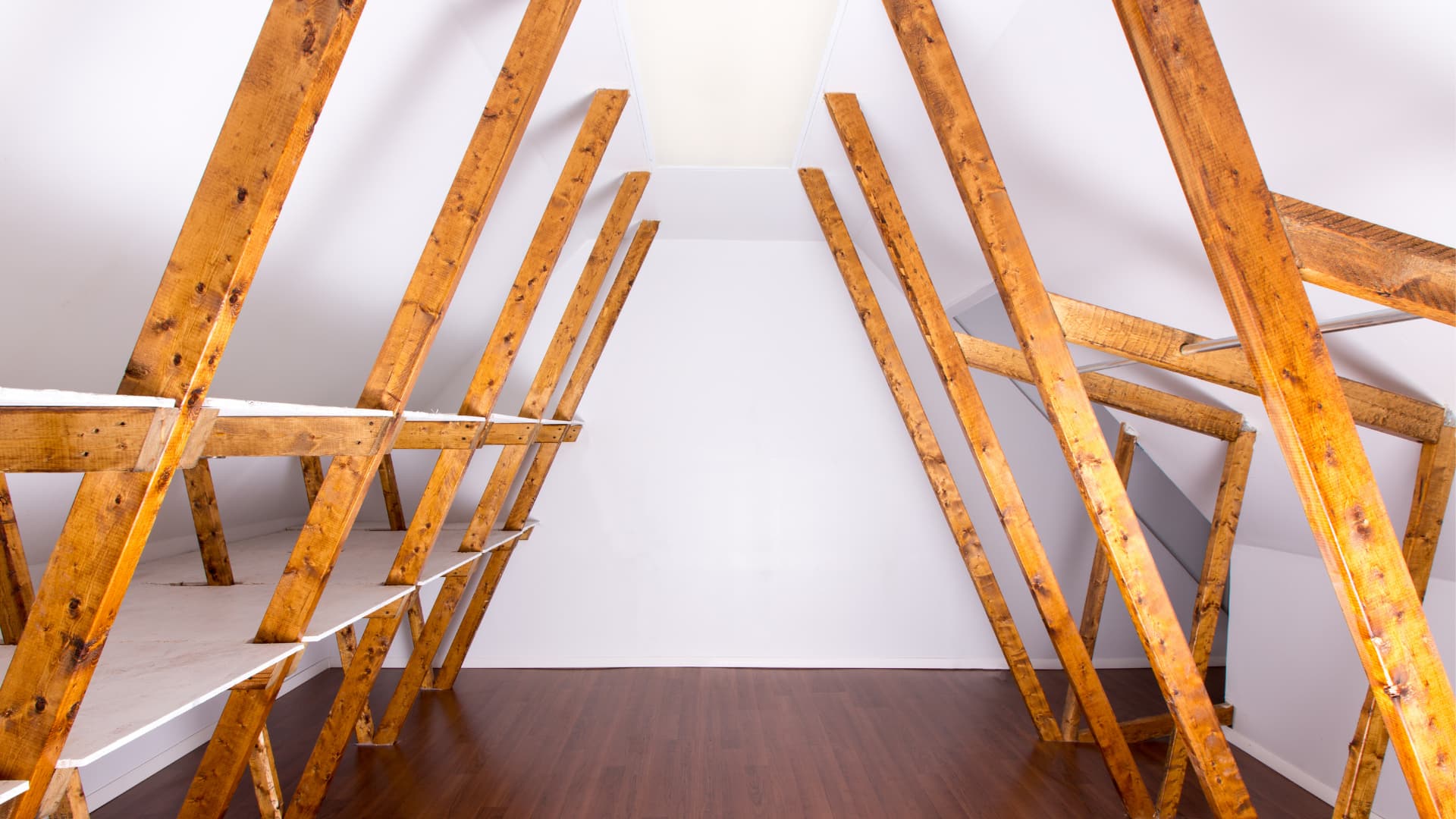 5 Genious Attic Storage Ideas
1. Shelving For Storage Bins and Boxes
Since stacking storage boxes in an unfinished attic is difficult, you need shelves to counter this problem. Measure your attic floor and get installable shelves accordingly. You can easily find plastic shelves and vertical storage options explicitly designed for attics and other narrow spaces.
Once you solve the shelving problem, move your holiday décor items, season clothes, baby clothes, and other items to storage boxes.
Using transparent storage boxes with latched lids is smart because they let you quickly spot and rearrange things. Say you have décor items for different occasions but don't want to jumble them up. You can put these things in separate plastic storage bins, label them, and stack them in the attic. Easy peasy!
2. Utility Hooks for Décor Items and Craft Supplies
Got multiple wreaths, floral items, and banners at home? Stuffing them in storage boxes might not be the best storage solution. You need vertical space to accommodate these items so that they don't get damaged in the process. Install heavy-duty utility hooks in the rafters if you want to store heavy items in the unused space. These hooks can bear considerable weight and free some floor space in your attic.
You can hang bags, storage caddies, and fabric pieces (like curtains and rugs) on these hooks if you don't want to cram them in boxes.
However, remember that you can't hang too heavy items – like a collapsible bag full of kitchenware – on one hook. Divide this weight to keep your attic's insulation and finishing layer safe. Since most sealing materials cannot bear drilling, you can only do this with unfinished attics.
3. Hanging Space for Seasonal Clothes
Winter clothes take a lot of space in our closets, and we only wear them for a limited period. What to do with them then?
Well, certainly you can't dump these clothes in the garage or another awkward space because you have to wear them later. That's when storage spaces like attics and sloped walls enter the scene.
No worries if you have a slanted roof or loose insulation in the attic because you can adjust plenty of clothes in there. Your best bet is to get a movable garment hanger that can bear some weight and adjust in narrow spaces.
Transport your garment hanger up in the attic and hang your clothes on it. Make sure the clothes are properly packed in dust covers to keep prevent any damage or discoloration.
Hang your clothes on the attic hangar, and you're good. Alternatively, you can install a tension rod for clothes and long boots in the attic. This rod is handy for slanted roofs and compact attics when adjusting a whole new clothing stand is impractical.
Always put the seasonal clothes in dust covers before moving them to the attic to keep mice, other rodents, and mold away.
4. Overhead Storage for Cartons
If you don't want to fill the entire attic with storage boxes and bags, installing overhead storage racks is your best bet.
If your roof is straight (not slanted), install sturdy and spacious overhead storage racks on it to double its storability. Cartons, collapsible bags, and baskets can go in these racks if you don't have space on your vertical shelves.
Make sure these stands are sturdy enough to bear the weight of your stuff, so they don't stand in the way if someone walks into the attic. Install stands like this in the corners to keep the attic's walking space free.
5. Floor Space for Suitcases
Say you have filled the vertical shelves and overhead racks with everything you deemed suitable, but there are still a few things left.
My advice is to use the attic floor space for these items instead of over-stuffing the storage units so that you can easily access them. Pack your extra things in a suitcase and leave them on the plywood floor of your attic.
If you often go to the attic to take or store needed items, don't leave anything on its floor to avoid stepping over it.
Instead of dumping things in the attic, organize them like you would arrange things in your living room or playroom. Sure, organizing things will take extra time. But it'll help you quickly find whatever you need and put it back in the designated box.
Final Thoughts
If you're always struggling with your home's storage space, utilizing the attic can reduce some of your tension.
Although you cannot adjust every seasonal or spare item in the attic, it's still great for a plethora of things. From holiday decorations to travel essentials that you take out once a year, your attic can help reduce a lot of the clutter from your living spaces, cabinets and closets.
So, if you want a more organized and tidier home, check your attic's status to know if you can install storage units in it.
If you find it spacious and practical enough, get to work with these attic storage ideas!
FAQs
What Should You Not Store In An Attic?
Photographs, paint, wood furniture, perishables, electronics, music instruments, and delicate clothing cannot go in the attic. Since an attic's temperature changes quite often, the heat or cold spells can damage your fragile items.
How Much Weight Can You Put In The Attic?
If you have converted your unfinished attic into a storage space, make sure it's not overloaded with weight. An attic can hold 10lbs per square foot on average. Don't cross this limit to keep your home safe.
Can You Cover Attic Insulation With Plywood?
Yes, plywood is a good material for covering loose insulation in the attic.
Although getting the plywood installed by professionals is good, consider doing it yourself if you have the tools to screw these logs on.
How Do I Make My Attic Usable For Storage?
Firstly, get some storage units for your attic. This unit could be a vertical shelving unit, a tension rod, or utility hooks, depending upon your attic.
Secondly, move your storable items in durable boxes or dust covers and store them in the attic.
Is It Safe To Put Cardboard Boxes In The Attic?
Although putting cardboard boxes in the attic is safe, it's not a very viable option. There are chances rodents and pests attack these cardboard boxes and ruin your valuables in the process.
That's why you should prefer plastic storage boxes for the attic.  
MORE ABOUT ORGANIZING:
«
Downsizing Your Home? Pros and Cons of Simple Living
»
How To Organize Mugs In 5 Easy Steps