Doing laundry is totally crucial and inevitable to keep things clean and looking tidy in your home. If you have a small laundry room, as I do, you know how hard it is to organize it and keep it tidy. Therefore, I've put together my best small laundry room organization ideas to inspire you!
Small Laundry Room Organization Tips
The laundry room is the area where you usually wash and dry your clothes. Besides a washing machine and a dryer, most larger laundry rooms have space to include countertops for folding clothes, storage shelves, and perhaps even a sewing machine. Where others also contain a large basin, extra sinks or an ironing board. Organizing this room perfectly is the best way to utilize the available space.
Unfortunately, many homes don't have ample space to do laundry and store essential equipment. Don't stress even if you find your utility room relatively small. The good thing is that if you are keen on small laundry room organization, you can achieve good results, keep the small room tidy and eye-catching.
Small Laundry Room Makeover
But first, to be completely honest, for the longest time my laundry room was the ugly little brother of livings spaces in my home. I used to stuff it with all the items I no longer wanted in my living room or one of the bedrooms. At one point, I could hardly walk in without tripping over a stuffed laundry bag or bumping my head (I am 73 inches tall) against a drying rack.
Therefore, something had to change. After all, I usually spend at least half an hour per day in this room. I had to be able to make it look prettier and organize it better. Here you'll find the results of my own small laundry room makeover!
Usually, you can dry almost every piece of clothing in your dryer, if you use the proper settings for the specific type. But every so often, you will need a laundry rack to dry delicate items like bras and underwear, silk and woolen clothing, big sweaters, or other items with straps that easily get twisted or tangled in the dryer.
Using foldable laundry racks is a really good idea if you have a small laundry room. You only fold them out when you need them, and afterward, you fold them in and store them out of sight.
Small Laundry Room Organization Idea # 2 – Use Same Colored Storage Solutions
Color can also help to get your small laundry room organized. For instance, you can use the same colored storage baskets and other storage solutions to create unity in your color scheme. This will bring peace to your eye and therefore, make your laundry room look more organized.
PS. Color-coded storage bins are also great for quickly identifying items, separating different laundry supplies, and designating spaces in your laundry room.
Small Laundry Room Organization Tip # 3 – Use Same Style Decoration
The selection of colors matters when organizing and decorating your laundry room. Here are ideas to embrace:
Add the same color wallpaper or wall art.
Use the same colored glass canisters or jars to store detergents and soaking powders.
Throw down a rug that matches your color scheme to add texture around the washing machine or dryer.
Brighten the laundry room by using white decors and add a dash of black to create a new setting for doing laundry. For a more soothing laundry space, use white and add a light color to the walls or cabinets.
Great colors for decorating your laundry room include black & white, aqua, beige, mint green, gray and yellow.  
Shop These 12 Laundry Room Makeover Ideas on Amazon
Foldable Wall Mounted Laundry Rack
Black And White Laundry Hamper
Black and white storage containers
Black and white storage containers
4 Other Small Laundry Room Organization Ideas
If you are always focused on keeping your home tidy, organizing your small laundry room shouldn't be a daunting task. You will fail if you limit your imagination and don't look beyond day-to-day room organization ideas. Feel free to research widely, seek recommendations, and let yourself be inspired by others!
You shouldn't treat your laundry room as an afterthought like I did for many years. Give it the tender love, care, and attention it deserves by embracing these small laundry room organization ideas.
1) Closet Turned Into Laundry Room
Did you know it is possible to convert a closet into a laundry room? Probably not! A closet is a convenient space if you turn it into a washing-dryer station.
Here are a few tips on how to create a closet laundry room:
Add a convenient folding space by covering a front-loading washing machine and dryer with a countertop.
Ease washing chores by investing in a washer with extra features like a dispenser that puts in the right amount of detergent.
Add a barn door to upgrade the look of the space.
Use fabric bins to hide laundry supplies that are not used daily.
Make use of the sidewalls of your closet. You can hang bins with hooks to hold supplies and clothes.
Use a two-drawer hamper or basket to hold dirty clothes. Sort the clothes by color and label the bins.
2) Spare Powder Room Turned Into Laundry Room
You can also showcase your room organization skills and taste by turning a spare powder room or bathroom into a laundry space with these small laundry room organization ideas:
Get low cabinets and install new cabinetry
Create a shelf to store supplies
Make a little laundry folding, especially on top of the washing machine, and add a storage corner
Update the powder room tile and install new tile.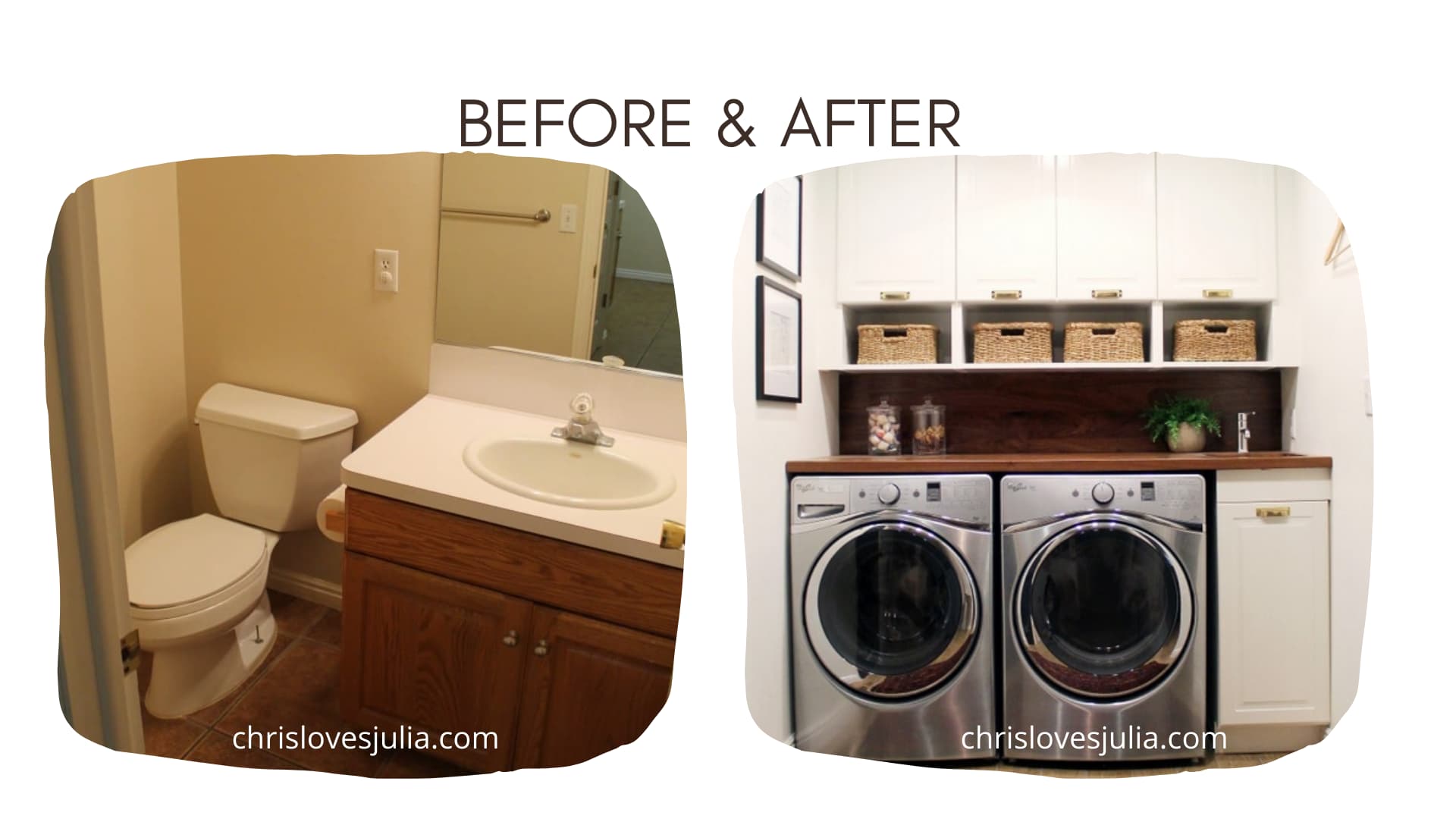 3) Laundry Room In A Bathroom
If your bathroom is large enough, you can also create laundry space in there while still keeping it organized. These laundry room organization ideas will help:
Install the washer and dryer in one corner of the bathroom or under the countertop. But make sure the doors can fully open. If the space is limited, install the washer and dryer on top of each other.
Install a countertop that stretches from one side of the dryer and washer where you can fold your laundry.
Go on and install cabinets above the washing and drying appliances where you will be storing laundry supplies. Your cabinets will house detergents, laundry hampers, and an ironing board.
Install a barn-style door that slides smoothly on a ceiling to separate your laundry space from the rest of the bathroom.
Ventilation is imperative in a combined laundry-slash-bathroom. Install ceiling fans or vents to save on heating bills and reduce mold. A condenser dryer box can also save you extra money.

4) Use A Barn Door To Save Space
Barn doors are a unique choice if you want to organize your laundry room. They don't need extra space to open or close. You can use these doors to keep your laundry room out of sight in style if you have small or combined space. These doors ooze with vintage appeal and will change the look of your laundry space.
You can save more space using your barn door if you:
Add a sliding barn door to maximize space in your laundry room. The doors won't get in the way when doing laundry.
Go mini with barn doors and use them to hide trash cans, a washing machine, or a dryer.
Build and install a side cabinet or table using your barn door.
Use the door to add an attractive splash of color. Paint the barn door in your laundry room with your favorite color.
Create a mirrored barn door and give up the mirror space for other uses.
If you have converted your closet to a laundry room, create closet sliders with your barn door.
Small Laundry Room Organization: In Conclusion
Small laundry room organization shouldn't be a taxing task if you know where you start. There are incredible small laundry room organization ideas you can DIY and change the look of your laundry space (and therefore increase the value of your home). You will be doing your laundry in a stylish and well-organized space.  
MORE ABOUT SMALL SPACE ORGANIZING:
«
The Best Planners And Organizers For 2023 (With Reviews)
»
Brilliant Tips For Kids' Clothes Organization (When You Live In a Small Home)