Ahh…the junk drawer. We all have (at least) one. I don't know how things work in your home, but in my house, the junk drawer tends to take on a life of its own. Every time I try to organize my junk drawer, I find myself asking, "How did THAT get in here?" Thankfully, junk drawer organization has never been easier… as long as you follow these quick and easy tips.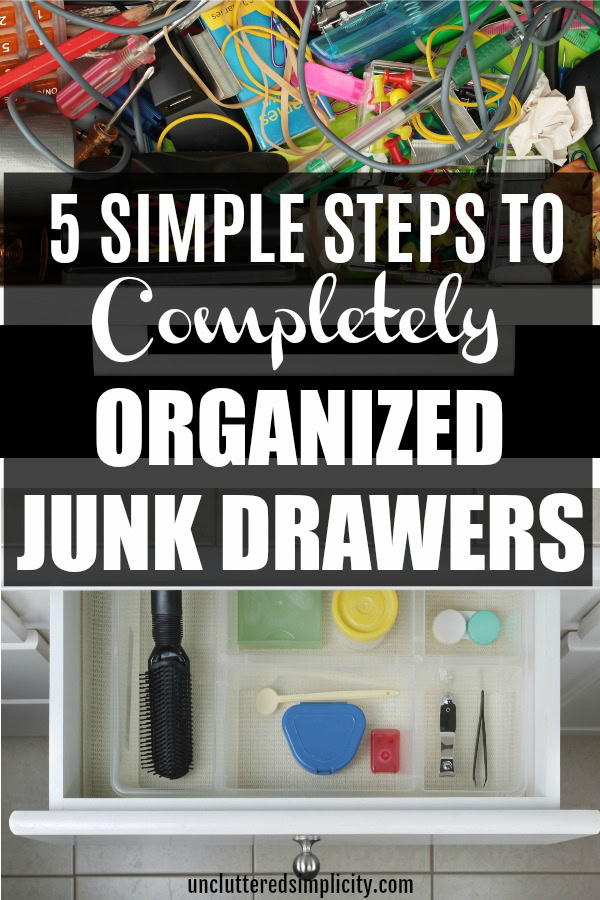 JUNK DRAWER ORGANIZATION IDEAS
THINGS THAT DO NOT BELONG IN A JUNK DRAWER
Raise your hand if your junk drawer currently contains items that belong somewhere else. Uh huh…that's what I thought. Don't worry, even us semi-professional organizers like to cram things inside our junk drawers that have no business being there. Things like:
silverware
dollar store toys
snack foods
cleaning products
makeup
office supplies (beyond a couple of pens and a notepad)
pet supplies (these belong in a cupboard/drawer of their own)
random notes scribbled on scrap paper
personal hygiene products
books/magazines
owners manuals
loose change
old business cards
coupons
medicine
THINGS THAT DO BELONG IN A JUNK DRAWER
That said, there are plenty of items which can be happily housed inside a junk drawer. An organized junk drawer may contain:
a flashlight
matches/lighter
zip ties
scissors
measuring tape
scotch, packing, and duck tape
batteries ( & a tester)
a couple of pens/pencils and a notepad
furniture touch-up pens
lint roller
stain stick (for clothing)
misc screws, nails, wire nuts
small hammer

swiss army knife

(or another multi-purpose tool)
double-sided tape
velcro
take out menus
Related Posts: 
21 Brilliant Ways to Organize Kitchen Cabinets
12 Storage Solutions for Closets That Will Rock Your World
20 Things you Need to Declutter From Your Home
JUNK DRAWER ORGANIZATION IN 5 SIMPLE STEPS
So, just how exactly are you supposed to achieve junk drawer nirvana? I'm so glad you asked!
STEP 1 | DECIDE THE BEST USE/LOCATION FOR YOUR JUNK DRAWER
The first step to quick and easy junk drawer organization is to decide exactly what purpose you'd like your junk drawer to serve. Once you know this, you can then choose the perfect location for your junk drawer.
For example, if you need a junk drawer for random office supplies which you use outside of the office area, first decide which items you'll need to keep in the drawer. Next, pick a spot in your home where you find yourself using these items the most. This might be near the front door, or next to a kitchen counter.
STEP 2 | CLEAR EVERYTHING OUT OF THE DRAWER
If you're trying to organize an existing junk drawer, you'll need to completely empty out the drawer first. Sorry, there's no way around this step. Things always have to get worse before they can get better.
*Tip: Once your drawer is empty, go ahead and give it a quick wipedown and install some contact paper in a fun/pretty print.
STEP 3 | PURGE & CATEGORIZE
Be ruthless in deciding which items need to be in your junk drawer and which items belong somewhere else in your home. Remember, you want to be able to open and close the junk drawer easily as well as know what's inside.
Once you've made your final decisions on which items to keep you'll need to group like items together before moving on to the next step.
STEP 4 | FIND CREATIVE (AKA…CHEAP) STORAGE SOLUTIONS FOR YOUR JUNK DRAWER
Now, it's time for my favorite part of junk drawer organization!
I firmly believe that junk drawer storage solutions should be either (1) cheap or (2) free. There's no need to raid the nearest container store when you can raid your own home for creative junk drawer storage solutions. Chances are, you already have many of these items lying around.
egg cartons-to organize small screws, nails, etc.
small Tupperware containers (with or without lids)
small glass bowls
ice cube trays (silicone or plastic)
silicone muffin cups
muffin tins
teacups
cereal boxes, cut to fit and covered with contact paper
random small electronic/product boxes. (Apple product boxes work well)
washi tape (for wires/cords)
rubber bands/velcro strips (to hold pens, batteries, etc.)
a flatware tray
small dollar store containers
Tip: You can create your own custom junk drawer organizer with random scraps of wood (see how here).
STEP 5 | REGULARLY REPEAT THE PROCESS
When it comes to junk drawer organization, the most important thing you'll need to remember is to NEVER…EVER forget about your junk drawer. Trust me, this is easier said than done!
If you periodically repeat these 5 simple steps (say, every few months or so), you'll never have to sift through piles of randomness in your junk drawer again.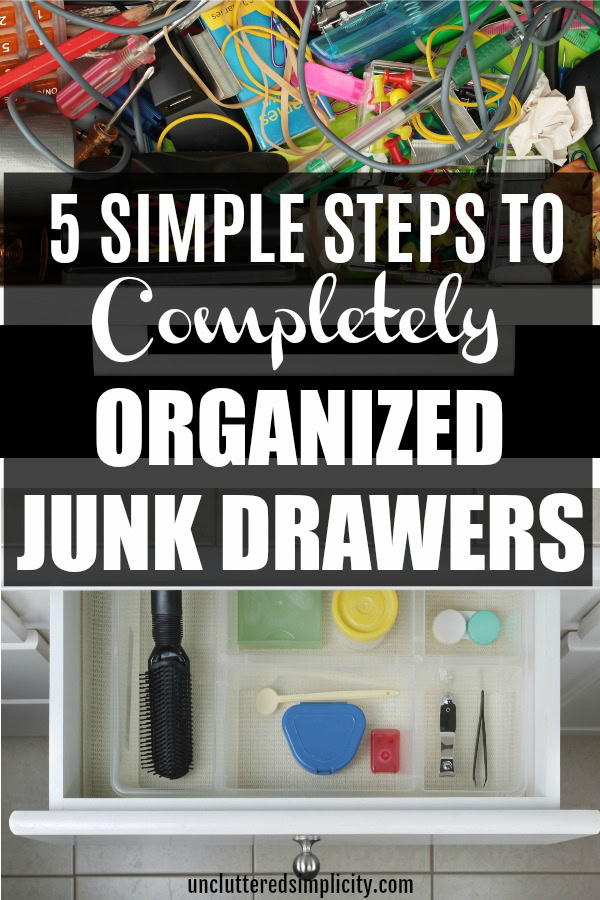 READ MORE:
«
Summer Meal Ideas That'll Simplify Your Life
»
Free Printable 2019 Year At A Glance Calendar To Plan Your Year