Do you tend to throw your food in random cabinets, drawers, and/or shelves all willy-nilly and hope that you will magically use up everything before the expiration date? Only to discover stale, unedible food (somehow) always gets forgotten about at the back of the cabinet… If you're tired of bags of chips raining down on your head every time you open your cabinet doors, check out this list of pantry organization hacks for some serious pantry inspiration.
10 Pantry Organization Hacks You Can't Afford To Miss
Do you long for an organized space to store all of your food but don't have hundreds of dollars to invest in pantry organization? I promise none of these pantry organization hacks will require you to take out a second mortgage!
Create Your Own Pantry
Does your home lack a dedicated pantry? Why not create your own? Convert a nearby closet into food storage, add a set of industrial wire shelves, or invest in a standalone cabinet.
I use this simple storage cabinet to house all of our family's food. It has (4) adjustable shelves so I can store boxes of cereal and 2-liter bottles easily, and it was super simple to assemble.
I love this cabinet so much that I purchased a second one to house all of my office supplies.
Label Everything
True story: when I was organizing my pantry, I excitedly poured all of my baking supplies into individual clear containers and patted myself on the back for a job well done. They looked so neat and pretty all decanted in their little containers.
Then, I realized I should have labeled them as I went to avoid 'white substance' confusion. I quickly realized that flour, powdered sugar, and baking soda all look alike!
Needless to say, I had to taste the contents of each container before applying labels! And, let me tell you, baking soda does not taste good!
Check out these gorgeous farmhouse printable pantry organization labels available in our shop. 
Use Clear Containers
The key to a well-organized pantry is knowing what you have and which products you are running low on.
BTW: I use these clear acrylic containers, in case you were wondering. But, if you prefer glass, mason jars will work well too.
Decanting dry goods in clear containers looks so much better than a bunch of random packages cluttering up your shelves.
*Bonus, clear, airtight storage containers also prevent moisture and bugs, which is essential if you live in the south.
Related Post: How to Declutter, Deep Clean, And Organize Your Kitchen In One Weekend Or Less
Don't Ignore The Doors
When organizing your pantry, make sure to use all of the space available to you!
Add a rack (like this one) to the back of the door to store spices, condiments, snacks, and more.
You can also use an over-the-door clear shoe organizer to keep snacks, tea bags, and seasoning packets within easy reach.
Add A Chalkboard
I love this idea of adding a chalkboard to the inside doors of a pantry. This way, you can keep a running grocery list/menu plan nearby.
You can either paint the inside of the door with chalkboard paint or use this chalkboard shelf liner to make things even easier on yourself.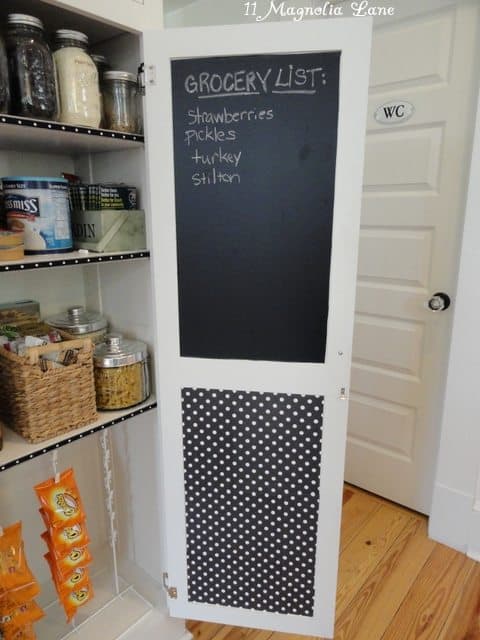 Use Lazy Susans
I just don't think it's fair that these awesome little workhorses are called 'lazy'!
You can use Lazy Susan's in so many home organization projects. Such as:
Under the kitchen sink to organize cleaning products
In the bathroom to organize toiletries
On your desk to organize office supplies
And, of course, in the pantry!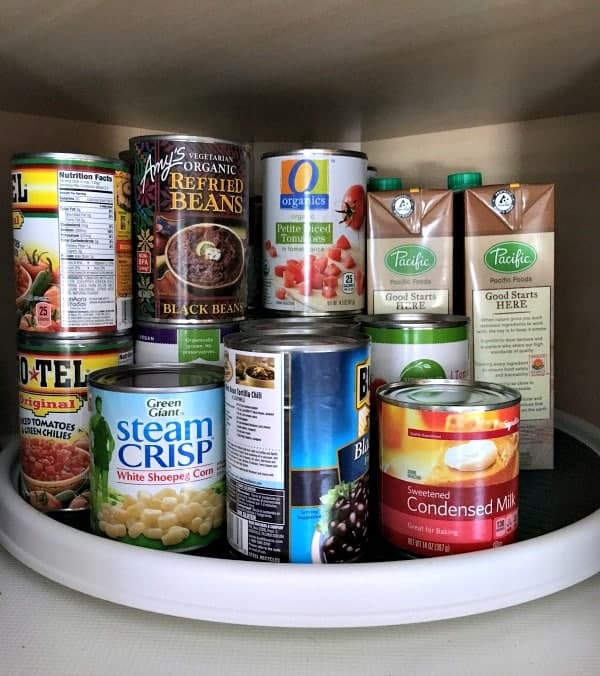 Get a lazy susan like the one shown above here.
Think Outside The Box
When it comes pantry organization, you don't need to limit yourself to products marketed exclusively for the pantry. They are often not the most economical solution, anyway.
For example, you can use magazine holders to hold wraps and baggies and sink caddies like the ones shown below for small packets and snacks.
You can even use laundry baskets to store bulk foods like potatoes and onions!
Raid The Dollar Store
Ah, the humble dollar store. The secret weapon of frugal organizers everywhere!
Check out this well-designed pantry makeover done with bins purchased at the Dollar Tree.
Use Vertical Space
To make the most of any size pantry, use tall, skinny containers, tiered shelves, and stackable storage for canned goods in order to use up all of the available space between the shelves.
Make It Pretty
AKA, beautifully organized pantry eye candy.
If all of these awesome pantry organization hacks aren't enough to motivate you to whip your pantry into shape, keep scrolling for some of my favorite pantry makeovers!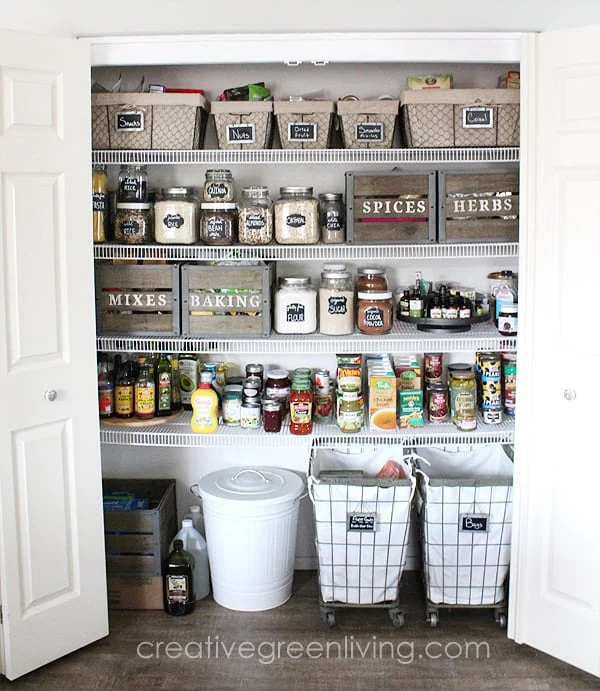 I hope these pantry organization hacks have inspired you to tackle your own pantry!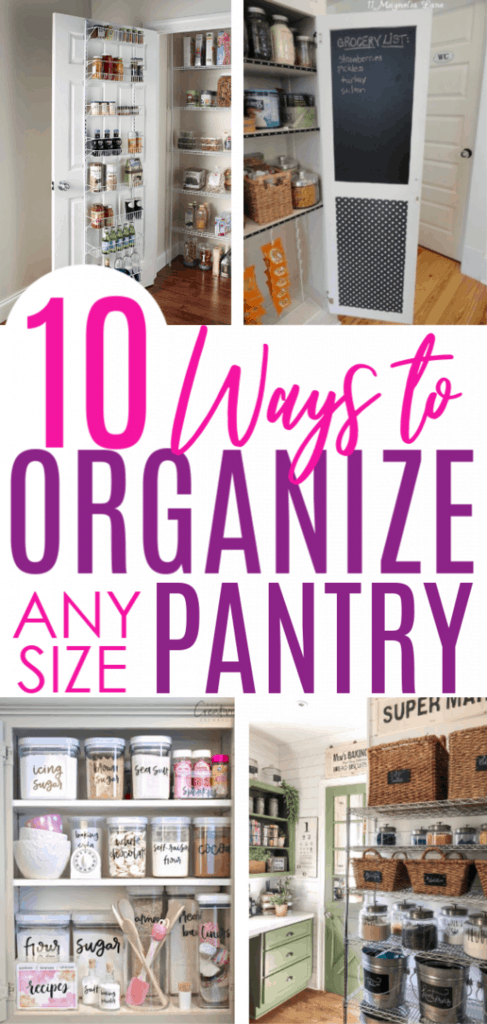 MORE DECLUTTER & ORGANIZE TIPS

«
Organize Closets: 12 Beautiful Ways To Create More Storage In Any Closet
»
The 12 Best Professional House Cleaning Tips That Will Save You Time Energy And Money