Think your house is clean? Think again. Even if you clean your home every day, I'm willing to bet you will find a couple of things on this list which you (regularly) forget to clean!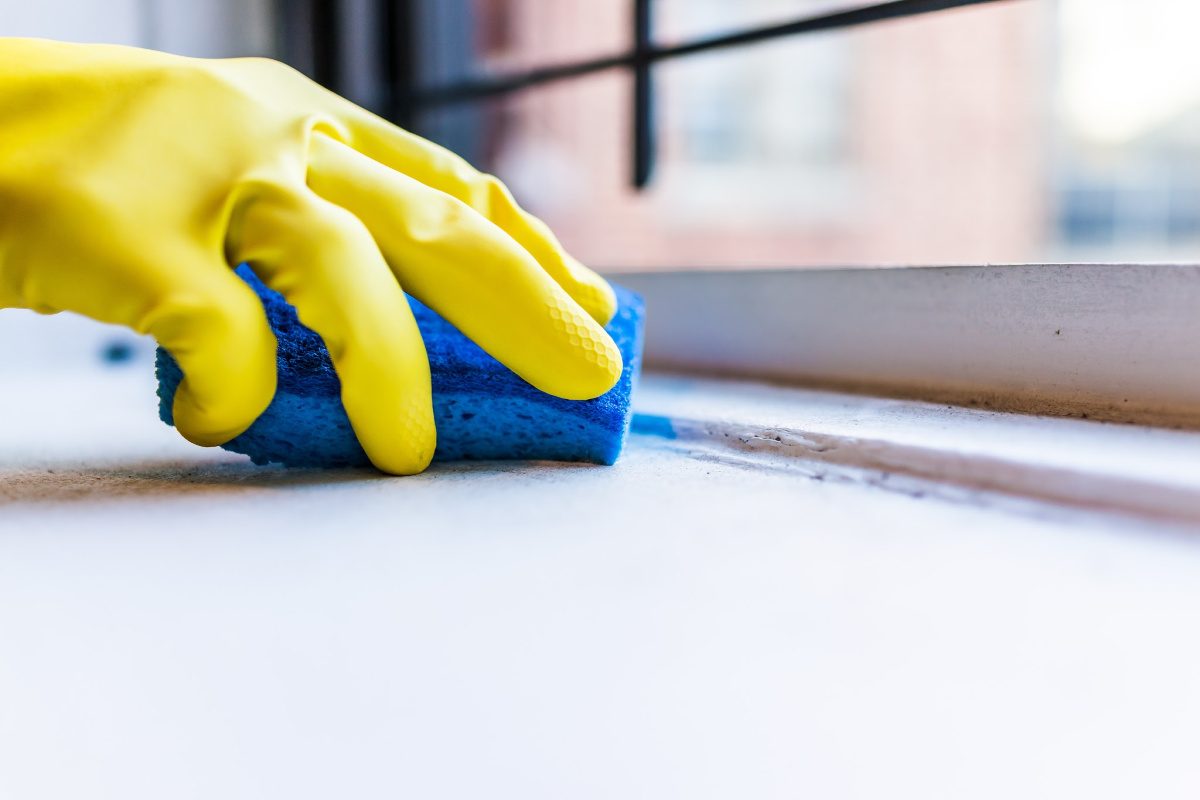 80+ Things You Forget To Clean And How To Clean Them
Don't feel bad, you're only human. It's natural to focus your cleaning efforts on the areas screaming for attention like countertops and floors and neglect the rest. After all, there's only so much time in a day. Am I right?
When you have a little extra time on your hands, you may want to choose a few items from this list and get to scrubbing.
Tip: Add these ideas to our beautiful printable cleaning binder and you'll never forget them again!
The good news is, many of these tasks take just a few minutes to complete. Trust me, you'll feel so much better knowing that you've banished a little more dust and grime from your home.
I've even included a free printable checklist, to help you remember… because who doesn't love a good checklist?
Things you forget to clean in the bathroom
The bathroom is the second germiest place in our home. Did you know, your toothbrush holder actually contains more germs than your toilet seat?
Chances are, you regularly clean the tub, toilet, sinks, and mirrors. But what about these less-than-obvious spots?
The vent fan– Walk in your bathroom and look up. You may be surprised by what you see. Don't worry, a can of compressed air will take care of the dust that's been accumulating on your vent fan for goodness knows how long.
Vanity light bulbs– Keep your head tilted up and have a look at those exposed light bulbs above your bathroom mirror. Turn off the lights, and let them cool. Then, give them a quick wipe down with a damp cloth.
Under the toilet seat– I don't mean under the lid of the toilet seat, I mean under the actual toilet seat itself.
Grab some gloves, cause this is a little nasty. Using a flathead screwdriver, remove the toilet seat from the body of the toilet. Soak the 'screws' in bleach and use an old toothbrush to thoroughly clean where the hinges meet the toilet. Also, be sure to scrub the hinges before reattaching the seat.
The base of the toilet– While you're busy taking apart the toilet, be sure to clean around the bottom of the toilet, paying close attention to the caps that cover the bolts which hold the toilet in place. Also, spray completely around the bottom of the toilet where it meets the floor. Let soak a few minutes, and wipe clean.
The wall behind the toilet– Still on your hands and knees cleaning the toilet base? Good! Don't forget to hit the wall and baseboards behind the toilet before you stand up.
The drains– Drains in a bathroom can be tricky to clean because not all drains are alike. In order to clean most sink drains, you will need to unscrew some of the pipes under the sink. Or, you can just purchase one of these doodads and stick it down the drain, followed by a rinse of drain cleaner.
The toothbrush holder-As I said, the toothbrush holder is the germiest thing in your entire bathroom. It's best not to store it on the counter as a shocking 27% of all toothbrush holders contain coliform (er…poop) bacteria! Pop that sucker in the dishwasher ASAP!
The medicine cabinet– If you store your toothbrushes inside the medicine cabinet…kudos to you! However, you still need to regularly clean and disinfect the inside (and outside) of the medicine cabinet. Also, check out my medicine organization ideas.
The toilet paper holder– Think about it, you usually change the roll of toilet paper while you are using the toilet (or immediately after). So…you may want to go ahead and give the toilet paper holder a good wipe down.
Shower curtain liner (and shower curtain)– Did you know you can wash the shower curtain liner in the washing machine? Then, just hang it outside to dry and the sun will naturally disinfect it.
The garbage can– Even if you line your trash can, you still need to clean it.
Shower door tracks– The tracks of shower doors can get grimy fast. Here's a quick way to get them clean.
The door frame– Specifically, the ledge at the top of the door frame.
Toilet plunger and brush– Because, cleaning tools need to be cleaned too.
Kid's bath toys– Discard toys that have mildew trapped inside. Wash the rest in the dishwasher.
Hairbrushes– Use a comb to remove the trapped hair and soak in a solution of shampoo mixed with warm water.
Bathroom sponges and poofs– Anything that cleans you should be regularly cleaned.
Things you forget to clean in the kitchen
Kitchen sponges, dishcloths, and hot pads– Did you know the humble kitchen sponge is the germiest thing in our homes? That's right, something you clean with every day actually contains more germs than the toilet seat.
Tip: To neutralize the germs on your kitchen sponge, just wet it and pop it in the microwave for 30 seconds. Be sure to let it cool a bit before you take it out.
The vent hood and filters– If you haven't cleaned the underside of the vent hood in a while (or NEVER…gasp), you'll need a good degreaser like this one. You can wash the vent filters on the top rack of the dishwasher.
The oven racks– Sure, you set (and forget) the automatic cleaning cycle on your oven a couple of times per year; but when was the last time you cleaned the oven racks? You did remove them before you set the cleaning cycle…right?
The inside of the icemaker– Not to gross you out or anything, but I recently stuck my hand up the icemaker shoot in my freezer and I did NOT like what I found.
Inside of the dishwasher– Here's a handy step-by-step guide to cleaning the inside of a dishwasher.
The garbage can– Here's how to clean the inside of a garbage can without even touching it.
Drag the empty bin over to your kitchen sink. Add a little bleach to a spray bottle and give the inside of the garbage can a good spray. Let sit 15 minutes.
Then, rinse out the inside of the bin using the spray nozzle from the sink. Empty into a nearby toilet and allow to dry completely before placing a new trash bag inside.
The garbage disposal– The best way to clean the garbage disposal is to first make sure it's off/unplugged. Then, using an abrasive sponge with a few drops of dish soap, thoroughly scrub the rubber thingy surrounding the drain.
Next, place 1/2 cup of baking soda into the drain. Add 1/2 cup of cleaning vinegar. Plug up the drain and let sit until the bubbling stops.
Finally, reach down into the disposal and use the sponge to wipe off the metal gears. Plug the unit back in and flush with hot water (while running the disposal) for a few minutes.
Drawer organizers (especially silverware trays)– Remove silverware, wipe down the drawer organizer, dry, and put silverware back. Easy-peasy.
Under the appliances– This one requires a little more muscle. But, trust me, you'll be glad you did it. Do you know how much food ends up on the floor and under your stove/refrigerator?
Well, rodents do! That's why the number one place for mice to enter the home is near the stove and/or refrigerator.
The top of the refrigerator– Give it a quick wipedown with some all-purpose cleaner and a rag.
The back of the refrigerator– You can take care of this when you pull the fridge out to clean underneath it. Quickly wipe down or vacuum the back of the refrigerator paying close attention to any exposed coils.
The coffee maker– The average coffee maker harbors more germs than a toilet seat. Let that sink in for a moment. Then, wash any removable parts in hot, soapy water.
To sanitize and descale the inside, fill with 1/2 vinegar and 1/2 water. Let sit for 30 minutes, then run as though you're making a pot of your favorite brew.
Finally, run (2) cycles of plain water through the machine and thoroughly dry with a clean cloth.
The microwave vent– Clean the vents on the microwave with an old toothbrush and hot, soapy water.
The outside of the cabinets above the stove– This is another place where grease and grime like to accumulate. You may need to use a degreaser here.
The bottom drawer of the oven– Give it a quick wipe down to remove any stray food crumbs.
Under the cooktop (in older stoves)– Lift up the top of the range (like a car hood) and scrub. Magic erasers are really helpful here.
Range pans (older stoves)– Once a month or so, remove the range pans and run them through the dishwasher to clean.
Inside the toaster– This is certainly one area that I am guilty of neglecting. Unfortunately, pulling out those little trays on the bottom of the toaster isn't enough. You'll also need to turn it upside down over a sink or trash can to coax the breadcrumbs out.
Dish racks– Spray with a multi-purpose cleaner and wipe dry.
Things you forget to clean in the rest of the house
Legs and edges of the dining room and kitchen tables– Sure, we (usually) remember to clean the tops of the tables and seats of chairs, but what about the legs and edges?
Between the seat and back of dining chairs– While you're busy wiping down the table and chair legs, take a look at the space between the seat and the back of the chair. Grab a butter knife and run the dull side of it through the gap to dislodge trapped food particles.
Inside the washer– Spray the interior seals with vinegar/water or bleach/water to disinfect and eliminate mold and mildew. Some newer washing machines have a built-in wash cycle.
If yours doesn't, simply add a cupful of bleach or vinegar to the detergent reservoir (or directly to the tub), and run the empty machine on the strongest setting using the highest water temperature possible.
When the cycle is finished, use a clean cloth to dry out the inside of the machine (including the seals) Leave the lid open for a bit to allow it to dry completely.
Inside the dryer (lint trap and vent)– Dirty dryers are a HUGE fire hazard! So if you do nothing else on this list, please clean the lint trap and dryer vent regularly!
This handy vacuum attachment will reach far into your dryer's vent (much like a plumber's drain-clearing tool) which will allow you to access areas your vacuum nozzle attachment cannot.
*Did you know that dryer sheets create a film on your lint trap which reduces the efficiency of the dryer?
Laundry hampers– Easy to clean, simply spray and wipe out.
Underneath furniture– You can either move the furniture out of the way and vacuum/mop or, use the nozzle attachment on the vacuum to reach those dust bunnies.
Under and in between cushions of furniture– Each and every time I clean in between the couch cushions, I am amazed at what I find. From loose change to hair ties to knives (yes knives) I've seen it all.
Under area rugs– It's just as important to clean under area rugs as it is to clean above them.
Window sills– Vacuum dust from the ledge and wipe with a damp cloth.
Baseboards– Use dryer sheets to dust baseboards. Dryer sheets repel dust, so you won't have to clean your baseboards as often.
Window tracks (you'll have to open the window for this one)- Here's a comprehensive guide to cleaning window tracks.
Curtain rods– Most of us remember to toss our curtains in the wash a couple of times per year. But what about the curtain rod itself?
Blinds– For really dirty blinds, remove them from the window and soak in a bathtub with a little dish soap (Dawn works best), a gallon or so of vinegar, and hot water.
Soak for 30 minutes, and wipe. Either dry with a clean cloth or lay the blinds outside in the sun.
Tip: DO NOT soak wooden blinds! Instead, use Murphy's Oil or Pledge to clean.
For semi-dirty blinds, clean in place using an old sock and warm, soapy water. Wipe down each individual slat (starting at the top and working your way down) for the best results.
Vertical and cloth blinds are a bit trickier to clean. Some may require dry-cleaning. You may be able to use the upholstery attachment of a carpet/steam cleaner to clean them, however, check with the manufacturer and do a spot-test first.
Walls– Wipe clean with a damp cloth. Remove smudges with a magic eraser.
Ceiling fans (BOTH sides of the blades)– Did you know you can easily dust both sides of the blade on your ceiling fan at once with an old pillowcase? Yep, simply insert the open end of a pillowcase over the blade, apply pressure to both sides, and drag to the end.
Light fixtures– Remove the cover from base, empty out any dead bugs, and wipe with a damp cloth before replacing.
Light bulbs and shades in floor and table lamps– Wipe cool lightbulbs with a damp cloth to remove dust. Vacuum fabric lampshades or brush off with a clean paintbrush. Wipe clean with a solution of dish soap and warm water.
Light switches and outlets– Use an antibacterial wipe to disinfect surfaces that are frequently touched.
Doorknobs– Again, an antibacterial wipe works best here.
Doorframes– Use an extendable duster to reach the tops of doorframes. Wipe fingerprints and smudges off of doorframes with a magic eraser.
Real (and fake) plants– You can clean smaller (live) houseplants by giving them a quick shower. For larger houseplants and fake plants, simply wipe off dust with a damp cloth, or blow off with a hairdryer set to 'cool' setting.
Behind the tv– You can use cleaning wipes for electronics for tv's, computer screens, tablets, and more.
Remote controls– Regularly disinfect remote controls with a disinfecting wipe.
Keyboard and mouse– Disinfecting wipes work well for computer keyboards and mouses too. For those tight spaces between the keys on a keyboard, simply wet a q-tip with rubbing alcohol and gently wipe clean.
Cell phones– Use a microfiber cloth sprayed lightly with a mixture of 50/50 rubbing alcohol and water. Dry completely with a clean microfiber cloth.
Air filters and vents– Replace air filters every 3 months. If you have pets, you may want to replace the air filter every other month.
To clean air vents in your home, you can either leave them in place or remove them for a more thorough cleaning.
If leaving them in place, use a butter knife covered in a damp cloth to clean between the slats.
Or, using a screwdriver, remove the vent covers and soak in a bathtub filled with hot, soapy water. Remove, wipe dry, and reinstall.
Handrails– Spray with a disinfecting cleaner and wipe with a damp cloth.
Pet bowls– Most pet bowls can be washed in the dishwasher.
Fireplace– It's best to hire a professional for this one.
Pillows (including throw pillows)– Most bed pillows can be washed in the washing machine and dried in a dryer with dryer balls to maintain their shape. Wash two at a time in order to balance out the machine.
Remove covers from throw pillows and wash in the washing machine. Hang to dry. *Always check the label for washing instructions.
Baby toys– Some plastic baby toys can be cleaned and sanitized in the dishwasher (top rack). Cloth baby toys can be washed in the washing machine.
For all other baby toys, wipe clean with a solution of vinegar and water.
Reusable shopping bags– Toss in the washing machine and hang to dry.
Tops of picture frames and mirrors on walls– Dust with a clean, dry (or slightly damp) cloth.
Vacuum cleaner– Yep, even your cleaning supplies need to be cleaned!
To clean a vacuum cleaner:
Remove canister, empty, and wipe clean with a damp cloth (or change vacuum bag)
Remove the filter and shake to remove debris. If it's washable, either run under warm water until water runs clear or wash on the top rack of the dishwasher.
If possible, remove brush roll and carefully cut loose any hair and threads then pull free.
Wipe the outside of the vacuum with a damp cloth.
Brooms– Remove any hair and dust trapped in the bristles by hand. Gently wash with warm, soapy water and rinse well. Allow the broom to dry completely before using.
Mop– Removable mop heads can be washed in the washing machine.
Keys– Clean with vinegar and water.
Workout equipment– Wipe clean with a damp cloth. Use Clorox wipes on handles, knobs, and switches to disinfect.
Things you forget to clean outside
Patio furniture– The best way to clean outdoor furniture is with a scrub brush and a mixture of dish soap and warm water. Elbow grease is key here.
Grill– Grab yourself a good grill brush and scraper, some hot, soapy water and scrub. Rinse well and let dry.
Garage door opener– Easy to clean, just wipe it with a damp cloth.
Outside garbage bins– I know, I know, outside garbage bins are supposed to be dirty! However, when it starts smelling bad, you may want to spray the outdoor bin with some bleach and a strong hose and leave it open to dry in the sun.
Gutters– Gutters should be cleaned a couple of times a year. Scoop out any leaves and debris and rinse out with a hose.
Window screens– Depending on how dirty your screens are, you may be able to get away with a quick wipe down.
If your screens are really grimy, remove from the window, spray with warm, soapy water, scrub with a soft-bristled brush, rinse thoroughly, and replace.
Doorbell– Wipe with a disinfecting wipe.
Front door– Spray with a multi-purpose cleaner and wipe. Don't forget the kickplate and deadbolt!
Don't forget to organize your cleaning tasks with our 30-page printable cleaning binder!
Did you find a few things you forget to clean all of the time on this list? It's okay, a little dirt never hurt anybody!
Grab the checklist and incorporate some of these ideas into your cleaning schedule, or give the list to your cleaning person. Either way, your home will be a little cleaner than it was before!
Read More: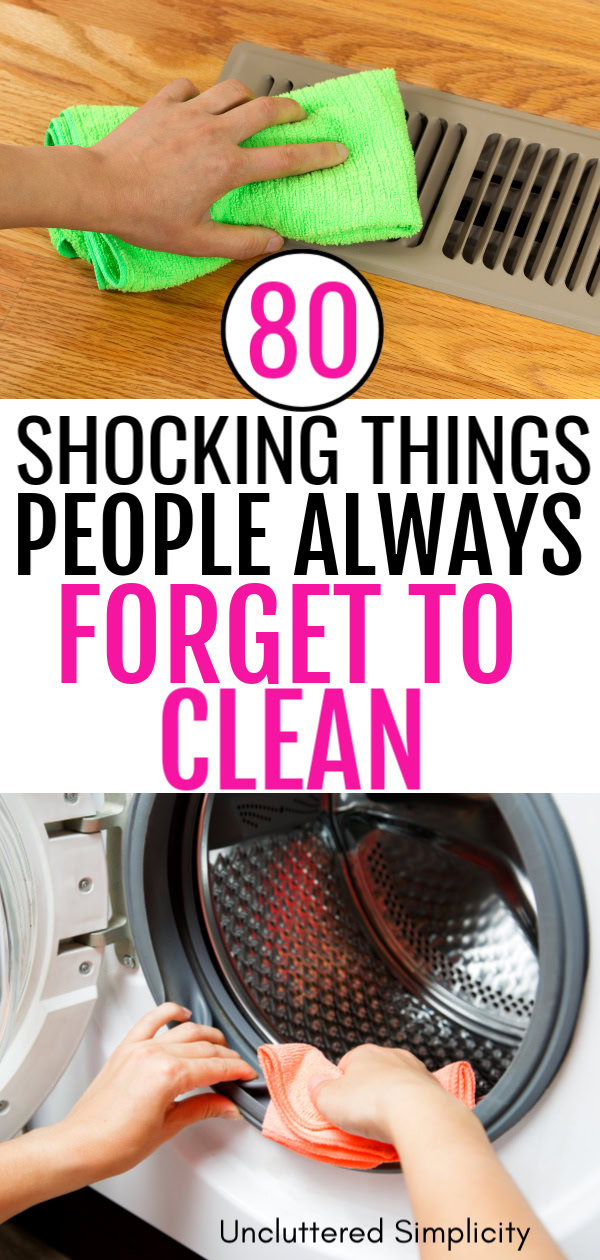 «
20 Small Bathroom Storage Ideas That Will Crush Your Clutter
»
How To Disinfect And Sanitize Your Home To Stop The Spread Of Viruses