Nerf guns are a blast to play with, but they can quickly become a nuisance if you don't have enough storage space for them. If you don't want toy clutter to cram your space further, I hear you.
My son recently received multiple nerf guns from his cousin and first I did'nt know where to store them. We live in a small home and I have only so much storage space. Therefore, I did some research and in this guide, I'll give tips on the best ways to store your nerf guns so they're easy to access and take up minimal space. And the best thing is, building a nerf gun storage solution isn't tricky if you have the right supplies!
In this quick guide, I'll enlist the smartest nerf gun storage ideas so you don't struggle with displaying your kid's collection.
Let's craft some DIY storage hacks and blast some foam bullets without facing any outdoor toy clutter!
1. Pegboard For Nerf Guns
Are you tired of your nerf gun collection taking over the room? Do you trip over nerf guns every time you walk in the door?
If so, it's time to get organized! One of the best ways to organize your nerf gun collection is a pegboard storage system.
A nerf gun storage pegboard will hold your entire collection without extra effort. You can use the pegboard to create different sections for nerf guns to enjoy ample storage space. Or you can use the pegboard to arrange your nerf gun collection by color.
The possibilities are endless. Not only that, but a pegboard is also a great way to display your nerf gun collection. Friends or family members who are also into nerf guns, will be impressed by how organized and well-displayed your family collection is.
Another awesome thing about using a pegboard to store your family nerf gun collection is that it helps you save space. If you have a small room, you know that every square inch counts.
By hanging your nerf guns on a pegboard, you're freeing up valuable floor space so that you can use your room for other things.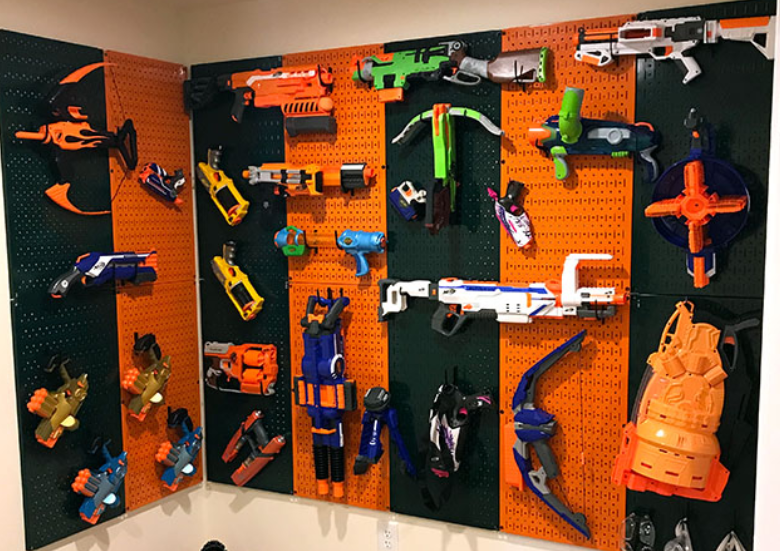 Source: Gunpegboard.com
2. A Wall-Mounted Shelf For Nerf Guns
A wall-mounted shelf is one of the best gun storage options for nerf guns and other items because it helps prevent clutter.
Here are some tips for using this inexpensive storage space option:
Find the perfect spot for your shelf – the ideal spot for your shelf will depend on the size of your collection and the available space. It should be in a place where it can be easily seen and accessed but out of the way enough so that it doesn't take up too much space.
Once you've found the perfect spot, mark off the area where the shelf will go with painter's tape. This will help you to avoid making any mistakes when hanging the shelf.
Drill holes into the wall at the marked-off area. These holes will be for the screws that will hold the shelf.
Hang the shelf using screws and wall anchors. Wall anchors are especially important if you hang the shelf on drywall, as they will help keep the shelf from coming loose over time.
Begin arranging your Nerf gun collection on the shelf. Start with larger items first, then fill in with smaller items.
Arrange the guns in a way that is both aesthetically pleasing and functional for you. Remember that you can always change the arrangement in this toy storage solution later.
Hang any accessories or extra ammo on a pegboard using pegs or hooks. This will help to free up space on the shelves and make it easier to grab what you need when you or a family member is ready to play.
Enjoy your newly organized nerf gun collection! Now that everything has its designated spot, it will be easy to find what you're looking for and keep your collection looking great.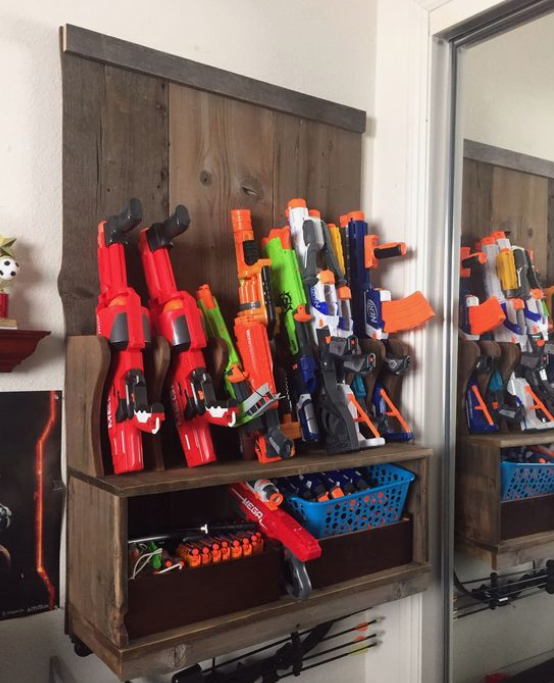 Source: Mike de Lambert
3. Over-The-Door Rack Storage For Nerf Guns
If you have an ever-growing nerf gun collection that needs some serious organization, a pegboard or shelf might not make the cut.
You'll need affordable extra storage to golf these accessories. And that's when a hanging over-the-door rack will help you. This is an inexpensive and excellent option for organizing your family nerf gun collection. Here's how you can create additional space for storage using a hanging rack:
Hang the over-the-door organizer on a door in your home after ensuring that the door is sturdy enough to support the weight of the organizer and the nerf guns.
Place the nerf guns in the organizer's pockets to keep them organized and easy to find when you need them.
Enjoy your now organized and easily accessible nerf gun collection. This vertical space will hold your nerf darts and help expand the overall storage space.
Using an over-the-door organizer is an effortless nerf gun storage solution that provides spacious storage space without costing a lot.
The best thing? You can easily move these hanging racks and effortlessly organize your nerf gun collection. They are affordable and easy to use.
Plus, they keep your collection of nerf guns within easy reach. So, if you want to categorize your nerf gun collection, consider getting this one of the best toy storage ideas now.
Source: Southernstateofmindblog.com
4. A Wire Rack For Nerf Gun Storage
A wire rack is one of the top gun storage ideas, especially when you want the entire frame to be in one place. If you're a true nerf gun collector, a wire rack will help display your prized collection, keep it ventilated, and avoid clutter.
Here's a closer look at the benefits of using a wire rack for your nerf gun collection.
A wire rack solidly supports your nerf gun collection, you don't have to worry about it falling. This support factor comes in handy if you have a large collection, as the weight of the guns can cause them to topple over if they're not properly supported.
This type of storage wire rack will keep your guns easy to access and help display your toys with the least effort.
Another benefit of using a wire rack is that it provides ventilation. This is important because nerf guns can sometimes emit unpleasant smells when stored in enclosed spaces. By using a wire rack, you can ensure that your collection stays smelling fresh.
If you have guests over, they'll be able to see your guns on display and admire your handiwork. You can add some decorations around the rack to make it stand out and enjoy the additional storage
.
Source: Ourlivelyadventures.com
5. Nerf Gun Storage Drawer Or Closet
If you want long-lasting storage space for your nerf guns and 3D pieces, a wooden storage closet or drawer is a brilliant idea.
A gun storage rack is the perfect storage solution for your nerf guns because it will help keep them organized and out of the way.
Nerf foam darts can easily be lost, so having a designated space for them is key. A drawer or cupboard will protect your guns from being damaged. And, if you ever need to access your nerf guns in a hurry, they'll be right there, ready to go.
Another advantage of using a designated drawer or cupboard for storage is that it looks great. Sure, you could throw your nerf guns into a toy box or accessible storage bins, but that would be a bit of an eyesore.
For example, a wooden drawer or storage closet will add style to your home while still being functional. Plus, it will give you additional toy storage space for things like ammo and accessories.
Source: Mumsgrapevine.com.au
(Buy on Amazon)
Rounding Up
By following the tips and tricks in this guide, you'll be able to organize and store your nerf gun collection inexpensively and effectively.
By using display shelves and storage containers, you can keep your collection organized, safe, and within easy reach. These inexpensive storage ideas can save money and help you and your children have more fun with your nerf gun collection.
So don't wait any longer; get started organizing your collection today!
FAQs About Nerf Gun Storage
How Do You Organize Nerf Darts?
The best way to organize nerf darts will vary depending on how many darts you have and how you plan to use them. However, here are a few ideas to get you started:
If you have many nerf darts and don't use them often, storing them in a container or box might make sense. This will keep them organized and protected from damage.
If you use your nerf darts frequently, it might be helpful to organize them into different categories (for example, long distance, close quarters, etc.) to quickly find them.
What Can I Use To Hang Nerf Guns On The Wall?
You can buy a pegboard and then use pegs or hooks to hang the guns. Another option is to use a wire rack. You can use clothespins or magnets to hang the guns. Finally, you could also use a shoe rack and use zip ties or hooks to hang the guns.
MORE ABOUT HOME ORGANIZING
«
How To Organize Board Games: Best Board Game Storage Ideas
»
How To Organize Baking Supplies - Handy Tips