What's more fun than gathering around a game board with friends and family? Whether you're playing classics like Monopoly or newer options like Settlers of Catan, getting everyone ready to play is half the fun.
This guide will give you practical board game storage ideas to easily access your game pieces. So gather your buddies, roll the dice, and dive into this all-in-one board game organization guide that can be a true game-changer (see what I did there)!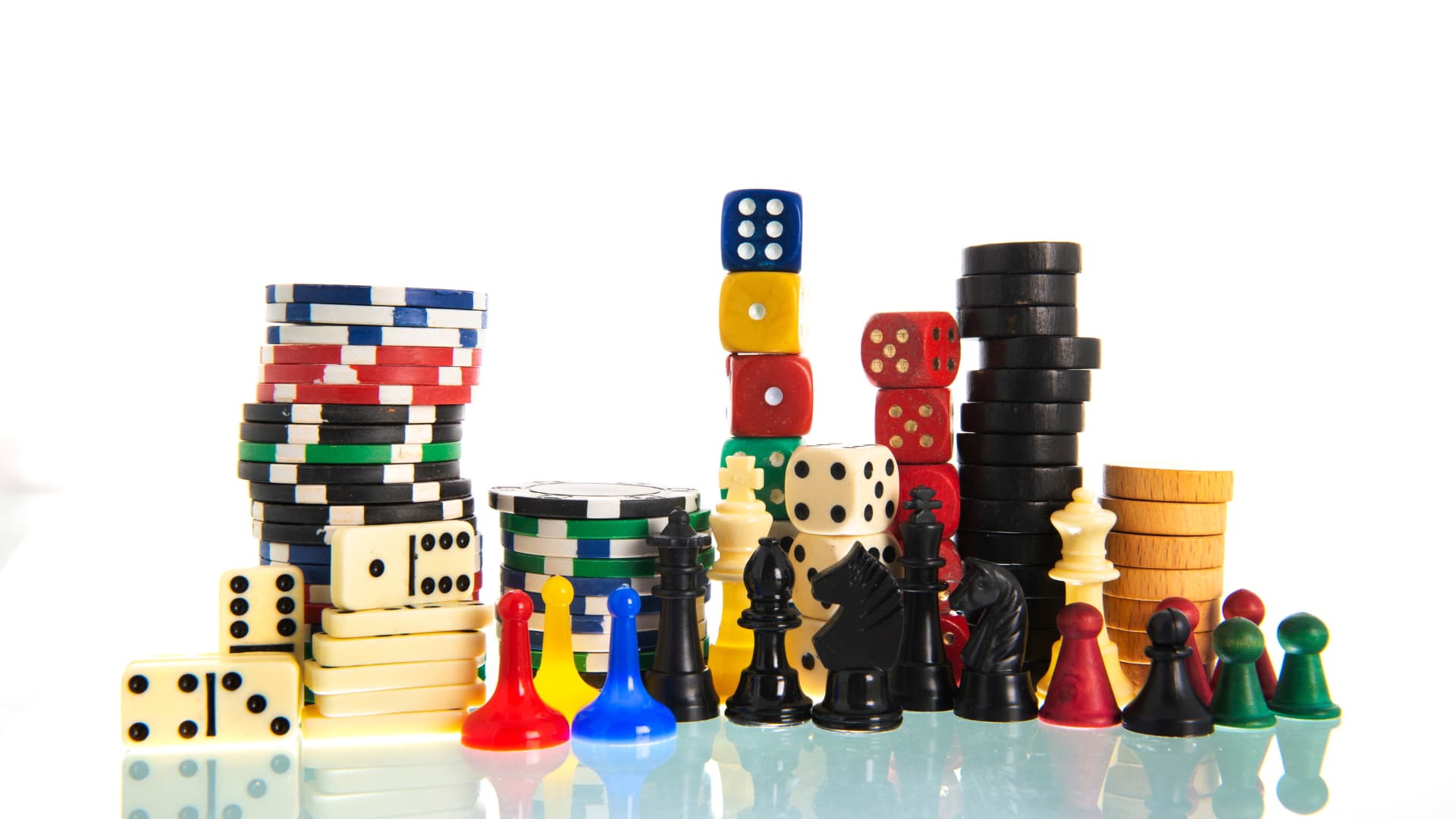 Benefits of Board Games
Most families have a board game collection gathering dust on a shelf space somewhere. Maybe they were given as gifts or perhaps you picked them up on sale.
Board games can help improve communication skills as players take turns talking and listening to each other. They also promote social interaction and cooperation as players compete to win the game.
In addition, family board games can help develop critical thinking and problem-solving skills as players have to strategize to win. And finally, card games are just plain fun! These party games can provide a much-needed break from electronic screens and offer a chance for quality family time.
So, wait no longer to dust off your board game boxes and try them. You may be surprised at how much fun you have at a family game night!
Declutter Before Organizing
Now that you know the benefits of board games, you may reconsider tossing them all out. However, purging some games can be very beneficial to your organizing process.
If you're a board game enthusiast, you probably have more games than you have space to store them. And if your collection of board games is starting to feel cluttered, it's time to tidy up the game shelf.
The first step is to collect all your board games and decide which ones you no longer want to keep. If there are any games that you haven't played in years or that you don't particularly enjoy, put them aside.
Divide Into Categories: Keep, Donate, Sell
When it comes to board games, everyone has different preferences. Some people like fast-paced and action games, while others prefer kids' games.
Regardless of your game board preferences, there comes a time when your avalanche of games needs to be organized. One way to do this is to divide your games into three categories: keep, donate, and sell.
The keep pile of your game organization should include any games you love and play regularly. These are your favorite board games that bring you joy, and you can't imagine getting rid of them.
The donate pile should include games you don't play often but are still in good condition. When you go through your entire board game collection, you'll likely find some board game pieces that you don't play with anymore. You can donate these games to local schools or charities.
The sell pile should include any games you no longer want and are still in a good condition. Depending upon your convenience, you can sell these board game stacks online or via yard sales.
Organize What's Left
Organizing your game collection can be daunting, especially if you have a lot of larger board games, but it's important to do it from time to time. This may seem tough, but it doesn't have to be.
Therefore, once you've decluttered your collection, you can start sorting out storage ideas for your board game shelves.
One option is to invest in some dedicated board game storage solutions, such as a cabinet, game closet, or shelving unit. Another option is utilizing repurposed items, such as recycled cardboard game boxes or plastic bins.
Whichever method you choose, label the game bags, so your board game storage space looks tidy and you know what's what.
1. First, take inventory of what you have. Make a list of all the games, including expansions and accessories. This will help you determine what storage solutions you'll need.
2. Next, consider how you want to organize kids' games. There are many ways to do this, but some popular options include genre, age group, or gameplay style. Whatever method you choose, make sure it works for you.
3. Finally, once you've decided on an organization system, it's time to start putting things away. Here are some board game organizer choices for you:
7 Best Board Game Storage Ideas
1. Using Mesh Pouches
One way to keep your collection organized is by using mesh pouches. You can use these pouches to store all of the small pieces that come with lots of board games, like dice and tokens.
These pouches will help you keep track of all the bits and prevent them from getting lost in your pile of games. Also, you'll know exactly what's what.
2. Using Clear Lidded Containers
Another affordable and mess-free storage solution is to use clear containers. This will allow you to see all the pieces stored inside, which can be helpful when looking for a specific piece.
You can easily find these awesome plastic containers at the dollar store and arrange them according to your game collection. These awesome containers are easy to manage and look sleek on your shelf unit.
3. Using A Photo Box
If you want to store your favorite games more decoratively, you can use a photo box. This will allow you to see the games and protect them from dust. You can find photo boxes at most craft stores.
You can also organize your photo boxes by type. For example, you can keep strategy games in one box and family games in another.
4. Using A Bookcase
If you have a lot of board games, you may want to consider using a bookcase to store them.
A sturdy bookcase is best for TONS of card games and traditional board game boxes. This bookcase will look tidy and add to your game room's ambiance.
5. Using A Cabinet
Another storage solution for board games is to use a cabinet. This will give you more storage space, and it will also protect your games from dust. You can find cabinets at most furniture stores or build one after some planning.
Adjustable shelving units will suit you if you're good with craft projects and have the supplies to make your own storage space for games.
6. Using A Hanging Closet Organizer
If you want to save space, you can use a hanging closet organizer. This will allow you to store your games in a way that takes up less space.
Hanging closet organizers are ideal for card game storage because they're lightweight and don't take up much space in your closet or other vertical storage solutions.
7. Using A Cutting Board Rack or Dish Rack Plate Holder
If you're looking for a DIY board game storage idea, a cutting board or dish rack plate holder should be your pick. This rack will store your games practically and prevent clutter from your shelving units.
Or, use your DIY skills and build a rack holder for larger games that might not fit in a plastic storage container.
Wrap Up
While there are many ways to organize a board game collection, investing in practical storage solutions is the most effective. A storage system can keep your games organized and easy to find, saving you time and frustration.
You may want to invest in a system with multiple shelves or drawers if you have a large collection. For a smaller collection, a simple box, hall closet, or rack may suffice.
Whatever method you choose, make sure to take the time to label each game so that you can easily find it when you want to play.
With a little effort, you can keep your board game stocks organized and ready for action.
MORE ABOUT HOME ORGANIZING:
«
8 Simple and Easy Tips on How to Organize Scarves