Sure, the printer is an office must-have, but not everyone likes to display this clunky fellow. Do you have a theme to maintain, or do you feel anxious seeing a wicked display of tangled wires, and are you looking for a solution?
Assigning a discrete cabinet or rack to hide a printer can enhance your (home) office's visual appeal and make it look real tidy and organized.
But the main question is, how do we hide a printer and keep it close and practical simultaneously? If you remove the printer from your (home) office, you'll be running to the room where you have stuffed it every time you need to print something, which is not practical.
So, does that mean you leave the printer as it is? Well, that's not how things work around here. I have compiled some practical and easy ideas you can implement to hide your printer and keep your (home) office free of that tangled mess. Interested in knowing more? Stick around till the end!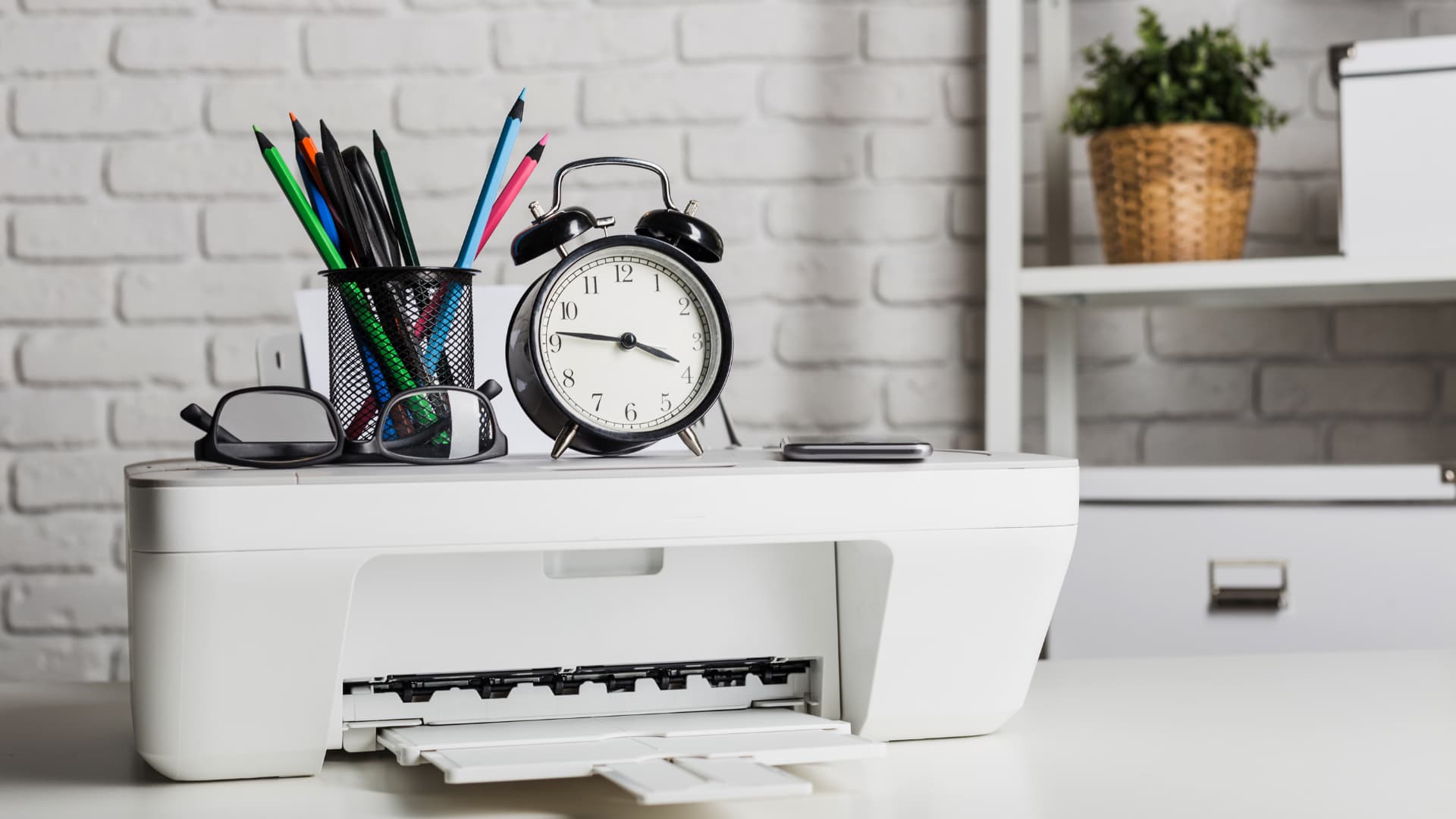 6 Impressive Ways To Hide a Printer
1. Get A Front-Closed Office Drawer Chest
Let's work our way from the ground up. If you're establishing your office and finding ways to keep things discrete, your options are endless. From getting a customized office desk to pairing it with a drawer chest, you can do a lot.
A front-closed storage cabinet or dresser drawer with inlets for wires will relay a neat look in your office. These chests offer sufficient office storage space and reduce your place's mess without much effort.
This spacious office cabinet is the best example of simplicity and practicality. Since it has five drawers and two-compartment racks, you can hide devices and printers along with multiple miscellaneous office items in it. Top this wooden office cabinet with some cute decoration pieces, and it will be the ideal printer spot for your office.
2. Accessorize Your Work Desk: Hide Your Printer in Plain Sight
If housing a hefty drawer chest or cabinet is not feasible in your narrow office, making your printer part of the design of your desk is the best option. Hide in plain sight so to speak. Since a printer stand sits atop your work desk, you don't need separate space.
Just make sure to get a stand according to your desk's size and accessorize and design based on the total image.
This ergonomic and durable printer stand is exclusively designed for compact offices, where housing multiple furniture articles is impractical.
If you follow a minimalist theme in your office, this desktop stand for printer makes the perfect accessory for it. Its three storage shelves are enough to accommodate your printer, scanner, and other necessities. This durable printer stand will remove plenty of mess from your office and help you rearrange it.
3. Invest In a Small And Tasteful Cabinet
You'll have to limit yourself to a small printer stand for a narrow office because you cannot keep it on the ground. But when space is not a problem, you can go as creative as you please. Your organization options increase.
For example, you can get a cabinet for your office without worrying about its accommodation. Thanks to its sturdiness and sleek design, this cabinet will indeed be a smart addition to your office.
4. A Rolling File Cabinet Will Also Do
Going creative with office organization is not mandatory. But sometimes, all it takes is an ingenious idea to put things together.
Do you have a rolling file cabinet in the office? If yes, your printer-hiding problem is already solved. Simply move your bulky printer (along with its cords and accessories) to the lowest rack of a filing cabinet, and that's all.
Every time you need the printer, roll the file drawer near you and move it back once your printing task is over. This cart with a printer is beneficial if your office is packed with stuff. You can leave the rolling file cabinet in another room and bring it back when needed.
However, make sure that the filing cabinet you use is sturdy enough. Most filing cabinets are mediocre-quality and cannot bear the printer or fax machine's weight. A wooden, iron or steel filing cabinet is best for your clunky printer.
5. Move your Printer to the Bookshelf
Your office's bookshelf (more precisely, its bottom rack) is ideal for hiding a printer and other similar equipment. Designate a corner of your office bookshelf to the printer, and carve out a wire inlet in it to keep the cords and plugs out of sight.
A hidden printer will make your office appear nicer and more spacious; so, it's in your best interest to designate a discrete corner for it.
6. Sew or Purchase a Printer Cover
Let's get old-school! Have you seen those microwave or TV covers? If yes, you know what to do with your printer.
You can sew or purchase a fabric cover for your office printer to keep it discrete. If you have a wireless printer, a cover will suit it best because now you don't have to deal with wires and plugs.
But if yours is a clunky printer that takes up a lot of space, you might struggle with finding the right-sized cover for it. Then it's better to create your own.
Insights On Hiding a Printer
Office organization can be challenging when you have multiple accessories and essentials to accommodate. A printer, scanner and file folders – there's a lot you have to adjust in the office.
But if you play smart and introduce unique storage solutions to your (home) office, you can keep it practical, sleek, and minimalistic.
The ideas I've listed above are all easily doable and smart. Choose one that suits your (home) office's needs, and implement it right away. Nothing beats an organized and neat home office's aura!
FAQs
Where should I place my printer in my house?
If you frequently use the printer, keep it near your work desk to avoid your workload. But if you rarely need the printer, you can leave it in the study room. Or store it in a safe corner of your garage, or even in the attic if space is a problem.
Can I put things on top of my printer?
It's better if you don't because printers' paper trays and curved edges aren't very durable.
When you stack things (especially heavy things) on top of a printer, its important parts can break or stop performing.
Can a printer go on the floor?
Although there's no harm in leaving a printer on the floor, you will surely feel your back while working with it.
If your printer has non-skid rubber feet, putting it on the floor won't damage it. But if you regularly use a printer, this practice might leave you with backache.
Can I put a printer on a shelf?
Yes, you can put a printer on the shelf. The only thing you need to be careful about is the printer's airflow.
Like all other machines, a printer can also get overheated if it's crammed in a narrow space, which impacts its performance.
Can you stack printers on top of each other?
No, you cannot stack printers on top of each other without a shelf separating them. Most printers are made from plastic and have protruding paper trays.
When you stack these printers, they can get scratched, dented, or worse, stop performing.
MORE ABOUT OFFICE ORGANIZATION:
«
Organize Ziploc Bags: 6 Impressive Ziploc Organizing Ideas
»
How To Organize A Deep Freezer In 6 Simple Steps