Are your closets and drawers crammed full of clothes, yet, somehow, you can never find anything to wear? Do you spend countless hours salivating over other people's capsule wardrobes on Pinterest? Would you love to be able to get dressed quickly while still looking "put together"? Maybe it's time to create a capsule wardrobe of your own!
How to Know if a Capsule Wardrobe is Right For You
If you answered "yes" to any of the questions above, it may be time for you to create a capsule wardrobe. Still not convinced? Consider this:
On average, we only wear 20% of the clothes in our closets. The rest just sits there, unworn.
A survey of 2,000 women found that most of them only wear an article of clothing 7 times before discarding it.
Americans throw away 13 million tons of clothing each year.
Before clothing was mass-produced (c. 1930's) most women only had a handful of items in their closets.
On average, American families spend $1,700 per year on clothing.
The benefits of a capsule wardrobe
Having a capsule wardrobe allows you to:
Reduce

decision fatigue.

Always wear your favorite clothes.
Know your true "style".
Simplify your laundry routine.
See at a glance whether you are in need of an item.
Save money.
Fit into everything you own.
Pack for a trip in no time flat.
A capsule wardrobe may not be a good fit for you if:
You enjoy having a closet packed with clothes.
Spending an hour or more deciding what to wear makes you happy.
You go clothes shopping whenever you need a "pick-me-up".
You can't stand the thought of having breathable, clutter-free closets and drawers.
Here's how you can create your own capsule wardrobe.
Step One:
Get your free Guide to Decluttering Clothes, here.
Step Two:
Follow my Shock Treatment Declutter Method to clear unwanted, ill-fitting, and outdated clothes from your closets and drawers.
Step Three:
Check out my Pinterest Board for hundreds of capsule wardrobe ideas.
Step Four:
Learn from the capsule wardrobe "experts". People like Courtney Carver, The Vivienne Files, and me!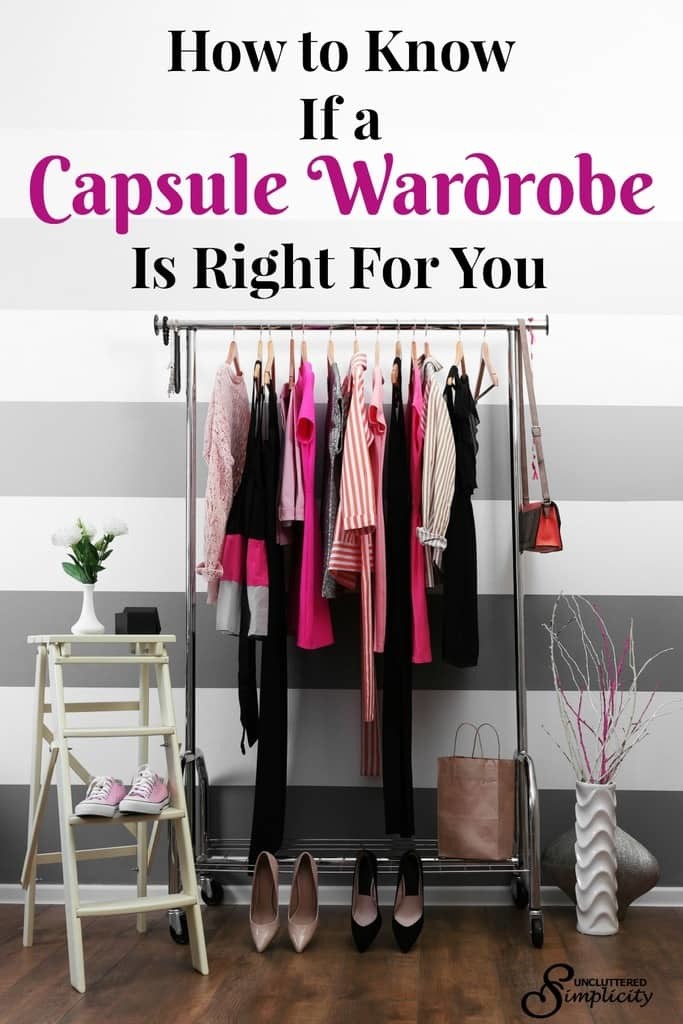 READ MORE:
«
20 Signs You May Have Too Much Stuff
»
3 Things That Will Sabotage Even The Best Decluttering Efforts