Are you something of a belt connoisseur like me? Do you have a bunch of belts but never seem to be able to find the perfect one when you need it the most? Keeping your wardrobe organized is very important. Small items like belts, socks, and ties should be kept in an orderly way so that they are easy to find.
After all, if clothes maketh a man, then clothing accessories maketh a well-groomed man! Or, a woman in my case. Belts, if kept appropriately, can last a long time. If you, too, have a collection of belts, make sure that you either hang them neatly on a hook or roll them up in a drawer. Here is my checklist on how to organize belts.
Why Should I Bother So Much About Organizing Belts?
If you have many belts, it's probably easy to classify them into cheap, expensive, and "what was I thinking?". Just like costly clothes need proper maintenance, expensive belts also need proper care to last long. Secondly, if you have a souvenir belt or some belts gifted by others, you would probably want to keep it with the same care and love you acquired.
How To Organize Belts: A Simple Checklist
It is essential to store belts and other fashion accessories in the right way.
1. Check the rooms' condition
While storing belts on a hook in a room, the first and foremost thing is to make sure that the room is not too dry or too moist. If the room is dry, leather belts will develop cracks. On the other hand, if the room or wardrobe is moist, the leather will become too stretchy to spoil the belt's look.
2. Hang expensive belts
With your best and most expensive leather belts, hang instead of roll. Hanging belts keep them looking new.
3. Roll if space is an issue
Roll your belts if you do not have the proper space to store the belt. It works well for rubber and fabric belts.
4. For small collections, just hang them
If you don't have a big collection, one of the simplest options is to hang all your belts on a hook behind your room door. It will save you space and keep the belts neatly organized.
5. Belt hangers with hooks
If you have a considerable collection, get special belt hangers that have hooks in them. Belt hangers are the best option to hang many belts together in one place. Moreover, it gives you a great option to organize your belts into colors, fabric, material, style, type, and length. Simply use each hook hanger for one kind of belt. It would be best to choose metal hangers because they last quite long. Simultaneously, mounting them behind the bed, on the door, or in the closet, is very easy.
To Hang Or Roll, That Is The Question?
When you have an extensive collection of belts, you need to know how to store them properly. The decision to hang or roll depends on the material and buckle of your belt:
You can easily roll belts made of fabrics. Their buckles are anyway not suited for hanging on a hook.
On the other hand, you must hang belts made of premium quality leather on a hook. Make sure that the hook does not cause any scratches on the buckle of the belt. Cleaning leather belts at frequent intervals is also very important.
Some Other Ways To Organize Your Belts
6. Belt Organizers
Another popular way to store belts is by using a belt organizer. The belt organizers are either divided into equal cubes or rectangles. Roll the belt in a proper way so that the buckle stays in the front. Do not roll the belt too tight. It can damage the belt. Nor should you roll belts too loose, as it will occupy more space.
7. Drawer Dividers
Using drawer dividers is another very organized way to store belts. For storing the belts inside the drawer dividers, you need to roll the belt. Moving the belts slightly will help to arrange them neatly in the drawer. Moreover, when you place the belts in the drawer dividers, finding the belt also becomes very easy. You may store the belts that you cannot hang in the drawer.
8. Sliding Belt Rack
If you want an easy option to store belts, you can make a sling rack and attach dowels. Please attach it to the shelves or on the side of the closet at your convenience.
9. Telescopic Belt Racks
Telescopic belt racks are one of the most innovative ways to store belts when space is an issue. When selecting the belt, the belt easily comes out as you pull the telescopic rack.
10. Transparent Containers (set of 3 or 6 drawers)
Different transparent containers are available in the market. It makes it very convenient to search for the belt you want to match with your dress color while getting ready.
11. Belt Ring Hanger
The simplicity of the belt ring hanger is its design. It has a hook with a big middle ring with one opening to slide the belt into it. You can store several belts in the ring hanger. You can slide the ring's opening seamlessly through all the buckles of the belt. When you've picked out the one you want to wear, just open the ring from there and pull out the belt. It is that simple to use.
Best Belt Organizers Available On Amazon
Buy on Amazon: ELYPRO Belt Organizer
This belt organizer can also act as a compact closet organizer. Store it on a dresser top or just wall mount it as per your requirement. Its height is 12 inches and has five cabins to keep belts in an organized way. The outer layer of the closet is made of see-through acrylic. The see-through material makes it convenient to find the belt when dressing up. Each cabinet is 2 inches in height and has a lock-in-system to keep the straps protected from dust, sun, water, and children.
The weight capacity of the belt organizer is 34.5 oz that makes it highly portable.
Patented high-quality acrylic helps find your belt with ease and also saves space.
Roll-up your belt and store 2 in each section; as there are five sections, you can easily store almost ten belts.
The clear front makes it convenient to select the belt of your choice.
It is stackable that helps you to store the belt organizer inside or outside your wardrobe.
Buy on Amazon: Rubbermaid Configuration With 30 Hooks
This belt organizer comes with 30 hooks that help you to hang your belts in an organized way. Now there is no need to keep your closet messy; keep all the straps in one place with this durable belt organizer. Its length, width, and height are 16.94X4X4 inches. The titanium finished hanger is designed to enhance versatility and acts as a space saver.
Pulling out the belt is very convenient, and it provides easy access to almost 30 belts.
It has 30 hooks. Use it to hang the belts, ties, and handbags as well.
The titanium finish makes the hanger look stylish.
It is solid, and it can hold several belts at one time effortlessly.
Easy to install and convenient to use.
Buy on Amazon: Drawer Dividers
For all of you who think drawer dividers to store various belts make your closet look messy, this drawer organizer is for you. It is available in 6 pieces, and each one will be useful to store different things. Various compartment sizes are available, as there are two large boxes with large compartments of 12X12X4.5 inches. Two medium-size holders with no dividers to keep large-sized belts and two medium holders again have no other divisions. The medium size pieces measure 12X5.75X4.5 inches.
The fabric of the gear is durable and highly breathable. It will keep different things in an organized way.
Act as a space saver and will make your drawer look neat.
Each piece has rigid corners, the superior stitching, attractive design with a zipper closure to store extra things on the organizer's outer side.
Each piece is easy to assemble.
Wrap Up: How To Organize Belts
If you have an extensive collection of belts, finding the one you need can be a nightmare. If you are just tossing all of them in a drawer or wardrobe shelf, you will never see the right one when you need it. And what's worse: you will end up damaging your possessions. Keep your belts in an organized way so that you can find the one you want to wear with your dress without wasting time. I have tried to show you some of the easiest and most innovative space-saving ways to organize belts, such as using a hanging ring, a hanger, a drawer divider, racks, cubbies, and more. Everyone loves an organized and neat-looking closet. I hope you found the suggestions to be useful and would love to hear back from you! Please leave your feedback in the comments.
Are you really excited about organizing your closet? Check out these articles!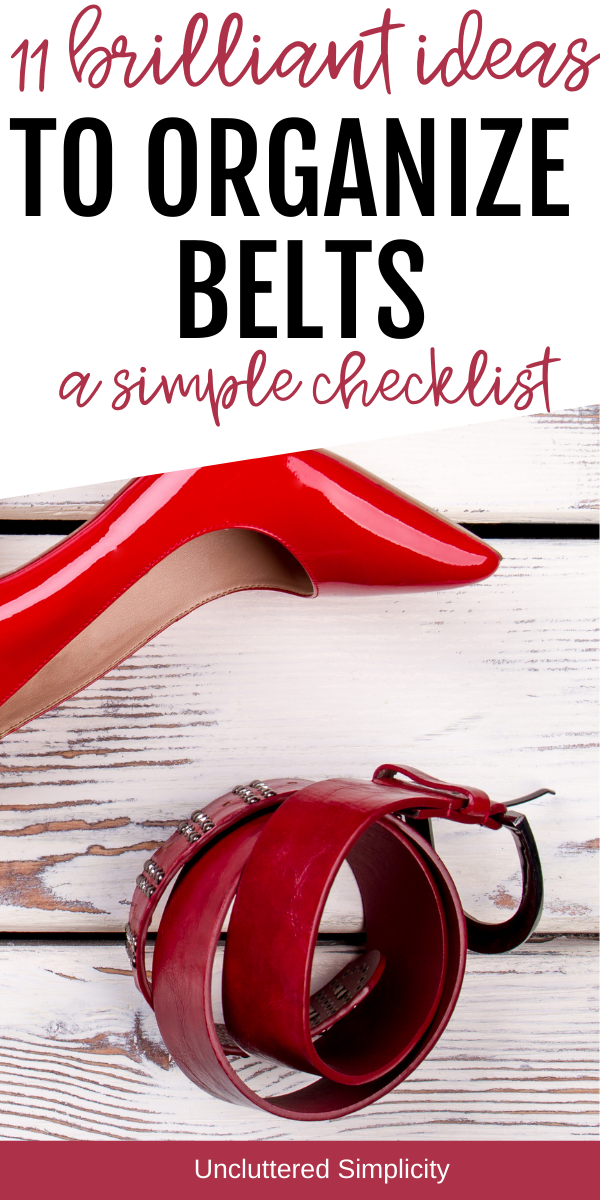 «
How to Organize Your Spice Cabinet: 5 Tasteful Ideas
»
10 Beautiful Small Nursery Organization Ideas