Spices are essentials in developing taste in any food. A sprinkle of black pepper or a dash of cinnamon elevates the basic taste of your food. But, having multiple jars on your kitchen counters gives your kitchen a messy and cluttered look.
You can easily declutter your seasoning collection by organizing them. Instead of putting your spices haphazardly in various cabinets and places, it's best to organize them in a single rack or cabinet.
I love a great looking spice rack to organize my spices and declutter my kitchen at the same time. Whether it's your salt, red pepper, or some dried herbs, you can put them all in these racks.
These spice racks will not only facilitate you in cooking, but also beautify your kitchen interior. Here are five inspiring ideas on how to organize your spice cabinet!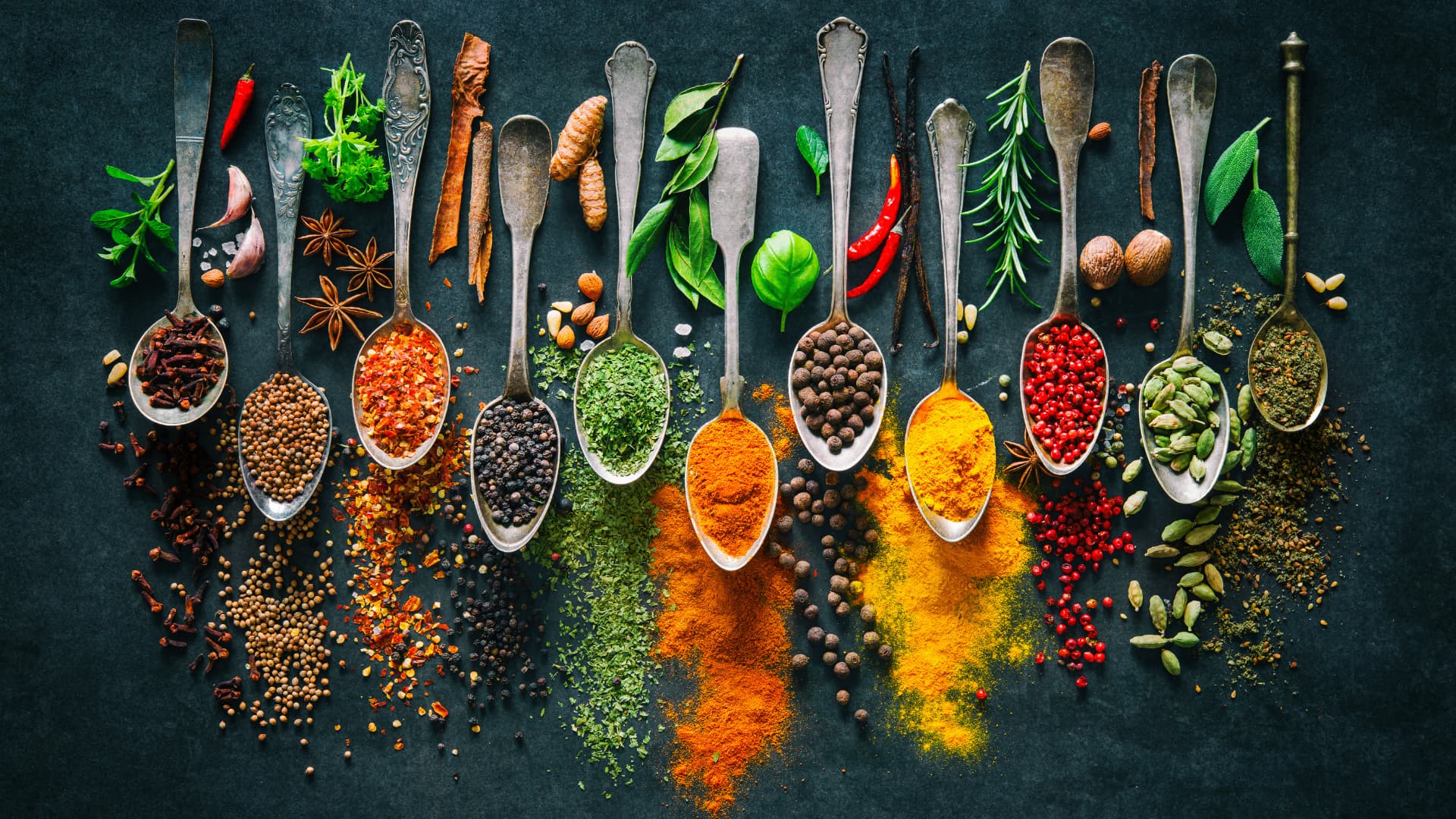 Five Tasteful Ideas To Organize Your Spice Cabinet
1) Rotating Spice Rack
This spice rack is ideal for accommodating all your spices. You don't have to move to another place for drawing out other spice jars. Its round shape revolving feature makes it easy for you to reach all the spices while being busy cooking at the same time.
This exclusive spice rack comes with glass jars having sizes of 6.3 X 6.2 X 11.8 inches. You can also place a bouquet of fresh flowers on it to decorate your kitchen. Moreover, this 12-glass jar spice rack will be a fantastic addition to your cutlery products. This spice rack is a perfect place for placing several seasonings as I have personally used it in my kitchen.
Pros
Can organize 12 standard spice jars.
Washable plastic jars.
Easy picking and handling due to 360-degree rotatability.
Cons
Large size makes it misfit for some kitchens.
Cannot be mounted on the wall.
Misfit for rectangular spice jars.
Buy on Amazon: Belwares 12-Jar Revolving Spice Rack Organizer
2) Wooden Spice Rack
This wooden spice rack is perfect for preserving a massive collection of seasonings including herbs, spices, and dry fruits. You will get 60 airtight glass jars having plastic lids for storing spices. Every pot comes with a storage capacity of 3.5 ounces. I recommend you to use this sophisticated spice rack if you want to store a large amount of seasoning jars in your kitchen.  
You will be provided with 15 small-hole shakers, 15 large-hole shakers along 15 spoon scrapers tops. You can easily mount this standing wooden spice rack on the wall, but its also perfect as a stand alone on your counter top. All the jars have beautiful black and white labels that will help you pick your jar immediatly while cooking.
Pros
Detachable and washable spice jars.
Storage capacity for 30 jars, each having a size of 3.5 ounce.
Wooden rack provides more security to jars.
Cons
Wall mounting parts are not available.
Misfit for smaller kitchens.
The price may be a bit too spicy for some.
Buy on Amazon: AllSpice Wood Spice Rack
3) Wireframe Spice Trolley
This 2-tier wireframe spice trolley is elegant and spacious enough for storing all shapes of spice jars. If you want to place more often used spices separate from others, this stainless-steel rack is ideal for placing spices according to usage. Though this sturdy spice cabinet was not made to be mounted on the wall, if you really want, you can do so anyway.
You can use this rack for other household purposes as well due to its lightweight and sturdy shelves. Its simple rail guards will provide support and protection to your spice jars. Feel free to place this non-slippery functional, attractive 2-tier spice shelf on the kitchen counter. I suggest you use this budget-friendly spice rack for your spices if you have a tight budget.
Pros
Can store all spice jars and hardware.
Can accommodate almost 20 pots simultaneously.
Non-slippery rubber grips are attached to the legs of this sturdy rack.
Cons
Large jars will not fit on the bottom shelf.
Only comes in plain stainless steel color.
Not suitable to be mounted on the wall.
Buy on Amazon: 2-Tier Spice Rack Organizer Storage Shelf
4) Stainless Steel Spice Jar Rack
This amazing and super slick stainless steel spice jar rack provides enough space for all your spices. Besides the spice rack, you will also get 20 empty stainless steel lid jars to organize your herbs and other ingredients. You will not have to worry about the placement of this unique spice jar rack: this eye-catcher should be put on your counter top!  
Even if your kitchen is small, this spice organizer may work for you. The silver-colored 13.5 x 7.5 x 7.5 inch spice rack can be easily rotatable on 360-degree to get your desired spice jar.
Pros
Ideal for smaller kitchens.
Can store 20 spices and herbs.
Airtight stainless-steel lids.
Rotatable to 360-degrees for convenient jar accessing.
Cons
Commercial spices and herbs cannot be fitted in this spice tower.
The transparent spice jars have no labels.
Buy on Amazon: Tytroy Round Stainless Spice Rack Kitchen Organizer
5) 3-Tier Spice Storage Rack
If you don't want to place your spice rack on your counter top (remember, counter tops are precious real estate in Kitchen Land!), you should go for this spice rack. Do you have a tiny gap between two cabinets, or next to your fridge? This tiny but very effective organizer will fit right in! You just pull it out when you need it and put it away and out of sight when it has fulfilled its task.
Do you wonder about pulling the rack? Yes! This sliding spice rack comes with wheels. You can store your herbs' jars, spice bottles, and other things on it as well. This triple-layered spice rack can carry the weight of 5 pounds easily.
Pros
Store spice jars, bottles, packets, and other things.
Easy to move and store.
Made up of durable plastic.
Strong moving wheels.
Cons
Needs to be placed along some support to prevent it from falling off.
You need to bend down to take the spices out.
Too simple to be placed in visible areas.
Available in just one color.
Buy on Amazon: Sliding Spice + Storage Rack
No doubt all of these spice racks will do in your kitchen. But I like the Belware Herbs Spice Rack the most. It is not only artistically designed, rotatable, and washable but also budget-friendly. Enjoy your cooking while keeping all your spices at your fingertips by placing them in these beautiful, sturdy, durable spice racks.
Want More Tips On How To Organize Your Kitchen?
Are you really exited about organizing your kitchen? Check out these articles!
«
How To Organize Underwear: Inspiring Tips For Bras And Panties
»
How To Organize Belts - 11 Brilliant Ideas