There is one humble cleaning tool my home is never without…a Mr. Clean magic eraser. With three boys and numerous pets to clean up after, magic erasers are a game-changer when it comes to keeping my home (and yard) squeaky clean. Here are over 60 magic eraser uses for the home and yard.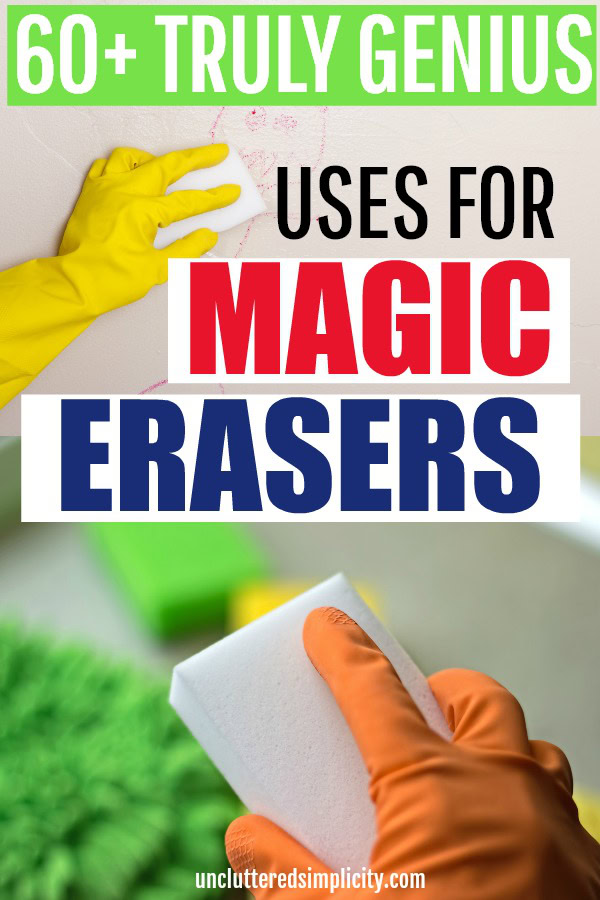 Magic Eraser Uses For The Home And Yard
What's So 'Magic' About a Magic Eraser?
Denser than an average cleaning sponge. Abrasive, yet not scratchy like sandpaper. Zero waste because it disappears as you use it. The magic eraser is truly a magical cleaning wonder! (Cue the superhero music).
Well…they're not really magical. Magic erasers (melamine foam) have actually been in use for over twenty years. The squishy white substance has been widely used as insulation for pipes and soundproofing. Only recently, (in the last ten years or so) did some super-smart person discover melamine foam had the potential to replace virtually every cleaning product in your home.
Oh, and did I mention, Mr. Clean Magic Erasers are non-toxic? Which is a really good thing to know if you have kids or pets who like to go behind you as you clean and lick/touch counters, floors, and doorknobs (ahem…my youngest son)!
Seriously, I'd like to meet whoever unearthed this life-changing discovery. I'd give him/her a great big hug!
BTW…have you ever tried to set a magic eraser on fire? It literally can't be done!
Generic or Mr. Clean Magic Eraser
The only downfall to using a magic eraser for cleaning everything from toilets to teetertotters is the cost involved. If you purchase an 8-pack of Mr. Clean Magic Erasers on Amazon (with coupon) you'll pay $5.99 for 8 sponges measuring 4.6 X 2.3 X 1 inches each. This averages out to about $.75 per sponge.
On the other hand, you can also pick up a 20 pack of these generic magic erasers for just $6.95 (which are a little shorter but thicker than the Mr. Clean version). Which, according to my math brain will cost you less than $.35 per sponge.
While I have yet to do an official comparison of the generic melamine foam sponge versus the Mr. Clean Magic Eraser, I've used both in the past with good results. The main difference between the two is that Mr. Clean Magic Erasers come in a variety of forms, e.g. textured, scrub pads. Some of them even come infused with a cleaning product. While the generic version is just a plain-Jane piece of foam.
Tip: Cut a magic eraser in four pieces to get more use out of each sponge. They really will last longer!
Magic Eraser Uses For the Home:
Remove scuff marks…from EVERYTHING shoes, walls, tables, floors
Clean your stovetop
Oven (inside and out)
Make whiteboard white again (even removes permanent marker)
Clean keyboards, mouses, and computers (not the screen, though)
Game systems, DVD players, okay, pretty much ALL electronics
Bathroom Sink
Tub
Shower doors
Toilets
Mirrors
Faucets
Around Drains
Medicine cabinet (in and out)
Toothbrush Holders
Removes coffee/tea stains from countertops and tables
Cleans the entire refrigerator (even the seals)
Dishwasher (inside and out)
Clean spots off of glasses/dishes/silverware
Kid's Toys
Grout Seams
Microwave (inside and out)
Removes Kid's 'Artwork' from walls, doors, floors…etc.
Sticker and Label Residue
Luggage
Stains on Clothing (test first)
Stains from Furniture and Carpet (test first)
Hair Dye (from countertops, walls, floors, and cabinets) Sorry…magic erasers will not remove hair dye from your head…you did that to yourself, you'll have to live with it. 🙂
Dried Nail Polish
Doors
Doorknobs and Hinges
Light Switches
Jewelry
Cell Phone and Tablet Cases
Ceiling/Floor Fans
Baseboards
Dried Paint
Windowsills
Curling/Flat Iron
Stains on Coasters
Dish Drying Racks
Crock Pot/Instant Pot
Greasy Cabinets
Baking Sheets
Caked-on Foods On Pans and Tupperware
Ink on Hands
Magic Eraser Uses In The Yard
Bug Guts On Cars (test first)
Mildew On Plastic Surfaces
Grills
Boat Seats
Boat Exterior
Hubcaps
Outdoor Furniture
Remove Rust
Plastic Storage Containers
Pool Liner
Bikes (Even the wheels)
Coolers
Car Headlights
AC Unit
Outdoor Decor
Window Screens
Garbage Cans
Porch Railings
Mailboxes
READ MORE:
«
Organizing Paperwork: Best Ways To Organize Paper Clutter
»
101 Best Non-Toy Gift Ideas For Kids