Are your snack storage solutions feeling a little lackluster? Have you got cabinets stuffed with bags of chips and boxes of brittle that are difficult to find? Or are your countertops covered in random containers full of snacks? If yes, then it's time for an upgrade.
Having smartly organized snack drawers within reach can make all the difference in keeping your stomach full, your mind active, and your energy levels high.
But where do you begin? Don't worry – I've got you covered! Read on for the best snack organization ideas to keep your favorite edibles organized. This way you'll always know what you have and when you need to go shopping for refills.

1. Declutter Before Organizing Snacks
As I like to say, decluttering should always be the first step in organizing anything. It involves getting rid of unwanted items and sorting the ones you want to keep.
Before you start decluttering your snacks, take some time to assess what kind of snacks you have in your pantry or kitchen cabinets. Do you have a lot of single-serving packages of unhealthy snacks, kid snacks, or a cart of snacks near expiry? If so, it's time to bid them farewell.
Or do you prefer family-sized bags? Are there any snacks that are expired or no longer wanted? Make a list of everything in your snack drawer or cabinet, and then check off the items that need to be thrown away or donated.
This will help create more space for the snacks you do want to keep and makes it easier to organize later.
Now that all the unwanted items are out, it's time to start sorting through the remaining bags of snacks to make extra storage space in your pantry.
2. Invest In A System
If you want your favorite snacks to not cram the shelf space and want a beautiful snack display, you need an organization system. Here are some ideas you can explore in this regard:
Snack Bins
Snack bins typically feature several compartments, allowing you to easily store different snacks without jamming them together. Some snack bins even come with removable dividers, so you can further customize the size of each compartment. These are especially handy if you have young kids who need smaller portions.
If you don't want to keep your variety of snacks in lidless plastic containers, get airtight boxes instead. These boxes are ideal for refrigerating or storing a healthy snack line in your pantry.
Wired Baskets
Wired baskets are a convenient organization system to store snacks in cupboards or pantries. They come in various sizes and shapes, so you can choose one that fits your space perfectly and keeps everything neat.
Many wired baskets also feature handles for easy portability, which makes them perfect for taking snacks on the go.
Lazy Susans
If you want something more stylish, consider investing in a Lazy Susan turntable featuring several shelves that spin around a central axis.
This handy accessory makes it easy to reach whatever item is stored on the shelves without having to dig through multiple containers or boxes. This is ideal if you have limited counter space but still want quick access to your snacks!
Mason Jars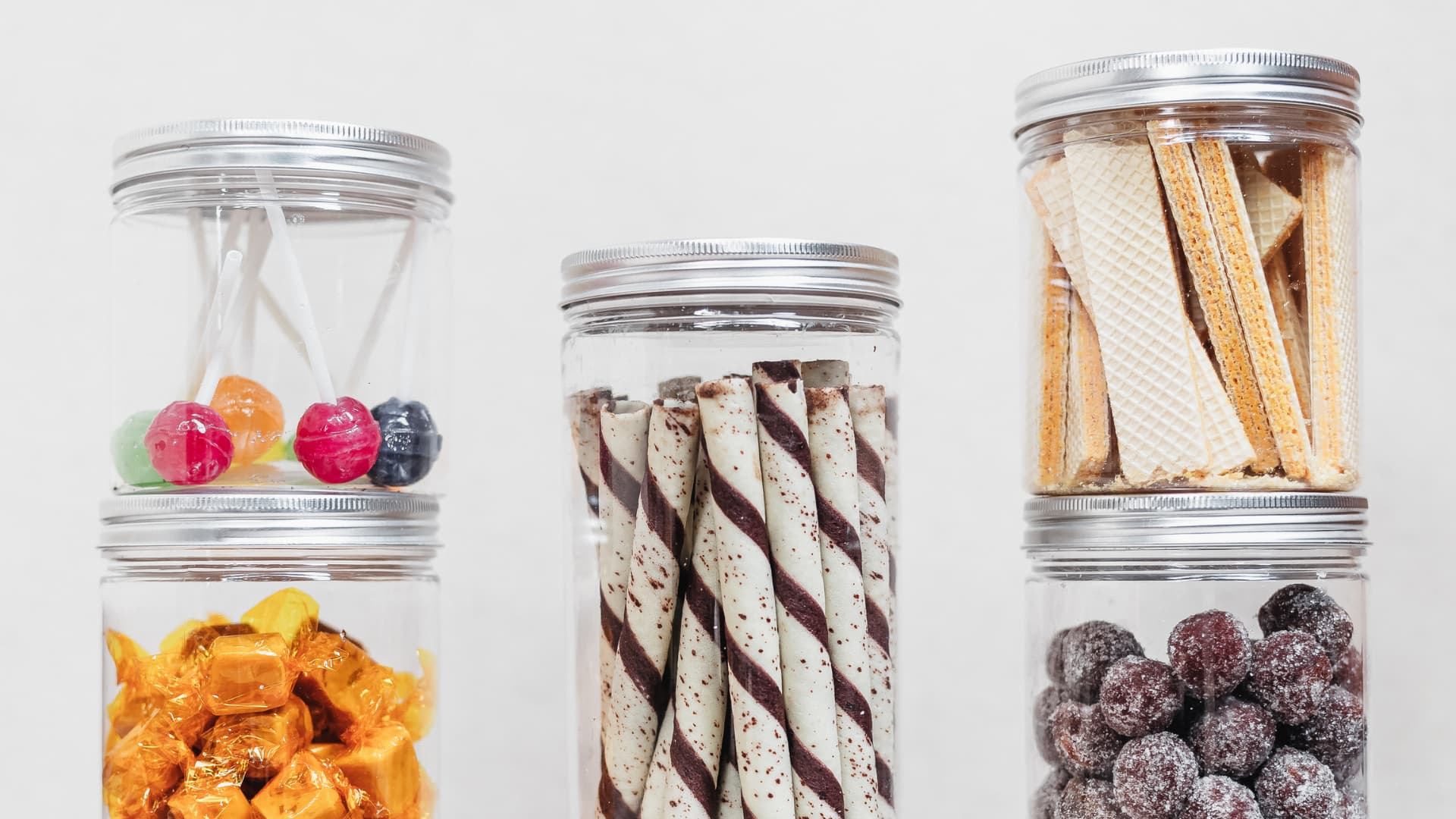 Another great snack storage idea is to use mason jars. I use these for both storing loose tea leaves and candy.
Related article: 6 Creative Tea Organizer Ideas
3. Take Items Out Of Their Box Before Storing Single Items
When your organization system is ready, take every snack out of its box before storing it.
This is important for two reasons: first, it will help save space in your pantry or cupboard. And secondly, it will make it easier to find the snacks you're looking for when you need them. Make sure unwrapped snacks are stored in airtight containers or bags so that they don't spoil quickly.
If you don't have boxes or bins, you can find them at most grocery stores or online retailers. It's also helpful to have a few plastic bags at hand in case you need to store any smaller items.
It's also a great idea to label your snack organization bins in a way that makes sense for your lifestyle.
4. Organizing Snacks: Choose A System
Choosing a system for organizing snacks in your home can be daunting. After all, there are so many different types of snacks, and everyone's eating preferences vary. Here are a few ways to consider:
Quick snacks
Baby snacks
Afternoon snacks
Healthy snacks
Organizing By Color
Another simple way to organize your snacks is by color. Grouping items by color creates an aesthetically pleasing look in any pantry or storage space and allows you to easily spot what you're looking for. Without having to rummage through multiple containers or shelves.
Another plus of this system is that it's easier for kids to find their snacks. Since children are very focused on color and know exactly what color their favorite snacks have.
Organizing By Type
Categorizing your snack organizer will help keep items together while making them easier to find when needed—especially if they're located in one central location, such as a pantry or cabinet. Try assigning specific spots within your designated storage area(s) for each type of snack food to keep things simple. For example:
Crackers on the top shelf
Candy on the middle shelf
Chips on the bottom shelf
Organizing By Eating Preferences
Another perfect snack storage solution is organizing snacks according to each family member's eating preferences.
This is especially helpful if everyone has different dietary needs or restrictions due to allergies or health concerns.
For instance, if someone in your family has celiac disease or gluten sensitivities, set aside an area specifically dedicated to gluten-free healthy snacks.
5. Arrange (Healthy) Snacks For Kids At Their Eye Level And Sugary Snacks Tucked Away
If your child sees a snack, he or she wants it. Right? When you don't want your kids to munch on sugary treats without your supervision, you should keep these snacks out of sight.
Start by taking everything out of the pantry and sorting items into categories, such as fruits, vegetables, grains, nuts, etc. Once sorted, place the healthy food items at eye level so that kids can easily spot them when looking for a snack.
Place sugary snack bags higher up on your shelves or deeper tucked away in cupboards where they are not easily visible. These items include cookies, chip snack bags, and candy bars, which should not be kept within easy reach of children.
Keeping these school snacks and food storage containers tucked away will also reduce the temptation of eating these more unhealthy foods.
Rounding Up
With so many great snack storage ideas to choose from, you can easily find a way to organize and keep your snacks fresh. There are endless possibilities, from airtight containers and bins to all other forms of snack organization, and no single way is right or wrong!
An organized pantry means an organized kitchen, and this simple switch will make life easier when storing snacks at home.
If you're ready to take the plunge and store your snacks in the best way, start small and take it from there. Snacking doesn't have to be complicated. With these tips, you can officially consider yourself a snack storage pro!
FAQs
What is the best way to store snacks?
The best way is to keep edibles in BPA-free plastic containers at room temperature or in the refrigerator. Avoid leaving food items out on the counter or in direct sunlight, which can cause them to spoil quickly.
To extend shelf life, ensure all airtight food storage containers are sealed properly and stored in a cool, dry place away from any heat sources.
How can I organize my snacks without a pantry?
If you don't have a pantry to store your snacks, there are plenty of snack station ideas to try out.
Depending on the size of your kitchen, consider using shelves, vertical space, or wall organizers for snacks that need to be stored at room temperature. For example chips, granola bars, and cookies.
Larger clear containers with lids can hold bulk items like cereal, nuts, crackers, and pretzels.
How do you store snacks in a small kitchen?
A good option when you only have a small kitchen is to choose one smaller kitchen cabinet to store snacks.
Another small kitchen snack organizer idea is to use wall shelves that can hold several containers. Or use the backside of your kitchen door and place an over-the-door hanging organizer that can hold single snacks.
Clear jars and airtight containers are great for keeping items like cereal and snacks organized and easily visible.
Utilize drawers and cupboards by separating snack items into smaller bins or baskets that can be labeled accordingly.
What are shelf-stable snacks?
Shelf-stable snacks are food items you can store at room temperature without refrigerating or freezing them. Examples of shelf-stable snacks include crackers, chips, granola bars, cereals, nuts, pretzels, dried fruits and vegetables, and candy.
What snacks do you put in the fridge?
Snacks that should be kept in the refrigerator include yogurt, cheese sticks, lunch meats, hard-boiled eggs, and hummus.
Peanut butter or other nut butter should also be stored in the fridge after opening. Any type of deli meat, as well as leftovers from previous meals, are better off when stored in the refrigerator to prevent them from spoiling quickly.
MORE ABOUT HOME ORGANIZING
«
How To Store Puzzles In 3 Simple Steps
»
11x Useful Iron Board Storage Ideas