There are two kinds of people in the world; ones that love coffee and the ones that are avid tea drinkers. And I can proudly say I fit in the latter category. However, what do you do when your tea collection is so huge you can hardly keep track of it all? You definitely look for some awesome loose leaf tea organizer ideas and that's what this article is all about.
There's nothing quite like a cup of tea in the evening after a long hard day. It soothes my soul and revives my energy. In addition to my love of tea, I also enjoy collecting different flavors and varieties – because you can never have too many, right?
Being a tea lover, I have become quite an expert on how to perfectly preserve and organize a wide range of tea. Today, I'm dishing out all my tea storage and organizer secrets here, so you never have to deal with an overwhelming collection of tea bags or loose tea that is never used ever again. Are you ready? Let's do it!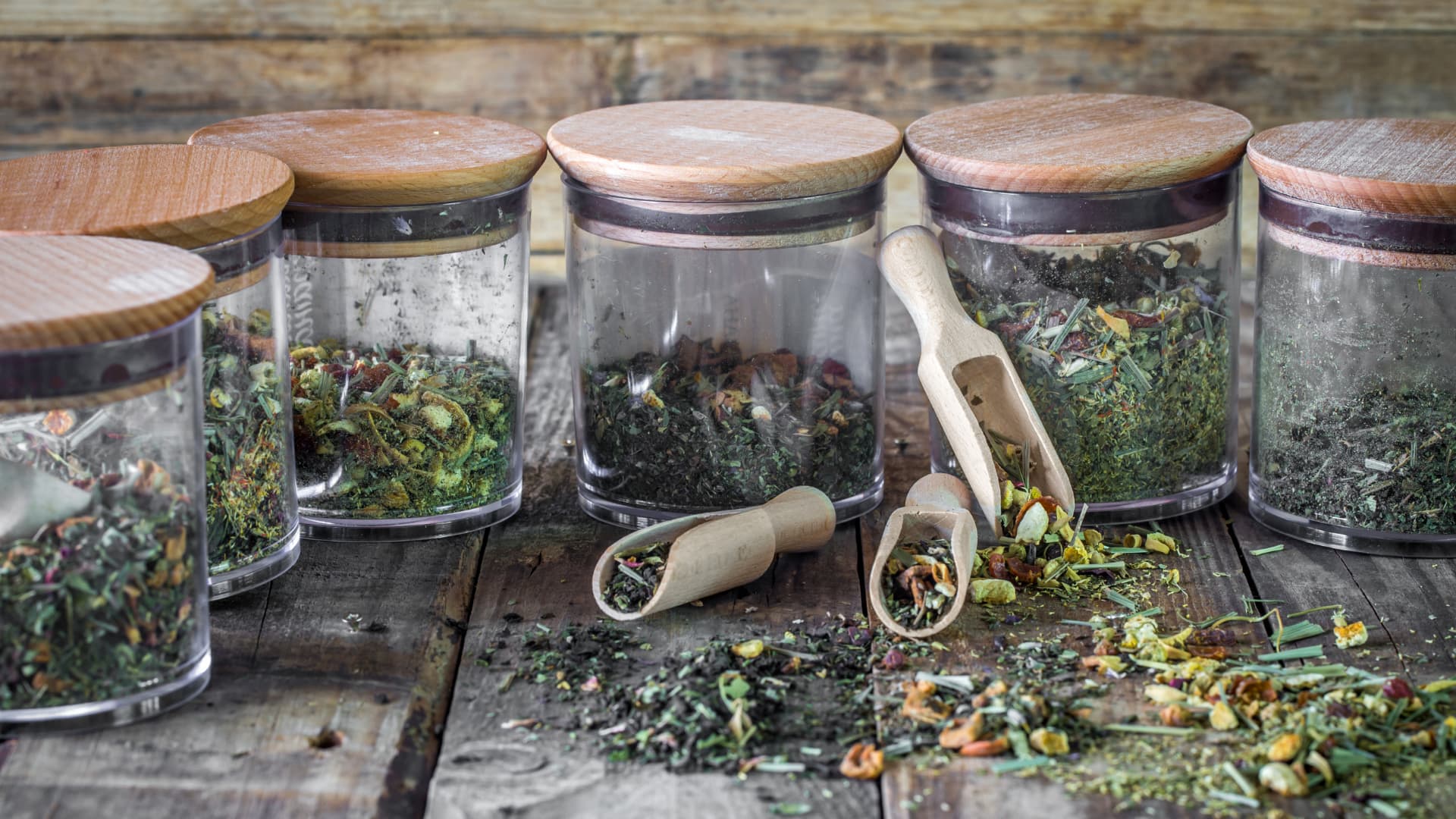 Setup A Dedicated Tea Corner
Before talking about tea storage, let me share my solution to organizing tea. And that is to have a dedicated tea corner for your entire collection. It doesn't have to be anything too fancy, any closet, shelf or cabinet will do.
All you need is a cool dark corner in your home, out of reach of heat and moisture, and then transform it into your tea station. Don't forget to add a door to your shelf, if you need to, to keep the light from destroying your precious tea leaves.
Loose Leaf Tea Organizer Ideas

I know tea bags get a lot of hype, but some of us tea drinkers likes to make tea the old-fashioned way with loose leaf tea. If you're a fan of loose-leaf tea like me, here are some trusty loose leaf tea storage ideas for long-lasting freshness and great flavor every time.
1.   Glass Tea Storage Jar Collection
This set of 12 glass jars with air-tight bamboo lids is a must-buy for tea enthusiasts. They are just the right size to fit into any kitchen cabinet or shelf for regular use. Furthermore, they are made of glass, meaning you can easily tell where you've placed each variety. These airtight containers are well-suited for maintaining freshness and protecting against moisture or pesky bugs that want all the good stuff.
2.   Plastic Tea Containers and Zipper Bags
For tea lovers on a budget, you can try storing your loose tea leaves in containers made from plastic. If you have any old spare ones lying around at home, that's great. Otherwise, there are plenty of affordable plastic loose tea storage containers available both in local Walmart or Dollar stores and online. You can also try storing tea in Ziplock bags, however, it isn't a permanent solution. Typically, I use zipper plastic bags as extra insurance to preserve my tea leaves, and I suggest you do the same.
Another budget solution to preserve your loose tea leaves is to keep the original packaging and use food bag sealing clips.  
3.   Metal Tea Canisters
My top choice for storing my loose-leaf tea is none other than these cute little tin canisters and I have a few reasons why:
They do an amazing job at keeping my tea leaves safe from damage caused by air, light, and moisture.
They come in a small size. I don't have to fill huge jars with tea leaves and expose them to the air every time I feel like having a cup. Instead, I can top my tea tin anytime I run out and get great flavor on every sip.
Use each of these for a single variety of tea you have, it will make sorting tea a much easier task.
Or if you're looking for something more aesthetic, check out these beautiful round tea tins. They feature stunning oriental designs, plus their small size makes carrying tea around very convenient.
Tea Storage And Tea Organizer Ideas
There is no shortage of beautiful loose tea as well as tea bag storage containers in the market. Mostly all tea bags are packaged in similar-sized bags, meaning you can assemble them all in one container. Here are a bunch of my favorite tea storage and organization ideas for putting together a nice tea bags station.
4. Acrylic Tea Organizers With Acrylic Lids
You will surely love this two-piece set of clear acrylic for tea bag holders! These see-through storage bins have completely changed my tea storage game. Thanks to the compartments, I can quickly organize and sort through my entire collection of tea bags in just a few seconds. The acrylic organizers are super high quality, and you can easily stack them on your tea shelf or cabinet.
Whenever I have friends or family over, and it's time to relax with a cup of tea, I always bring these out so everyone can easily choose their favorite tea flavor.
5. Spinning Tea Bag Carousel
This cute little tea carousel adds a neat touch to your tea corner. With a capacity to hold up to 60 bags at a time, you can spin it around to find your preferred pick. Having your tea bag options put on display is so much fun, it makes you feel like a kid in a candy store.
6. Wooden Storage Box For Tea

This elegant yet sturdy wooden tea storage box is perfect if you plan to keep your teabag collection on your kitchen counter. In terms of function, it's pretty much exactly the same as the clear acrylic organizer. However, since this is made of wood, it offers some unique benefits.
The wooden walls of this beautiful bamboo storage unit prevent any light or moisture from getting inside and ruining your precious tea bags. So, you're totally free to place these bamboo tea boxes anywhere you'd like without worrying about your tea stash going bad.
How To Preserve Tea For Longer?
Tea farmers around the globe harvest every leaf with care, ensuring the best quality tea is delivered to your home. With so much effort put into making a perfect cup of tea, it only makes sense to preserve your tea leaves and tea bags for as long as possible. As a general rule of thumb, always keep these three things in mind while organizing your tea cabinet.
Try to create a system to sort your teas such as by kind or variety, by flavor, or by the expiry date, etc. If you don't have a system in place, you'll probably wind up with an unorganized stack of tea bags.
Keep it safe from moisture and humidity. Avoid placing your tea in a damp environment such as near a sink, next to the dishwasher, or in the basement.
Store all your teas in a cool and dark place away from sunlight and heat. Use airtight seal storage boxes with tight-fitting lids. The green, yellow, and white types of tea are especially sensitive to light and may change flavor from lengthy exposure to both light and air.
Does Tea Expire?
Yes, tea expires. But, if you store it well, you can still enjoy the rich goodness over a very long time. The longest-lasting of them all is black tea, it can stay fresh for up to 2 years. Other varieties, however, are not as lucky.
Green tea and oolong have a pretty short life span of only up to 8 months. After this, the health benefits decline quite sharply. Even worse is Matcha tea, the delicious tea can't survive for longer than a mere 3 months.
As you can tell, all varieties of tea have their own unique use-by dates. So, I would advise you to always label your leaf tea storage containers with the date of purchase and the best before date.
Can You Freeze Tea Bags?
Yes, you can freeze tea bags. If you're planning to store tea bags or even loose tea for the long haul, seal it in a plastic bag, vacuum out the air, and pop it in the freezer. This works wonderfully, especially if you've just bulk-bought pure tea leaves and don't know where to store them. Then you can take out small amounts from your stash each month, enjoying the same crisp taste each time. Tea stored this way can last you a good 18 to 24 months.
Should You Keep Tea Bags Airtight?
Yes, they absolutely should be kept airtight. Since tea is made from dehydrated leaves, it's highly absorbent. When exposed to strong smells and odors, it acts like a sponge, absorbing the vapors and ruining the luxurious flavor.
That means your kitchen may not be the perfect place for safe-keeping your loose-leaf tea after all. Also, too much light, heat, or moisture can spoil the true taste and freshness of tea leaves.
While loose tea is quicker to lose its integrity, tea bags are also not completely safe from damage either. Therefore, always place open bags or pouches of tea in an air-tight sealed container for best results.
Awesome Tea Organizer Ideas – Wrap Up
Whether you're a tea bag aficionado or a die-hard loose leaf tea fan, there isn't much of a difference in how to store your tea. Since all teas are sensitive to heat, light, moisture, and air exposure, the key to preserving them properly is protection against all these factors. Do that and you'll be sipping great-tasting tea for a long time.
MORE ABOUT KITCHEN ORGANIZATION:
«
Best Christmas Ornament Storage Hacks, Tips & Tricks
»
How To Organize LEGO: LEGO Storage Drawers