People like rules. They tend to want to know exactly how to do something in order to make sure they are doing it 'right'. I hate to be the bearer of bad news but, when it comes to living a minimalist life, there are no hard-and-fast rules. Ask any minimalist what it means to be a minimalist and you'll likely get a different answer each time. Here are 10 things real life minimalists wish you knew about them.
10 Things Real Minimalists Wish You Knew About Them
First, I'd like to share some questions other's have asked me about being a minimalist:
Q: Do you own a bed, couch, or chairs?
A: Yes, yes, and yes. I don't like sitting on the floor.
Q: What about wine glasses, framed photos, and knick-knacks?
A: Nope. I don't like to dust.
Q: How do I become a minimalist?
A: Step 1: Identify your greatest joys in life. Step 2: Eliminate anything which does not support or add value to these joys. Step 3: Enjoy your life!
The Meaning of Minimalism
Minimalism is simply a means to an end. Own less stuff so you can pursue a life of more freedom. How you use that freedom is up to you.
Merriam Webster defines a minimalist as:
one who favors restricting the functions and powers of a political organization or the achievement of a set of goals to a minimum
Um…no.
They define minimalism as:
a style or technique (as in music, literature, or design) that is characterized by extreme spareness and simplicity
Wrong again.
My personal definition of minimalism is:
The intentional elimination of things, relationships, and activities which you do not need, use, or love in order to make space and time for those you do.
At its core, minimalism is a re-alignment of your priorities which allows you to place people, relationships, and experiences above personal possessions.
10 Things You Really Should Know About Minimalists
At least this minimalist, anyway.
1.) Most minimalists aren't rich (not even close)
Full disclosure: our family of 5 has never earned more than $50,000 per year. Many years, we've gotten by on about half of that.
Which proves that you don't have to be rich in order to reap the benefits of a minimalist lifestyle.
A random commenter on Reddit once said:
"As a poverty level student, I can't stand having to devote time, money, and resources to have to keep, move, and store stuff. I don't have the time or money for that. Minimalism is most suited to the non-rich".
Related: How to Declutter When You Can't Afford New Stuff
2.) We don't count our stuff
Don't even ask me how many things I own. I honestly couldn't tell you. Although, there are a few hard-core minimalists who do manage to keep a running tally.
I can tell you that I need, use, and/or love everything I own. All 388 (ish) of them.
3.) Real life minimalists (still) buy stuff
Last year, our family sold 90% of our stuff, moved across the country, and lived in a tiny house for 6 months. We've since moved into a 945 square foot apartment and have discovered we wanted to re-acquire certain material things in order to live comfortably.
A couch to sit on, table to eat meals at, and beds for ourselves and our kids topped the list.
Needless to say, to an outsider watching all of the Amazon packages being delivered to our door the past couple of months, we appeared far from minimalist!
Now that the 'shopping spree' has settled down, I am looking forward to a self-imposed shopping ban in order to keep from falling back on bad shopping habits.
It's so easy to click that 'add to cart' button, isn't it?
4.) We aren't all single, well-off, young males
I'm not single. I've been happily married for 20+ years. My husband and I have 3 sons. And, I still consider myself a minimalist.
As I mentioned before, we've never been well-off (from a financial standpoint). In fact, we were on public assistance for about 6 months while my husband was unemployed and recovering from reconstructive foot surgery. And I still considered myself a minimalist during that time.
Also, I am a middle-aged woman who knows of quite a few other women (both young and old) who consider themselves minimalists.
5.) Our favorite color isn't white
While I do think that white walls can make any space look clean and modern, and I do incorporate many pieces of white furniture throughout my home, and scrolling through photos of all-white, minimalist decor is my guilty pleasure…
The primary colors in my home are black and gray, with splashes of teal thrown in for fun.
Because owning a white couch when you have kids is the definition of insanity!
6.) We don't dress like fictional FBI, CIA, or DEA agents
If you were to peek into my closet, you'd discover that my capsule wardrobe currently consists of a variety of colors (black, blue, purple), fabrics (cotton, denim, polyester), and patterns (solid, striped, floral).
Although, the idea of wearing a 'uniform' day in and day out does appeal to me. And I reserve the right to start wearing one as soon as I wear out my current wardrobe!
7.) Some minimalists eat junk food (and meat)
We are a meat and potatoes and cookies kind of family. With the occasional green bean thrown in for good measure.
Being a minimalist has, however, encouraged me to eat smaller portions (of cookies) and to only eat when I am actually hungry. Unfortunately, my waistline hasn't gotten the message yet.
Oh, and I no longer stockpile food like I did pre-minimalism.
8.) We have kids who aren't minimalists
My youngest son once tearfully begged me to climb inside of a dumpster to retrieve his drawing which I accidentally threw away. I managed to dig it back out only to find it had been destroyed by a still-unidentified liquid. Ewww!
Five years later, he still remembers that day with sadness.
Did I mention he's NOT a minimalist?
I have found that it helps if I put space limitations on his belongings. For example, "You can keep whatever treasures you can fit inside this shoebox. When it's full, you will need to let go of some things."
My oldest son (for the most part) only keeps items he needs, uses and loves. So, I would consider him a minimalist. However, he is currently living in a small dorm room with a roommate, so we'll see if the concept of minimalism sticks once he gets his own place.
My middle son? Let's just say, I'm thrilled to pieces when I manage to catch a glimpse of the top of his desk beneath the clutter!
9.) We enjoy cozy spaces
I have no desire to live in a hard, sterile environment. If I did, I would take up residence in a hospital.
I, like a lot of my fellow minimalists, enjoy a clean, clutter-free home that is also cozy and inviting.
A lit candle, a good book, and a pair of fuzzy slippers is my idea of nirvana.
I have warm, soft throws and pillows on my couch and chairs. My kids own an abundance of stuffed animals because they bring them joy. Although my apartment's windows came outfitted with blinds, I added some sheer, flowing white curtains to soften the space.
My goal is for our frequent guests to feel comfortable when they come to visit. Not as if they are entering an empty prison cell!
10.) Real life minimalists aren't perfect
I've never met a minimalist who was perfect. Come to think of it, I've never met anyone who was perfect.
Even though I am a real life minimalist, sometimes I still buy crap I don't need. Occasionally, I compare myself to other minimalists to see if they are as much of a minimalist as I am. Or, if I am 'doing' minimalism right.
I'm borderline horrible with budgeting, as such, my finances are far from minimal.
Also, if I am being completely honest, I still drool over the latest Apple products.
For the record, even though I am a minimalist, I choose to have ads on my blog because (1) blogs cost money, (2) some products are actually useful, and (3) I have kids who like to eat 2-3 meals a day.
My Minimalist Story
For me, the path to minimalism was long and winding. My relationship with stuff used to be based on emotions. If I was sad, I'd shop. If I was angry, I'd shop. Whenever I found cause to celebrate, I'd shop. Around 2010, I discovered minimalism, and my personal transformation began. Minimalism is a process, it doesn't (and shouldn't) happen overnight. It's a journey of self-discovery which should be savored and enjoyed.
The way I do minimalism may differ from how you do minimalism. Or how your neighbor does minimalism. Or how your friend's sister does minimalism. And that's perfectly okay. There is no one way to 'do' minimalism. I hope this post has inspired you to begin (or continue) your own quest for a simpler life (whether that includes minimalism or not).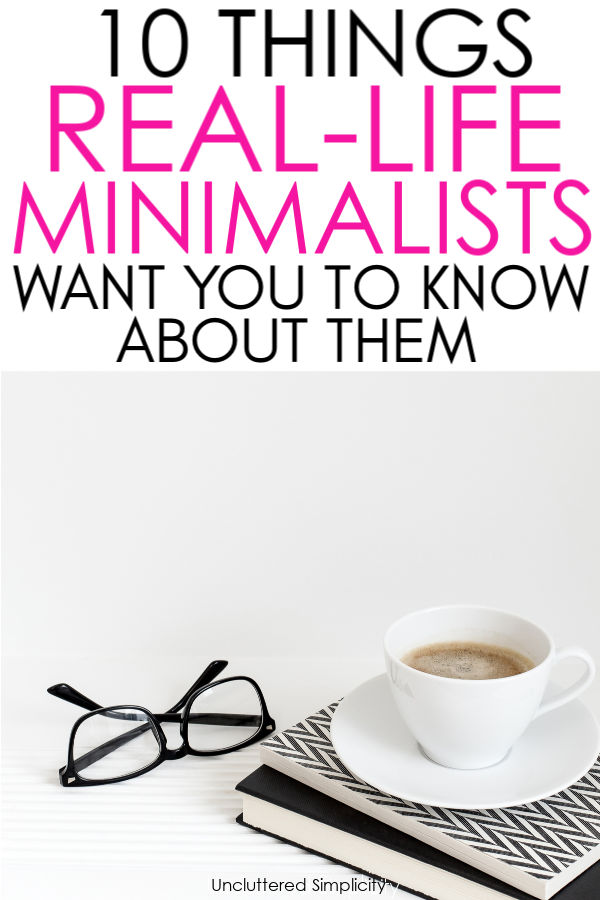 READ MORE:
«
How To Help A Hoarder: 5 Things You Should Never Say To A Hoarder
»
12 Clever Under The Kitchen Sink Organization Ideas