The holiday season is upon us, and with it comes the joy of giving and receiving gifts. One of my favorite things to do each year is to wrap gifts for my family. I like to buy each person their own wrapping paper and make each gift look beautiful, even though my kids destroy the wrapping in minutes! However, as the number of gifts multiplies, so does the challenge of keeping my gift wrap supplies organized and accessible. In this blog post, we'll explore creative ways to organize your holiday gift wrap and display it in a way that adds to the festive atmosphere of your home.

Section 1: The Essentials of Gift Wrap Organization
Before I dive into the fun of displaying your holiday gift wrap, let's first discuss the essentials of organizing your supplies.
Gather Your Supplies
To begin organizing your holiday gift wrap, gather the following supplies:
Having all your materials in one place will make the organization process smoother.
Sorting and Categorizing
The next step is to sort and categorize your gift wrap supplies. Divide them into categories such as wrapping paper, gift bags, ribbons, and accessories. This will help you identify what you have and what you may need to replenish.
Storage Containers
Invest in storage containers that are designed specifically for gift wrap organization. Clear plastic bins or hanging organizers are ideal choices, as they allow you to see the contents at a glance. Label each container to make it easy to locate what you need.

Section 2: Creative Gift Wrap Display Ideas
Now that your gift wrap supplies are neatly organized, it's time to explore creative ways to display them during the holiday season.
A Festive Wrapping Station
Create a designated wrapping station in your home. This could be a corner of your living room, a spare room, or even a closet. Set up a table or a dedicated workspace with all your wrapping essentials readily available. Hang a pegboard on the wall to store wrapping paper rolls, ribbons, and scissors. This not only keeps everything organized but also adds a charming touch to your space.
Wrapping Paper Wall Rack
If you have a designated craft room, you can consider installing a wall-mounted rack to display your wrapping paper rolls. This not only looks decorative but also keeps the paper from getting wrinkled or damaged. You can easily access the paper you need and see when it's time to restock.
Ribbon and Bow Organizer
Ribbons and bows can be tricky to store neatly. A clear plastic bin with dividers or a drawer organizer can keep your ribbons tangle-free and your bows in perfect shape. You can also hang ribbons on a dowel rod or hooks for easy access and a colorful display.
Gift Bag Wall Art
Transform your collection of gift bags into wall art. Find a decorative frame or shadow box and arrange your favorite holiday-themed gift bags inside it. This not only adds a festive touch to your decor but also keeps your bags easily accessible.
Wrapping Paper Cart
For those with limited space, a rolling cart can be a versatile solution. Store your wrapping paper, bows, and other supplies on the cart, and move it around as needed. It's a mobile wrapping station that can be tucked away when not in use. Don't have room for a cart? I have also used an umbrella basket to store my wrapping paper when space was limited!
Over-the-Door Organizer
Utilize the back of a closet or pantry door with an over-the-door organizer. These organizers often have pockets and shelves perfect for storing gift wrap supplies, tissue paper, and gift tags. It's a space-saving option that keeps your supplies within arm's reach.

Section 3: Maintaining Your Gift Wrap Organization
Organizing your holiday gift wrap is a wonderful way to kickstart the festive season, but it's equally important to maintain this organization throughout the year.
Regular Inventory Checks
Make it a habit to check your gift wrap supplies regularly. This ensures you never run out of essential items when the holiday season arrives, and you can take advantage of post-holiday sales to restock.
Reuse and Recycle
Be eco-friendly by reusing gift bags, tissue paper, and ribbons from year to year. Encourage your friends and family to do the same. It's a sustainable choice that also saves you money.
Seasonal Rotation
Consider rotating your gift wrap supplies seasonally. This means storing non-holiday-themed wrapping paper and supplies separately from your holiday collection. It helps keep your storage area clutter-free and makes it easier to locate items when you need them.
Organizing and displaying your holiday gift wrap can add an extra layer of joy and excitement to the holiday season. A well-organized wrapping station and creative display ideas not only make your home feel more festive but also streamline the gift-wrapping process. By maintaining this organization year-round, you'll be well-prepared to spread holiday cheer with beautifully wrapped presents for years to come. So, unwrap the magic of the holiday season by transforming your gift wrap into a work of art!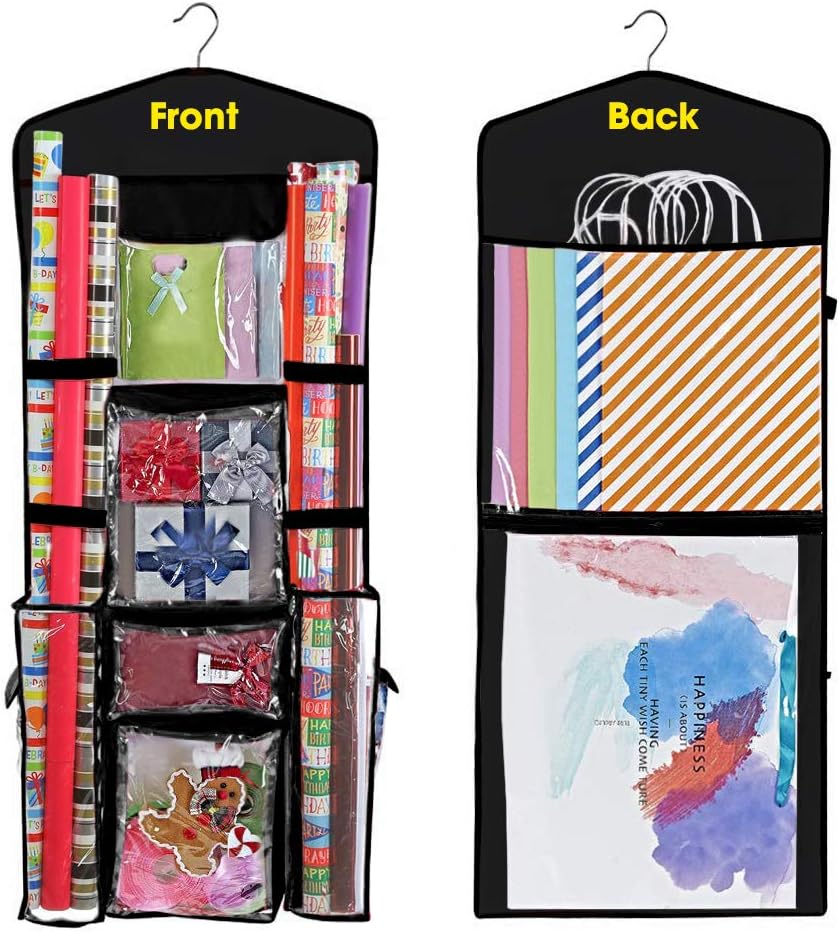 Check out this carefully curated shopping list I've assembled! Discover the same quality items I personally enjoy using!
MORE ABOUT CHRISTMAS ORGANIZATION:
«
Elevate Your Organizational Game with Erin Condren's 2024 Planners
»
Plan The Perfect Holiday with the Free 2023 Holiday Planner