Scarves are such a versatile accessory, from bandanas to silks and pashminas. Scarves are one of the favorite fashion items of women across the globe.
You may wear your scarf in many styles and ways, but when it comes to organizing them, things get messy pretty fast. You try 100 different ways to organize and sort them. Because each time you open the wardrobe, there they are: a big colorful heap staring at you.
And now you have to go through the ordeal of sorting through the mess to find the perfect scarf for your outfit.
Especially when you have lots of scarves, you may wonder what the best ways are to organize them. It's a tricky question, but not when you have some smart scarf storage solutions up your sleeve.
These simple scarf-organizing hacks will help you manage your scarf collection so you can wear them all year long! Plus, they're pretty easy to follow – so let's get started.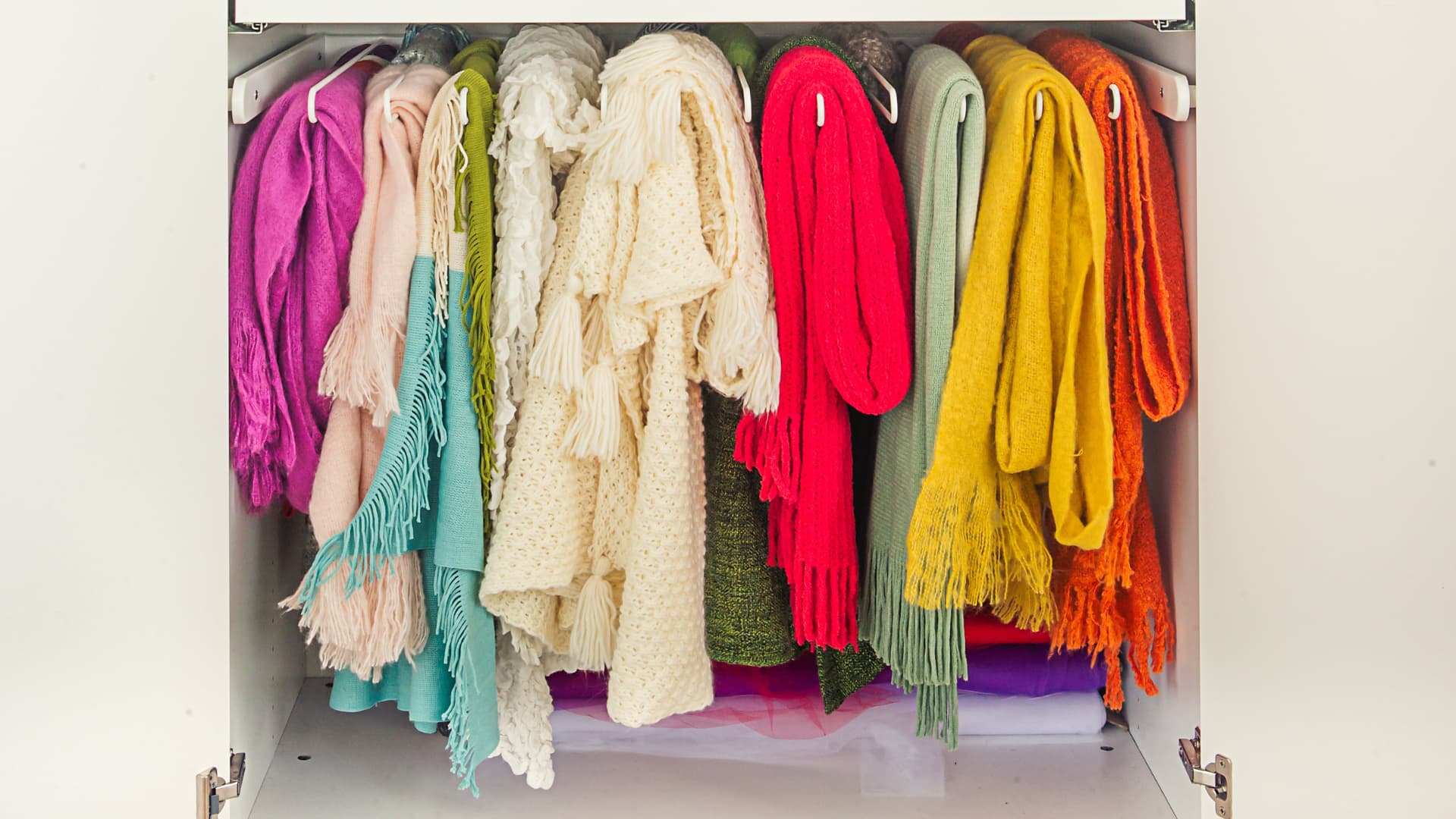 1. Create A Scarf Capsule Collection
Just like with a capsule wardrobe, creating a scarf capsule collection can help you stay organized and only keep the pieces that you really love. Choose a few of your favorite scarves and put them in a special place where they'll be easy to find (and wear!) any time of year. Then, rotate in new pieces as needed so that your capsule collection always feels fresh and exciting!
Related article: How To Know If A Capsule Wardrobe Is Right For You
2. Hang 'em Up
If your scarf storage space is tight, try hanging your scarves instead of folding them, storing them in bins, or filling a basket with scarves.
You can install hooks on the back of your closet door or use over-the-door hangers to keep them organized and out of the way until you need them again. Just be careful not to overload the traditional scarf hangers so that they don't break under the weight of all those gorgeous scarves!
This works especially well for lighter-weight scarves made of materials like silk or thin cotton. All you need is a simple multi-tier scarf hanger, which you can find at most home goods stores. Drape your scarves over the hooks, and you're done – you've got a pretty and practical way to display your favorite scarf range.
3. Keep 'em Sorted
If you've got a large collection of scarves, chances are they're not all made from the same material. To keep things organized (and avoid any unwanted accidental shrinkage), sort your scarves by material type and store them accordingly.
For example, hang delicate scarves separately from heavier chunky wool scarves. This hack will save you time and frustration when it's time to get dressed in the morning. Here are some tips for sorting your beautiful scarves:
1. Sort Scarves By Season
This is a great way to keep your scarves organized and easily accessible. Put your summer scarves in one place and your heavier winter scarves in another. That way, when the weather changes, you know exactly where to find the perfect scarf for the season.
2. Sort Scarves By Style
Do you have a lot of delicate silk scarves? Or maybe you prefer the warmer wool scarves? Whatever your preference, sorting your scarves by style will make it easy to grab the one you want that fits the outfit and style you're going for.
3. Sort Scarves By Color
If you're someone who likes items to be matched, this method is for you. Organizing your scarves by color will help you create coordinated looks. Plus, it'll make it easier to find that matching scarf when you're in a hurry.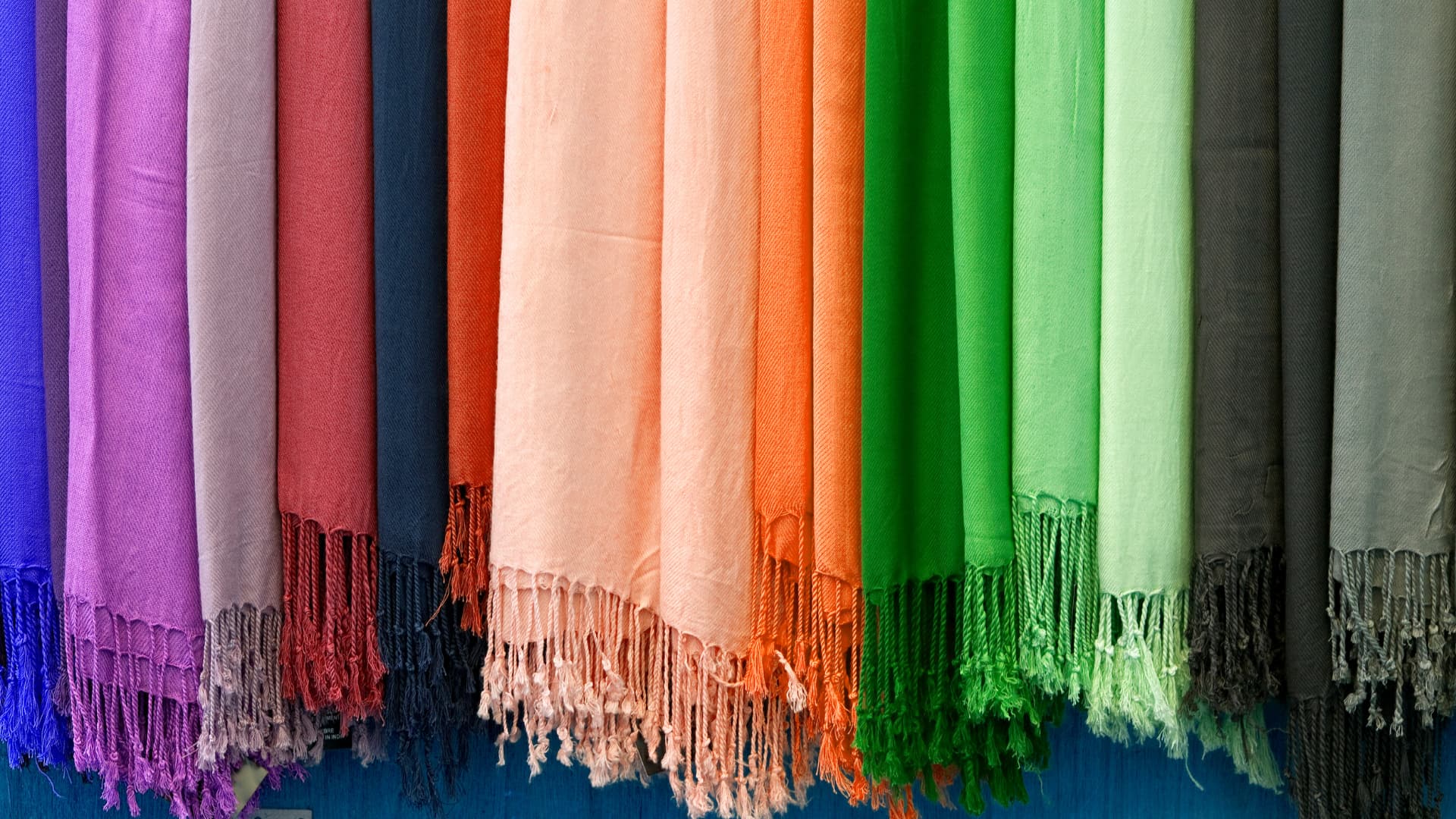 4. Get Creative With Storage
There are all sorts of ways to store scarves besides hanging them up or shoving them into scarf racks. If you're short on closet rod space, try using an over-the-door DIY scarf organizer; the individual pockets are perfect for storing scarves flat (which is vital for preventing wrinkles).
Or, if you've got an unused wall shelf gathering dust in the garage, put it to good use by transforming it into a beautiful scarf display! All you need are some shelf liners and hooks and you're good to go.
5. Invest In Some Fancy Packaging
Invest in high-quality storage solutions if you've got extra cash to spare, and go the extra mile when organizing your scarf collection.
There are all sorts of attractive boxes and containers designed specifically for storing scarves. These are great for protecting delicate items like silk scarves while keeping everything organized and easy to see at a glance.
Plus, they make a great addition to any closet!
6. Utilize That Underutilized Drawer Space
If you're like most people, there's probably some wasted space in your dresser drawers that could be put to better use. Instead of cramming everything in willy-nilly, take advantage of that extra closet space by rolling your scarves and storing them vertically in rows.
Also, you can increase your scarf drawer storage space with dividers and keep your collection of scarves tidy. This hack not only looks organized but also prevents wrinkles and makes grabbing whatever scarf you need easier without having to rummage through a pile.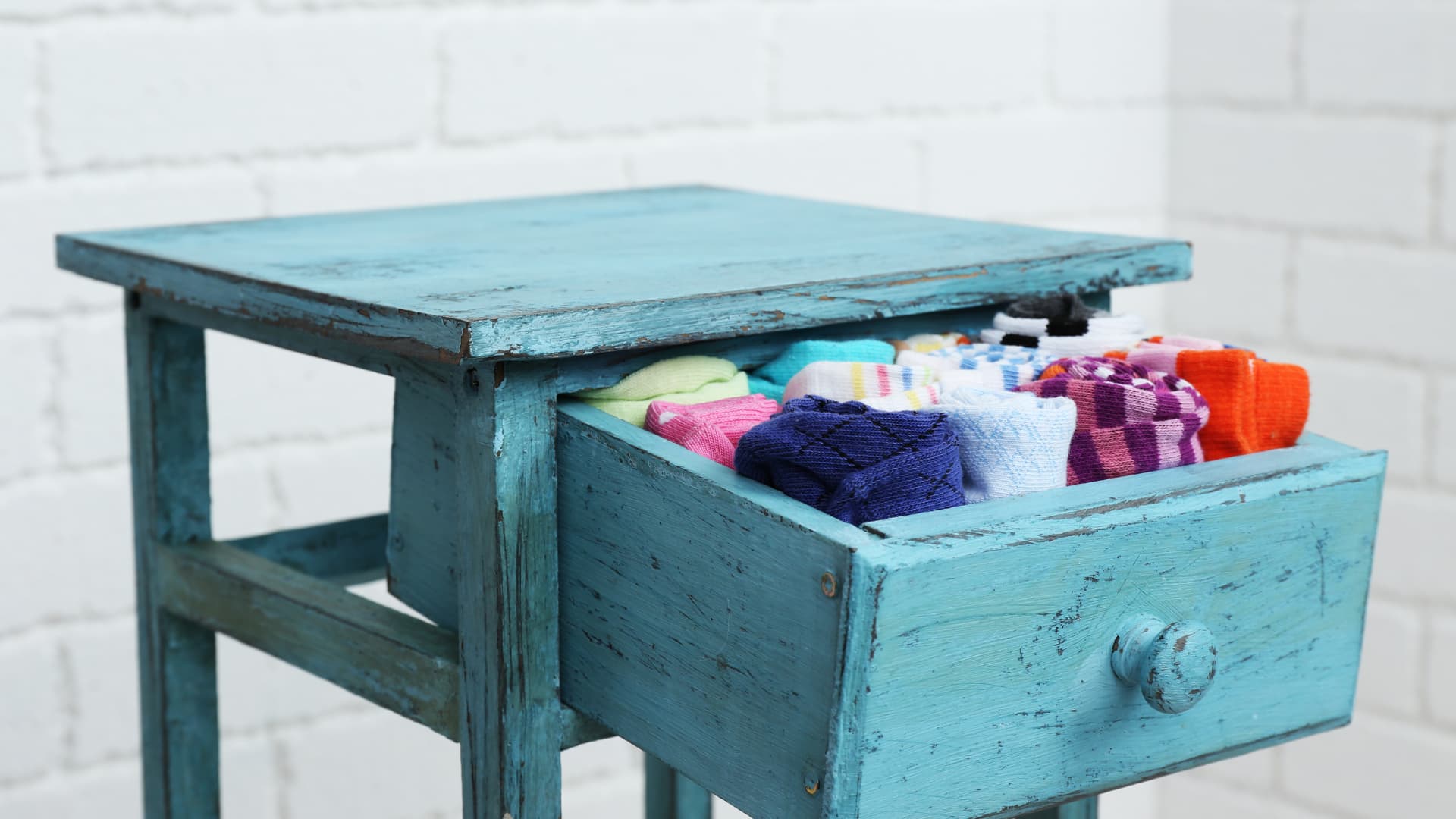 7. Make 'em Multi-Functional
One great nice scarf storage idea is to get more mileage out of your scarves by wearing them as tops – this works especially well with larger square-shaped scarves. Simply fold the scarf in half to form a triangle, then tie the ends around your neck like a bandana, and that's it. You've got a cute new top that'll keep you cool all summer long.
8. Give 'em Away
If you find yourself with more scarves than you know what to do with, consider giving some away to friends or family members who could use them.
Not only will this declutter your collection, but it'll also make someone else smile because of your nice gesture.
You can also sell your beautiful scarf collection and make room for new ones. You'll find plenty of people who want pre-loved expensive silk scarves, so this won't be tough.
Rounding Up
If you're a scarf lover, you know that it can be tricky to keep these beauties organized. They come in different shapes and sizes and are made of materials requiring different types of care.
But never fear. The above-listed savvy hacks will help keep your scarf collection neat, tidy, and easy to access. So get smart and display your beautiful scarves using these easy hacks to ensure your collection always looks symmetric!
FAQs About Organizing Scarves
How Does Marie Kondo Organize Scarves?
Marie Kondo arranges her scarves by color and type. She starts with the lightest colors and folds them in half, then stands them up on their end.
She does the same with the darkest colors, working her way up to the lighter colors.
For types of scarves, she groups them according to thickness (light, medium, or heavy), then folds them in half and stands them up on their end.
Is It Better To Hang Or Fold Scarves?
It all depends on personal preference. Some people experience creased fabric when they fold their scarves, while others find that hanging scarves makes them lose their shape.
Ultimately, it's up to the fabric and your personal preference to decide which option works best for you.
How Do You Store A Hermes Or Silk Scarf?
The best way to store a Hermes or silk scarf is to use the original Hermes box. The disadvantage of stacking all those orange boxes is that you have to open the box to see which one is inside. When you have a bigger collection, you may opt to label the boxes by name of the scarf, the designer, and 3 or 4 dominant colors. 
A simpler way to organize and store Hermes scarves is to use a reusable cellophane bag and stack them.
How Do I Protect My Scarf From Moths?
Garment moths (Tineola bisselliella) are attracted to natural fibers, such as wool, silk, and cotton. The best way to protect your scarf of shawl from moth damage is to store it in a moth-proof container or bag, such as a sealed plastic container or a cloth zipper storage bag.
You can also add cedar balls, blocks, chips, or shavings to the storage container or bag to help repel the moths.
How Do You Make A Scarf Bun Like The Home Edit?
The Home Edit's scarf bun is a simple way to add a little extra style and flair to any outfit, and it's surprisingly easy to do.
Start by twisting the scarf with both hands and create the form of a rough ball. Place one end of the scarf into the hole and form a tight knot. Stack the buns in a pile in a basket or clear container. 
By the way, have you also read my article about the Best Closet Organizing Tips From The Home Edit?
MORE ABOUT HOME ORGANIZING
«
6 Brilliant Car Organization Ideas To Keep Your Car Clean
»
How To Organize Board Games: Best Board Game Storage Ideas