As you sort through your home looking for items to declutter, questions are bound to start flooding through your head. How do you know which items you should keep and which you should discard? What if "Does it spark joy?" just doesn't cut it? I mean, can you honestly say that your toilet brush 'sparks joy'? Here are 10 crucial questions to ask when decluttering that will help you make quick decisions about clutter.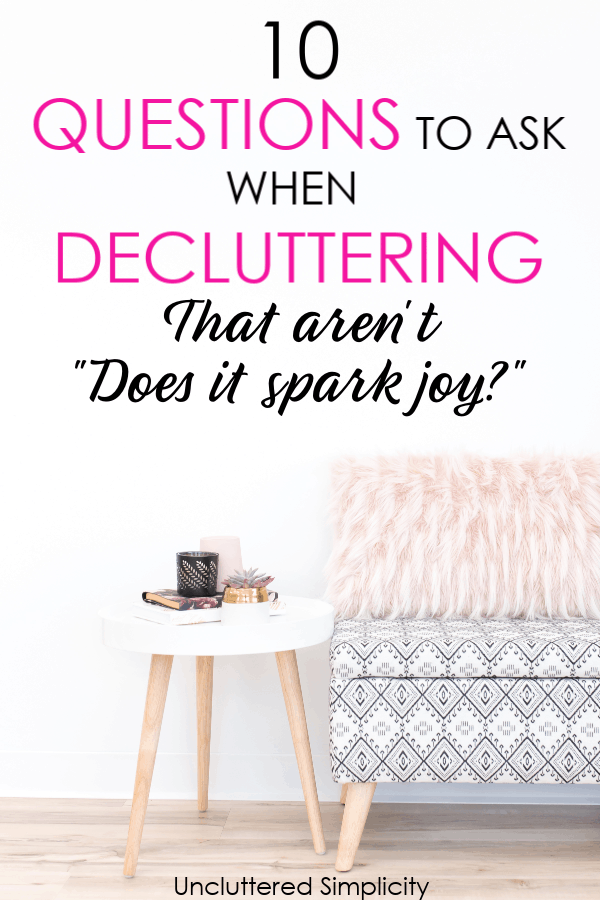 10 Questions To Ask When Decluttering
Clutter is simply delayed decisions. Let that thought sink in for a moment.
If an item isn't useful (to you), loved (by you), or something which you (currently) have space/time/resources to maintain, then it's clutter.  Period. 
Once you've made the decision to declutter and simplify your life, it's far too easy to get stuck in the actual decluttering process. Especially if you have a lot of items to sort through and make decisions on.
When deciding what to keep and/or discard, it helps to ask yourself the following questions.
1. Is this item a NEED or a WANT?
If we listened to advertisers, EVERY helpful product would be considered a 'need'. When someone is constantly whispering in your ear, "You NEED this!" It can be hard to discern whether something is a need or a want.
As humans, our basic needs are:
These are the only things we really need in order to survive. However, I'm willing to bet you want to do more than just SURVIVE. Am I right?
Why is why I don't recommend you get rid of all of your worldly possessions and live a spartan lifestyle.
Ultimately, we all want to be comfortable in our surroundings, to be able to pursue our passions, to explore our creativity, and to experience life with others.
So, while you might not NEED an item, you may find that it still benefits and supports your current lifestyle in some way. If this is the case…KEEP IT!
Remember: It's okay to keep items you don't necessarily need. As long as it is useful to you, loved by you, and you have space/time/resources available to maintain it.
2. Can I live comfortably without this item?
I don't know about you but I like a good challenge.
Periodically, I like to impose limitations on myself just to see if I can overcome them. Such as:
If I turned down the thermostat a few more degrees in the winter would I DIE of hypothermia? (No)
Could I give up sugar for a month? (Yes) Would I enjoy it? (No)
Can I get by without X, Y, or Z? (Maybe)
Sometimes, I discover that life is miserable without certain items (A clothes dryer). Other times, I discover I can, in fact, live comfortably without a particular item (A hairdryer).
Related Post: 20 Things You Can Safely Declutter From Your Home Today
3. Does this item add value to my life?
Another way to phrase this question is: Does this item support or detract from my version of an ideal lifestyle?
For example, if walking by your packed china cabinet conjures up feelings of dread instead of joy, it's time to get rid of it. (When was the last time you actually used what's inside, anyway?)
If you have totes filled with long-forgotten crafts in various stages of completion, but you'd rather curl up with a good book than crochet, let them go.
Still holding on to love letters from a relationship that went sour? Do I even need to say it?
Additionally, when dealing with household decor, ask yourself whether the item fits in with the overall look/feel you want for your home. If it doesn't, donate it.
Like this post? Pin for later!
4. When was the last time I used this item?
Most organizing experts say if you haven't used an item in the last six months, out it goes. However, last time I checked, Christmas only comes once a year.
Therefore, I recommend a timeline of one year as a litmus test.
If Christmas came and went this year and you didn't break out the punch bowl, you can safely assume you probably won't use it next year, either.
5. Would I buy this item again?
This is one of my favorite questions to ask when decluttering because, not only does it help me take a long, hard look at where my money went, it also helps me curb future spending.
Frequently, before purchasing an item I ask myself whether it's something I am buying because it's on sale, everybody else has it,  or because it will truly serve a purpose in my life.
The last thing I want is to wind up decluttering that same item six months down the road due to buyer's remorse.
6. Do I have another item which will do the same job?
When I was a kid one of my favorite tv shows was MacGyver. I loved the fact that he could take literally anything around him and turn it into something useful.
The man was a walking Swiss Army Knife.
I like to think he probably hated redundant items as much as I do and that he didn't own any duplicates in his home.
Because, if his favorite pen suddenly ran out of ink, he wouldn't waste time digging around in a junk drawer for a subpar pen. Nope. He'd go to the kitchen, pulverize some berries, and voila…he'd have ink for his pen again.
7. Do I have the space to store this item?
Time and time again I hear people complaining about not having enough space in their homes.
When the fact of the matter is they simply have too much stuff.
Yep. I went there!
Seriously, why don't we all (myself included) stop whining about the fact that our homes lack adequate storage and instead start decluttering our belongings based on the space we currently have available to us?
Say you're decluttering books and you only have one bookcase in your home. Limit yourself to keeping only those books which will comfortably fit on that single bookcase. Don't go out and buy another bookcase so you can keep more books. Don't box up extra books and 'store' them in the garage. Resist the temptation to come up with additional creative storage solutions just so you can keep more books.
Don't even get me started on off-site storage units. Ugh!
Tip: This question in invaluable when it comes to kid clutter.
8. Do I have the time/energy/resources available to maintain this item?
Every single thing we own costs money, time, and energy to maintain. 
Everyone has the same 24-hours in a day, finite energy, and limited funds. When deciding which items in your home to declutter ask yourself if you really want to spend another minute cleaning/maintaining/storing it. If it broke tomorrow, would you have the money to fix or replace it? Is it worth the mental energy you spend each day fretting about where to keep it?
Think of your home as an exclusive club. The items in it must fulfill certain requirements in order to maintain their membership. They must pay their dues.
If an item in your home isn't living up to your expectations, revoke its membership. Declutter it.
9. Is there someone else who would benefit from this item more than I do?
In his book, "The Minimalist Home" Joshua Becker recounts the story of a woman who loved fashion and struggled to declutter her clothing despite the fact that she knew, deep down, she owned far too many clothes. One day, while driving to work, she noticed a battered women's shelter. Surprisingly, despite the fact that she took the same route every day, she had never noticed it before.
She started thinking about the women inside. How many of them were forced to leave home with only the clothes on their backs? Now, they would need to find employment in order to support themselves and their families. She thought about how she felt when she was dressed for the day in quality, fashionable clothes and she wanted the women living in the shelter to experience the same joy and confidence.
Without hesitation, she was able to finally make decisions about which clothes to keep and which items to donate. According to her, "The (decluttering) process wasn't just about me trying to improve my life anymore; it was about using my excess, unused clothing to become a blessing to others."
10. What is the REAL reason I am holding on to this item?
Why, oh why do we keep stuff we don't use, love, or need?
According to Matt Paxton (owner of Clutter Cleaner and star of the wildly popular show 'Hoarders'):
"In hoarder houses, the mess is bigger, but the emotions and reasons are exactly the same."
Here are a handful of clutter excuses and what you can do to stop them:
Just in case (aka What if I need it someday?)- Realize that 'someday' may never come and if it does, you can likely borrow the item from someone else or rent it.
Out of fear- Ultimately, it is fear which holds us back and keeps us trapped in a poverty mindset. We worry (needlessly) that we couldn't afford to replace something if it were to break, so we hold onto all the things. The reality is, if we can't afford to replace something, maybe we can just do without it.

Out of guilt from the money spent on the item. Or out of guilt (perceived or real) because it was passed down- give yourself permission to declutter your family heirlooms and remember that you can't get the money you've spent back. Release yourself from the guilt you may be experiencing.
Sentimental reasons- Set physical space limits for sentimental items. Such as a keepsake box, single cabinet, or a designated space in your closet. Once it's full, you'll need to make tough decisions on which items to let go of. Remember, if everything you own holds sentimental value, then nothing is truly special.
To fill up space- Believe it or not, sometimes we keep things simply because they cover a wall or fill a corner. I am here to tell you, blank space can be a good thing! It gives your eyes (and brain) a place to rest. Start by setting aside a single wall in your home and designate it a 'blank canvas'. Resist the urge to fill it.
Unrealistic expectations- Oftentimes, we keep stuff we don't use because it represents the person we want to be. Not the person we currently are. Be honest with yourself and only keep items that support or enhance your present season of life.
Mental illness- Such as anxiety, depression, hoarding, compulsive shopping. If this is the case, PLEASE seek help from a medical professional!
5 Bonus Questions to Ask when Decluttering
Can I borrow it if I need it again?
Would I be devastated if it was damaged or lost?
Does owning it make me feel good? (Okay, you can ask if it 'sparks joy' if you really want to)
Is this something I want my children to see one day?
Can it be replaced inexpensively if I need it again?
Of course, you could just kickstart your decluttering momentum by asking yourself just one simple question:
"WHY in the heck do I even have this item to begin with?"
But then, what fun would that be?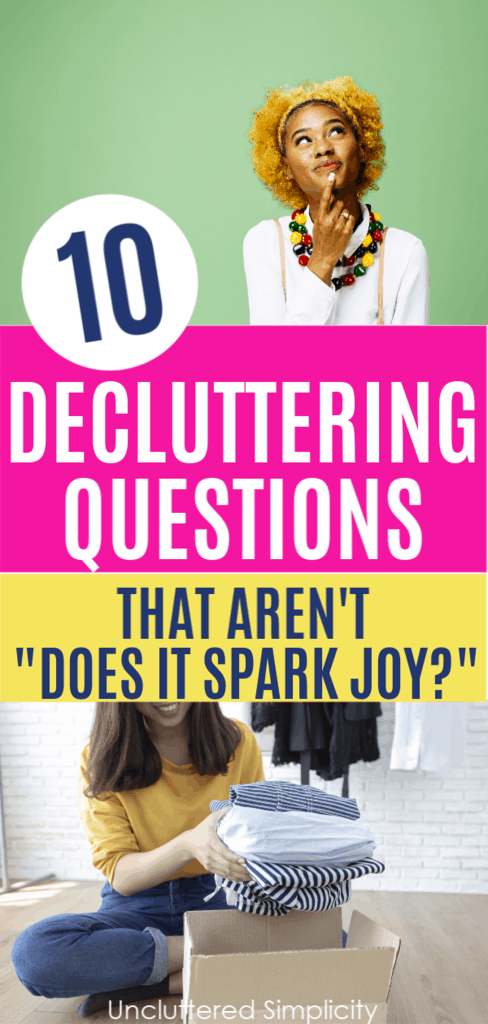 READ MORE: 
«
Small Kitchen Organization Ideas: How To Instantly Create More Storage In A Tiny Kitchen
»
16 Genius Things People With Clean Houses Do Every Day