Our family of 5 plus our 2 dogs, multiple fish and a bearded dragon all live (rather) harmoniously in a 1,100 sq. ft. home. Is it easy? Not always. Is it worth it? Absolutely. Why does our family choose to live in a small house when we could live in a much larger one? How do we deal with the challenges of being crammed into a small space for 12+ hours a day? Keep reading. I will share the pros and cons of living in a small house with a family. And, I'll give you tips for staying sane while doing so.
Living In A Small House With A Family
Who Lives In Our House
I'll start off by listing all of the inhabitants of our home. As far as humans go, there's myself, my husband, and our three children, Noah, Ollie, and Benji. We share our 1,100 sq. ft. home with our two dogs (one small, one medium), over a dozen fish (most of which are housed in a 6-foot long tank), and an adorable bearded dragon who thinks he's a frog.
Throughout the Spring and Summer, the population of our home usually grows in the form of furry/slithery critters. In the past, we've adopted snakes, pond fish, toads, birds, stray kittens and even a baby owl. Don't worry, we never keep them. We simply observe them, rehabilitate them, re-home them or release them back into the wild.
We also manage to entertain fairly regularly and we host three members of my husband's family for two weeks each December. Yes, we are that crazy. There's a nearly constant stream of young people (my kids' friends) coming in and out and raiding our refrigerator. Which, by the way, I wouldn't trade for the world. They are like family to us.
Why We Do It
You may be wondering why we are living small in 1,100 sq. ft. Did we lose a bet? Did we buy a small house when there were only two of us and later started adding children? Maybe we misread the real estate listing when we bought our home and thought we were getting 11,000 sq. ft. instead? Nope. We chose this home on purpose.
Throughout the twenty years, my husband and I have been married, we've had the opportunity to live in homes of varying sizes. We've lived in houses the size of our current home when it was just the two of us. We lived in a 400 sq. ft. apartment, when our oldest was 6 and our middle son was 2. The house we owned before we purchased this one was more than twice the size (about 2,400 sq. ft.).
In fact, it's because of the last home we owned that we decided to live in a smaller one. The house was great. As I said, it was around 2,400 sq. ft. and was situated on over 5 acres in the country. However, the mortgage was not so great. When we purchased the home in 2007, we were living on one (fairly small) income. But the bank said we could afford it and we listened. In fact, the bank qualified us for much more than we purchased our home for. It didn't take us long to realize, sure, we could afford the mortgage payments. IF we gave up eating, electricity, and the vehicle my husband used to get back and forth to work. Somehow, we managed to stick it out for five years before we admitted defeat and put our house on the market.
After that experience, we vowed if we ever bought a home again, it would be one we could comfortably afford.
Related Posts:
Where We Ended Up
The experience with our too-expensive-for-us house led us down the path of living small. When we sold our home, we also sold almost everything in it. We moved with our three children to a small apartment close to my husband's work and could only fit the basics. Unfortunately, we thought we had to keep some stuff and ended up renting storage space for a while.
Amazingly enough, I soon realized I love living in smaller spaces. I started to declutter with wild abandon and soon emptied out the storage unit. I discovered by living small we were not only saving money, but we were becoming closer as a family, and I spent less time cleaning and "organizing" (ie. shuffling things around).
Prior to purchasing our current home, I started reading tiny house blogs. I was fascinated with the idea of living in a tiny house, however, my family was not. As a result, we compromised and signed a contract on our current 1,100 sq. ft. 945 sq. ft. home. A huge bonus was that we could afford it and still have a life. After all, being house-poor is no fun.
Pros And Cons Of Living In A Small House With A Family
PROS:
As I said before, it didn't take me long to discover how quick and easy cleaning a small house can be.
Our family has grown closer to each other because there's nowhere to hide.
It's inexpensive to heat/cool.
Home maintenance projects are less expensive and are easier to manage. (When we lived in a much larger home, we couldn't even afford a can of paint for the walls!)
Our lack of space to fill keeps us from owning stuff we do not need.
Entertaining in our small home is still possible with a little bit of imagination (and some folding chairs).
Our home has "character". It was built in 1904 and they just don't make them like that anymore!
More time. Because we don't spend a lot of time on our small home, we can spend more time on pursuits we enjoy.
We may actually make money when we decide to sell. Because our home is at a lower price point and we have made upgrades, it should sell quickly and net us a profit when we decide to list it.
CONS:
Remember when I said, "There's nowhere to hide?" There really isn't. Sometimes I lock myself in our tiny bathroom just to have some time alone. But somehow, the kids still manage to find me.
Even though our small house is easier to clean, the dust seems to build up quickly. Or maybe we just notice it more?
Bedtime can be tricky. My two youngest share a room and have different bedtimes. As a result, one is sleeping when the other wants to hang out in their room.
Waking up before the kids is difficult. I try to tip-toe around, but they always manage to hear me. Perhaps it's the creaky floors.
It can be loud. Really, really loud. If you like quiet, serene spaces and you are thinking of living in a small house with kids, you may want to reconsider.
How We Manage It
There are four things I (am learning to) do in order to keep my sanity while living small.
Cultivate patience. Not just with others, but with yourself as well. Things aren't always kittens and daisies when you are sharing a small house with your family. There are times when you will need to use the bathroom but will have to wait in line. You will then get angry with someone and inevitably snap at them. Accept this fact and try to be more forgiving of yourself (and the person who was hogging the bathroom).
Know that it is okay to seek time alone. While all of the extra time together as a family is a wonderful thing, eventually, we all crave solitude. Carve out a small area (a closet or a corner) of your home where you can go when you are feeling overwhelmed by all of the chaos. If you can't find such a space, head out for a walk, drive to the library (where everyone has to be quiet), or to the nearest coffee shop.
Get outside. Including the outdoors as part of your living space can instantly enlarge your perspective on living in a small house. Try to get outside as much as possible. Even if you lack a yard, your family can take walks together for a change of scenery.
Invest in noise-canceling headphones. Seriously, they are a life-saver. When you have a husband who likes to watch movies at theater-like levels while you are trying to compose a blog post on the computer just ten feet away, having noise-canceling headphones will save a life. His life.
If you are thinking of living in a small house but aren't sure if you should take the plunge, I highly encourage you to just do it. Our family is nothing special and if we can do it, you can too. There are plenty of people with families larger than ours who live in homes that are smaller than ours. None of us are saints and none of us have it all figured out. Our family has learned to adapt over the years and yours will too.
Make a list of pros and cons. If the number of your "pros" is greater than your "cons" it may be time to move your family into a small house.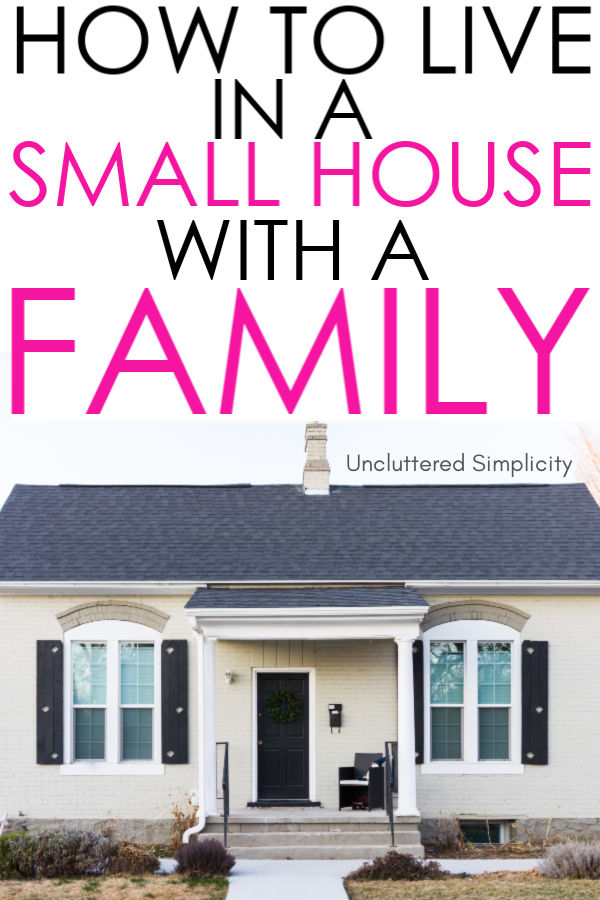 MORE ORGANIZE TIPS
«
The Top 6 Reasons To Declutter Before You Organize
»
Living Small: What It Means And How To Live Small Right Where You Are