Does your vacuum cleaner fall out every time you open the door of your utility closet? Mine did… and after this happened too many times, I decided it was time to start organizing it.
A utility closet can be the space in your home that you least appreciate. If you are like me, you might feel hesitant every time you want to start with your cleaning duties. Which makes it important to take some extra time to organize your utility closet and even make it look pretty.
But before you start buying storage products, you'll need to find out what you're working with. Especially when your utility closet is small or even tiny, you may appreciate my step-by-step guide to small utility closet organization.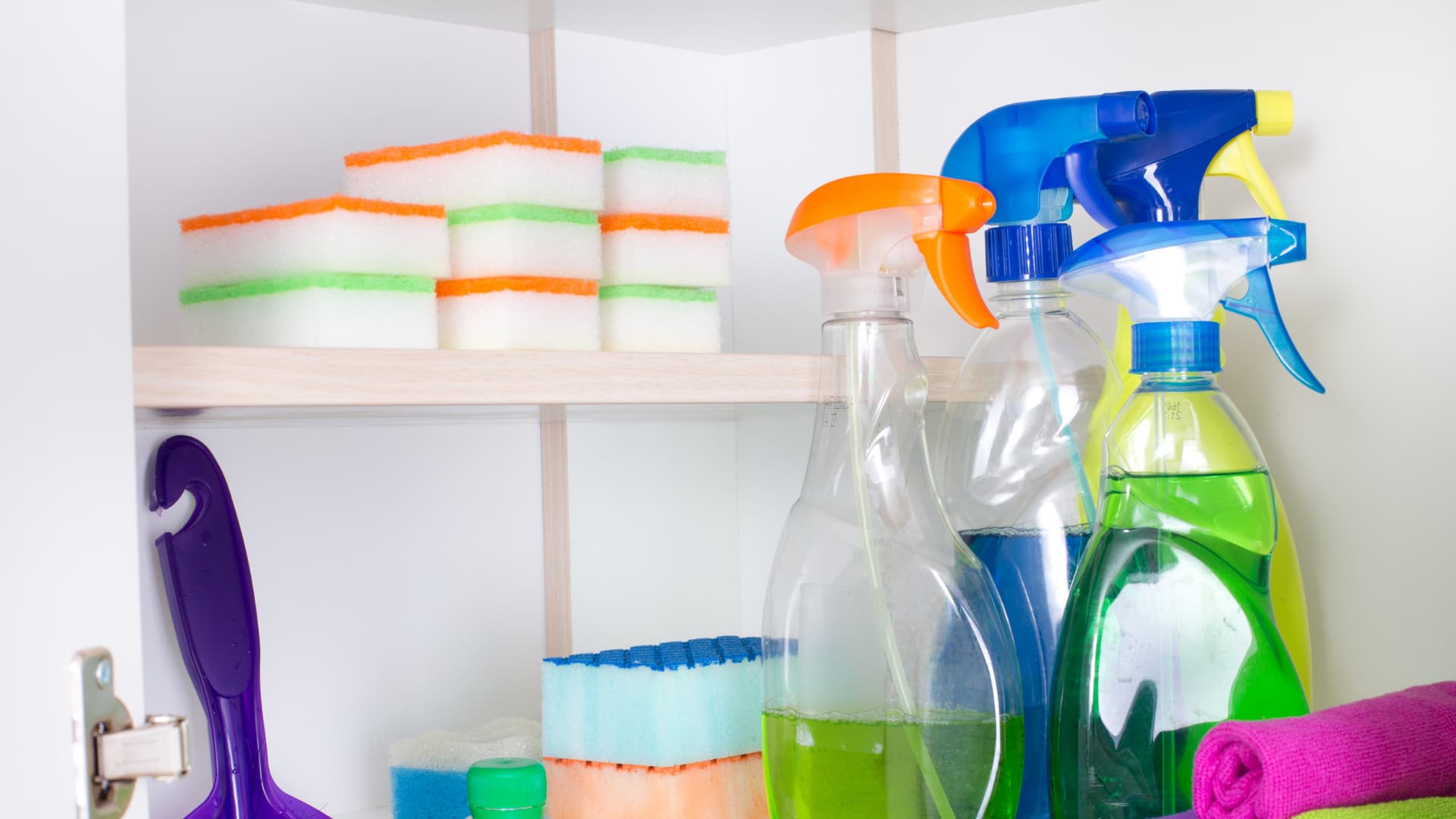 What Is A Utility Closet And What Does It Store?
What is a utility closet exactly you may wonder and what items should you store in it? In short, a utility closet is a small closet, or a small room and sometimes only a cabinet, where you store your broom, dustpan, cleaning supplies, vacuum cleaner and sometimes, when it's bigger, even your ironing board or a small ladder.
Locating your utility closet or broom closet near the most used rooms in your home is a practical and advisable solution. Most homes have a laundry room option that can be used as a utility room as well. And in some homes that lack the space, you have to be more creative.
You may opt for a part of your pantry, a small hallway closet, or a designated part in your garage or basement. If you have a really small home, you'll have to work with just one cabinet. Here are some excellent under-the-kitchen-sink-cabinet organization ideas that may inspire you.
How To Create More Storage In A Small Utility Closet In 7 Steps

The key to fully optimizing the space of your utility closet is to utilize every inch (pun intended!). Of course, there are many storage hacks and products to fulfill any requirements and I'll get into that. But first, grab a pair of cleaning gloves and a few boxes or garbage bags. Mark the boxes or bags with two different labels: throw away and donate.
Step 1: Get Everything Out And Categorize
The first step in any organizing project is to get everything out and to take a good look at what you have. Now categorize everything in one of the below categories.
Throw away – this is the box to collect old or half-empty cleaning products, a broken vacuum cleaner accessory, a worn broom or dustpan, dusty Swiffer wipes, an overwhelming amount of plastic bags et cetera. PS check out this article on The Best Ways To Organize Plastic Bags.
Donate – this is the box to collect items that are still good, but that you don't use anymore (if ever). For example never used cleaning supplies, or surplus products you keep just in case.
Store – in this pile you will collect all the items you'll want to keep.
Step 2: Clean Every Nook And Cranny
After you've taken everything out and categorized it, it's time to let those cleaning gloves do their job. Fill a bucket with a soapy solution, grab some sponges or rags, and a ladder for those hard-to-reach places.
Now give everything a good cleaning, working from top to bottom. Use a duster to clean out cobwebs, dust and wipe shelves and contact points like doorknobs, vacuum clean the floor, and wipe it afterward.
Step 3: Optimize Your Vertical Space
When you're dealing with only a small utility closet, the walls and inside of the door are even more valuable. Take a good look to see what vertical space you can use as storage space. Personally, I like the wall-mounted broom and mop holder, a perfect solution to prevent a cluttered nook filled with broomsticks in different sizes.
Also, a hose hanger to hang your vacuum cleaner hose or loose cords is a good solution to mount to your door or wall. And yet another super solution is an over-the-door hanger you may use to hang cleaning clothes, cords, or cleaning supplies. A towel bar will do that trick as well.
Step 4: Use See-Through Or Clear Storage Solutions
For a quick overview of what you have, you may opt for clear or see-through containers. This way, you'll notice immediately when certain items are getting out of stock. Also, you'll notice if you have some storage space left.
Step 5: Double Or Triple Your Floor Space – All The Way Up To The Ceiling
If you have a small utility closet, you can multiply your floor space by using tiers or shelves, all the way up to the ceiling. Make sure you store items you rarely use higher up and items you regularly use at a more easy-to-grab area. And store bulky or heavy items on the floor. If you have difficulty reaching the top, make sure you save some space to store your ladder. Maybe even mount it to a wall with a few sturdy garage hooks?
Step 6: Make It Look Pretty
Like I said at the beginning, a utility closet may not be the most appealing space in your home. Therefore, it's important to take some time to make it better. You'll feel happier already when you look at a pretty and organized space.
For example, you may wallpaper the back wall, or create unity in your storage solutions by limiting your use of color or by using the same colored storage solutions or products.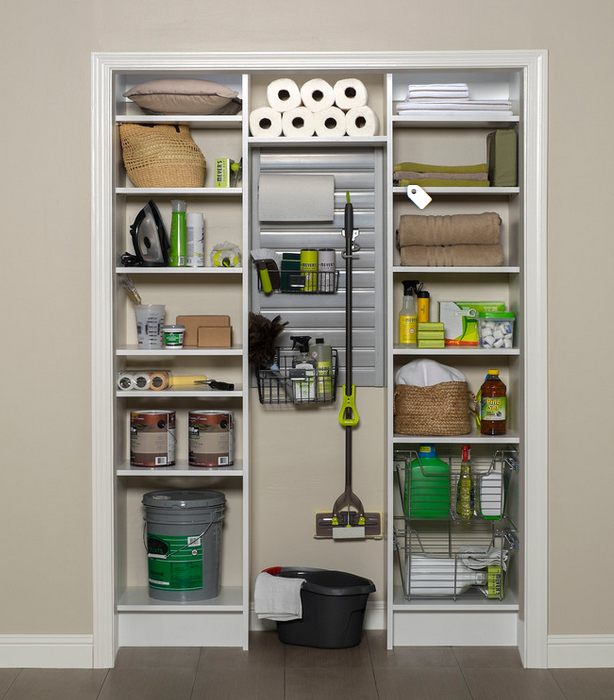 Step 7: Organize With Storage Solutions For Small Utility Closets
Here, I've created a list of various utility closet organization products that will not only organize your utility area and hopefully help you create more space, but also aid in decreasing the time you have to spend cleaning by having all of your household products in helpful and easy-to-see places.
These baskets are the most versatile option. Whether you are looking for areas to store extra cleaning supplies, household tools, or kitchen products, purchasing wall-hanging baskets will make the most out of any space. While already established space in your utility closet may be in short supply, purchasing wall-hanging baskets that simply drill into the wall or door of your closet will create new areas to store all types of products.
Since these extra large baskets come separated, you can store your larger and taller products with ease. These particular baskets are made from durable steel wiring which is coated with anti-rust and anti-corrosion products to ensure that the baskets will be long-lasting. Each basket can hold up to 50 pounds worth of items, allowing you to store many products in these baskets.
Similar to the wall-hanging baskets, this wall-mounted broom and mop holder is designed to amplify your storage space by adding a new variant of utility closet organization that you might not already own. The most bothersome household products to store tend to be of the taller variety, as there are fewer places to hold them.
Whether you need a place to store your mops and brushes, gardening and household tools or simply kitchen utensils, this broom and mop holder can hold household products of various sizes and lengths. This particular product contains slots for five products and can be easily drilled into any surface in your utility area. There are also multi-packs available as well as singular packs with more or fewer slots for your household products.
When you set about cleaning the various rooms of your home, do you ever tire of having to return to your utility closet to collect different cleaning products? Or you misplace the various cleaning products you use whilst cleaning and have to go through every room of your house trying to find it? Then this metal mesh rolling cart will be perfect for you.
Not only can you conveniently store the cart in your utility closet, but you can easily wheel the cart around your house as you clean each room without having to return to your closet once. This rolling cart is also designed with three levels of storage, perfect for storing the cleaning products and equipment you need, no matter their size or shape.
The mesh material of each level will also allow you to easily see the various products that you have stored in the cart so you will not have to search through to find what you are looking for.
The first of the two non-drill items is this garbage bag holder. A repeat offender of making utility cupboards, drawers, and closets unnecessarily messy and disorganized are garbage bags. Once you have taken the first one off of the roll, they tend to continue to unroll themselves where ever they are placed.
This garbage bag holder is the perfect solution to this problem, you can either hang it on the back of a door, or even drill it into a wall and easily store your garbage bags as well as use it as a handy dispenser, rather than removing a whole roll from their holder.
Nothing is more annoying than opening the door of your utility closet, only to be attacked by your vacuum cleaner hose. You know what I mean, right? Having a hose hanger like this one, you can simply hang your vacuum cleaner hose to ensure that it won't fall out or become a loose object in your closet.
Our second utility closet organization product that does not require a drill, is this over-the-door hanging rack. Designed to simply fit over the door frame of your desired location, this hanging rack can be used to store a variety of different products.
Whether you need a place to store coats and bags, towels and dishcloths, or any household cleaning products that can be stored by using a simple hook, this hanging rack will keep everything in place. And as it does not need to be drilled into place, you can easily maneuver this hanging rack to different locations.
This is one of the best organizing ideas for your utility closet: an all-in-one ironing organizer. Not only does it store your ironing board in an upright position where it will not fall over, but there is also a storage basket attached that will easily fit your iron and ironing products.
This organization idea will save you time from having to collect your ironing products from multiple places, as they all will be easily stored on this wall hanger, which can be quickly and securely set up by simply drilling it to your desired location with two screws.  
Want More Tips On How To Organize A Small Home?
Are you really excited about organizing your small home? Check out these articles!
I hope you found the suggestions to be useful and would love to hear back from you! Please leave your feedback in the comments.
«
Small Kids Room Organization Ideas To Maximize Space
»
How to Organize Office Supplies