As a mom of 3 boys ages 18, 14, and 10, I have learned a thing or two about what I should (and should not) say to them. If you have a son, then you know from experience, boys are not only a different gender, sometimes it can seem like they are a different species altogether. I don't think I will ever have boys completely figured out, but that's part of the fun of raising them. Here are ten things every boy needs to hear from his mom.
Related: 10 Things Every Boy Needs to Hear From His Dad
10 Things Every Boy Needs To Hear From His Mom
1. "I Love You"
Telling your son, "I love you" may seem like a no-brainer. After all, it's an easy thing to say (when he is young). The older your son gets, he may tell you it embarrasses him when you say you love him. He may even think it's "gross". When your little boy becomes a teenager, it can be difficult to find the time to be face to face with him for longer than 2 minutes at a time, let alone be able to tell him these three little words. No matter how hard it can be to find the time to say, or how gross your son thinks it is, it is vital that we tell our sons we love them each and every day.
Don't let the sun go down without telling your boy you love him, even if you have to text it to him.
Here are 10 (totally free) ways you can show your love to your son.
2. "Let's play!"
As moms, we may not always understand why our boys do the things they do. If you grew up having tea parties and playing with Barbie dolls, your son's rough style of play may be completely foreign to you. However, it's important for us to engage our sons and show them we are interested in what they like to do.
Get down on the floor (or in the dirt) and play with legos, matchbox cars, and action figures when your son is young. Play video games with your son when he's older. (Even if you suck at them).Go fishing, hunting, or hiking with him. Whatever interests your son, try to get involved with it.
Doing this one simple thing may help you to understand your son (just a little bit) more.
3. "It's okay to cry."
In American culture, in particular, boys are (often) taught from a young age that it's "babyish" or "girly" to cry. As a result, boys learn to hide their feelings in order to try to appear "tough".
Boys aren't robots. They experience fear, concern, sympathy, and grief. Be cautious not to stifle these feelings by discouraging your son from crying. Or he may one day become a man who is unable to communicate with his wife.
4. "You are just like your father."
Usually, when moms say this, it is meant to be derogatory. For the sake of speaking words of encouragement to our son, as well as exhibiting respect for our husbands, we should tell our son all of the positive traits which he and his father share.
For example, if your son's father is good at working with his hands, and your son shows an interest in building/fixing things, point it out to him. Most boys want nothing more than to be just like their daddy. Give him the encouragement he needs to do so.
Every boy needs to hear from his mom…
5. "Can I have a hug?"
Once our sons reach a certain age (usually teenage years), our physical affection towards them wanes. However, the need for human touch does not go away simply because they grow another year older.
When boys become teenagers, it is common for their self-esteem to suffer. Don't contribute to this by shying away from touching your son. A quick hug, pat on the back, or stroke of their hair can help bolster your son's confidence and reaffirm your love for him.
6. "Listen to your father."
It is so very important that our sons witness a unified front when it comes to parenting them. If we (as moms) are constantly negating our husband's requests, or worse, belittling them in front of our sons, our boys will grow up unsure of their roles as husbands and fathers.
Even if you don't agree with your husband, back him up whenever your son is around. Later, you can speak privately to your husband about any differences of opinion.
7. "Stand up for what is right."
There is so much injustice in the world today, and too many good people doing nothing about it. If your son shows an interest in fighting racism, poverty, world hunger, child abuse, genocide, etc. encourage his altruism. Help him find practical ways he can make a difference. Who knows, he may grow up to be a humanitarian who will one day affect a lasting change in the world.
8. "It's okay to fail."
Every boy needs to hear from his mom that it's okay to fail. In a world where everyone gets a trophy, we need to remind our sons that failing is a natural part of life. It is through our failures that we are able to grow, and eventually, succeed. Here's a post on 10 successful people who turned their failures into victories.
9. "Thank you for…"
Words of affirmation are key to raising confident boys who will, in turn, become confident men. In addition to laying on the praise for a job well done, we moms need to remember to say "thank you" to our sons.
When our son finishes a difficult task requested of him or displays positive behavior, we should let him know that his hard work and kindness is appreciated. Don't just focus on the big things he does, be sure to say thank you for the little things (like taking out the trash), so he is encouraged to continue doing them.
10. "You are going to be a great daddy/husband one day."
Every boy needs to hear from his mom that he will one day become an amazing adult. No matter the career path he chooses, he needs to know that true success is not defined by a job title. Our boys should strive to be the best daddies and husbands they can be.
After all, they want to be just like their daddy, right?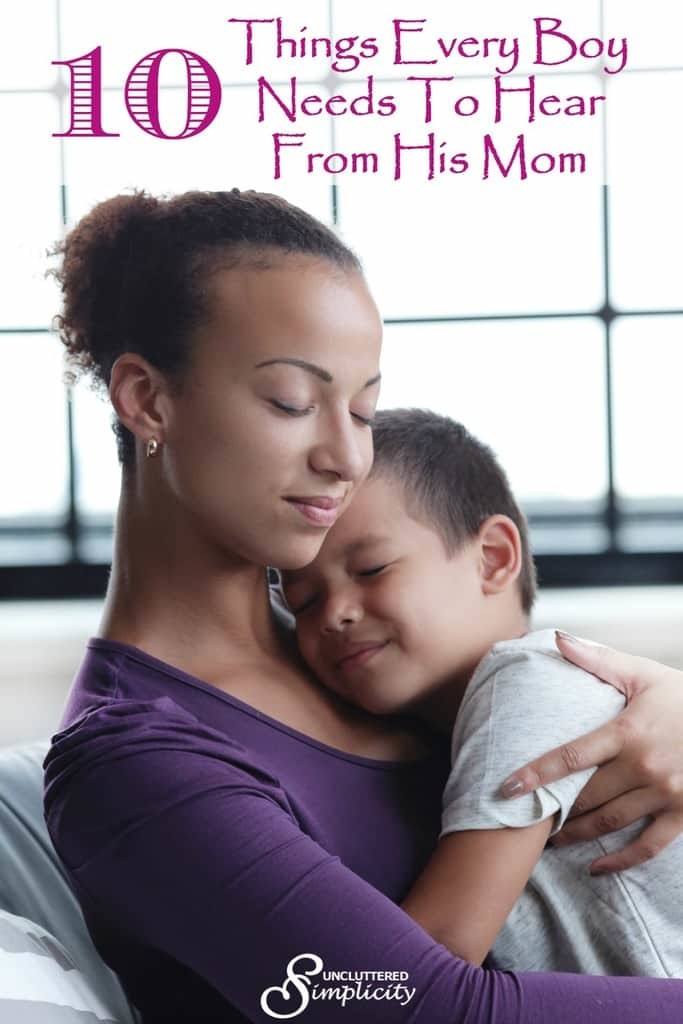 READ MORE:
«
How to Declutter and Deep Clean your Kitchen in One Weekend or Less
»
10 Things Every Boy Needs to Hear From His Dad