Before the days when front-loading washing machines existed, my mom had a top loader where she would strip laundry. Did I just age myself by saying top loader? Regardless, I own a front-load washing machine and had to figure out how to still carry on laundry stripping for my family's laundry. In this blog post, we'll dive into the art of laundry stripping, exploring what it is, why it's essential, and how you can do it yourself. With or without a top-loading washing machine!
What is Laundry Stripping?
For starters, what is laundry stripping? Well think of it is a deep-cleaning technique that returns your laundry back to its 'factory setting' by removing accumulated dirt, detergent residue, fabric softener buildup, and even body oils and skin cells. It's particularly effective for towels, bed linens, cloth diapers, and workout clothes, which tend to trap and hold onto these elements over time.
Why is Laundry Stripping Necessary?
Why is it necessary you ask? Have you've ever noticed that your towels have lost their softness, your white shirts appear dingy, your once-bright colors have faded, or you just can't get the stink out of your kids sports gear? I imagine everyone reading this has answered yes, and that means laundry stripping might be just the solution you need! Over time, even the most diligent washing machines can't eliminate all the impurities that accumulate on your clothing and linens. These impurities can lead to:
Dull Colors: Laundry detergents, fabric softeners, and body oils can build up on fabric fibers, causing colors to appear faded and lifeless.

Reduced Absorbency: Towels and washcloths can lose their absorbency due to detergent and fabric softener residue, leaving them less effective at drying.

Unpleasant Odors: Bacteria and mold can thrive in the trapped residue, leading to musty or sour odors in your laundry.

Skin Irritation: Residual detergents and softeners can irritate sensitive skin, leading to discomfort and rashes.
How to Strip Your Laundry
Ok, you're convinced you need to strip your laundry, but how? Well here is how I do it!
Materials You'll Need:
Steps:
Prepare Your Container: Start by filling your container or bathtub with hot water. Ensure you have enough water to fully submerge your laundry. I like to use my bathtub!
Add Cleaning Agents: For every gallon of water, you'll want to add about 1/4 cup of borax or washing soda and 1/4 cup of laundry detergent. Stir well to dissolve the powders and distribute them evenly.

Add Your CLEAN Laundry: Wash and dry your laundry like normal and then place your laundry items into the container, making sure they are fully submerged. You can strip multiple items together as long as they have similar care instructions. It's also really important to strip whites with whites, darks with darks, and colors with colors. Don't say I didn't warn you!
Soak and Stir: Allow your laundry to soak for 4-6 hours or even overnight. During this time, stir the mixture occasionally to dislodge dirt and residue. This step is where those 'optional' rubber gloves may come in handy!

Rinse Thoroughly: After the soaking period, drain the water and rinse your laundry items thoroughly with cold water. Continue rinsing until the water runs clear and free of soap and detergent residue. You can do this right in your tub if you'd like! I am a busy mom of 3 with 1 on the way and I have no time for that! I prefer to put it right into my front loader and put our laundry on a cold rinse/spin cycle. I may do this 1-2x!

Dry Your Laundry: Finally, dry your laundry items as per their care instructions. You'll be amazed at how soft and vibrant your clothes and linens will look and feel!
Conclusion
Laundry stripping might seem like a labor-intensive process, but the results are well worth it. This deep-cleaning technique can breathe new life into your clothing and linens, restoring their colors, absorbency, and freshness. Whether you're a laundry enthusiast or just someone looking to give their laundry a little extra love, laundry stripping is a fantastic addition to your laundry routine!
Frequently Asked Questions
How often should I strip my laundry?
Laundry stripping is not meant to be a regular part of your laundry routine. It is typically done when you notice persistent odors or a decline in the cleanliness of your textiles. Most people strip their laundry every few months or as needed.
What do I need to strip my laundry?
To strip your laundry, you'll need hot water, a container or bathtub large enough to submerge your items, washing soda, borax or laundry detergent, and sometimes vinegar. Make sure to check the care labels on your textiles to ensure they can withstand the stripping process.
Can I use laundry stripping on all types of fabrics?
Laundry stripping is suitable for most types of fabrics, but it's essential to check care labels and use caution with delicate items. Some fabrics may not tolerate the high temperatures and agitation involved in stripping.
Can I use laundry stripping for colored or dark fabrics?
While laundry stripping is generally safe for colored and dark fabrics, it's essential to be cautious. Extended soaking in hot water can cause color fading or bleeding in some materials. Always perform a colorfastness test on a small, inconspicuous area before stripping colored textiles. 
Is laundry stripping eco-friendly?
Laundry stripping involves the use of hot water and sometimes cleaning agents that may not be considered eco-friendly. If you're concerned about the environmental impact, consider using eco-friendly detergents and minimizing stripping to when it's truly necessary.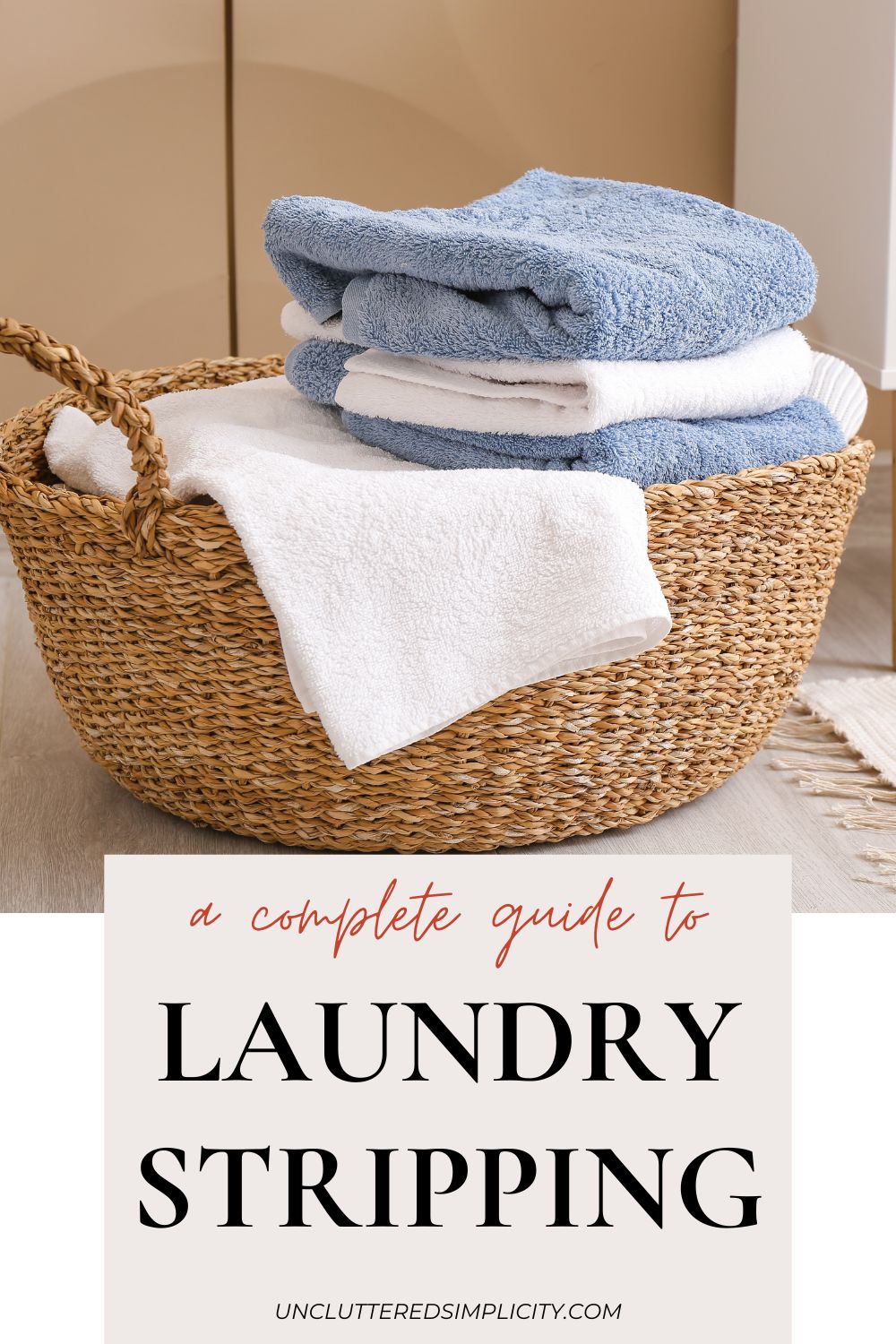 MORE ABOUT ORGANIZING:
«
New Years Organization: Free 2024 Printable Calendar and Top Tips for Planning for 2024
»
Elevate Your Home: Entryway Organization and Decor Ideas