The entryway of your home is the first impression you give to guests, and it's also where you set the tone for your own daily routines. A cluttered and disorganized entryway can make your whole home feel chaotic and unwelcoming. I dream that one day I'll have a mudroom in my home. A catch-all space that my husband, kids, and dog can make a mess in! A place where they can leave their shoes, hats, gloves, leashes, and backpacks, but for now I use our entryway to store these items. Fortunately, with some thoughtful planning and organization, I've managed to transform our entryway into a functional and aesthetically pleasing space. In this blog, you'll explore step-by-step how to organize your entryway for maximum efficiency and style!
Step 1: Define Your Entryway's Purpose
Before you dive into organizing your entryway, it's crucial to understand its intended purpose. Is it primarily a space for welcoming guests, or does it serve as a drop-off spot for keys, mail, and other daily essentials? Perhaps, like me, you need your entryway to fulfill multiple roles. Clarifying how you want to use the space will guide your decisions about what to include and how to organize it effectively.
Step 2: Declutter Entryway
I started with a blank canvas in my entryway, so I skipped this step, but you may need to begin the organization process by decluttering your entryway. A clutter-free entryway is the foundation of successful organization. Even if your entryway is currently chaotic, it's essential to begin with a clean slate. Remove everything from the space, including shoes, coats, bags, and any miscellaneous items that may have accumulated over time. Take a systematic approach to decluttering by sorting through these items and deciding what should stay and what should go. Donate or discard items that you no longer need or use. This step is paramount for creating the blank canvas necessary for effective organization.
Step 3: Create Functional Zones
Once you've decluttered, it's time to create designated zones within your entryway. These zones will help ensure that everything has its place and make it easier to maintain order. Common entryway zones include:
Storage Zone: Install a coat rack, hooks, or a hall tree for hanging coats, scarves, and bags. To optimize storage, consider adding a bench with hidden compartments for shoes and seasonal items like gloves and hats.
Drop Zone: Designate an area for items such as keys, mail, and everyday essentials. A small table or wall-mounted shelf with baskets can work well for this purpose.
Mirror Zone: If space allows, consider adding a mirror for last-minute appearance checks before heading out the door.
Shoe Zone: Create a designated area for shoes, whether it's a shoe rack, cubbies, or a dedicated closet.
Decor Zone: Infuse your personal style into the entryway by adding decorative elements such as artwork, family photos, or indoor plants.
Step 4: Invest in Smart Storage Solutions
Now that you've defined the zones within your entryway, invest in the appropriate storage solutions to keep everything organized. Here are some storage ideas tailored to each zone:
Storage Zone: Install wall-mounted shelves or a console table with drawers for the drop zone.
Drop Zone: Utilize baskets or bins to corral small items like keys, sunglasses, and mail. Consider a key holder or a mail organizer to keep these essentials in check.
Shoe Zone: Depending on your space, choose a shoe rack, cubbies, or an entryway bench with built-in storage for shoes and other accessories.
Coat Zone: Use hooks or a coat rack for hanging coats, bags, and hats. Consider a wall-mounted shelf for additional storage or display.
Decor Zone: Select storage solutions that match your decor and overall aesthetic. Decorative baskets or trays can hold items like mail and keys while adding a touch of elegance.
Step 5: Personalize and Style with Decor
Your entryway should not only be functional but also a reflection of your personal style. Adding decorative elements can make the space visually appealing and inviting. Here are some styling ideas:
Wall Decor: Hang artwork, family photos, or a stylish mirror on the walls to add character and warmth to the space.
Greenery: Incorporate a decorative vase with fresh flowers or a potted plant to breathe life into the area.
Coordinated Design: Choose storage solutions that complement your decor and overall aesthetic. Coordinating colors and materials can create a harmonious look.
Accessories: Use decorative baskets, trays, or bowls to hold items like mail, keys, or small decorative pieces.
Step 6: Maintain Entryway Regularly
To ensure your organized entryway remains functional and clutter-free, make it a habit to maintain it regularly. I like to assign each family member the responsibility of checking their designated spaces and ensuring everything is organized and in its proper place. Consistency is key to keeping the space orderly and efficient.
Conclusion
An organized entryway is not just a practical space; it sets the tone for your entire home and leaves a positive impression on your guests. Moreover, it can significantly streamline your daily routines and help reduce the morning chaos, particularly on busy school days. By defining its purpose, decluttering, creating functional zones, investing in smart storage solutions, personalizing the space, and maintaining it regularly, you can transform your entryway into a welcoming and efficient area that simplifies your daily life. Embrace the benefits of a well-organized entryway, and look forward to welcoming guests into your home with pride and ease.
Entryway Shopping List
I've compiled a curated shopping list featuring some of my personal favorites for crafting the perfect entryway. This selection emphasizes minimalism, functionality, and aesthetics to elevate your space.
Wall Mount Hook: Perfect for hanging hats, backpacks, coats, purse, umbrellas, or even a basket for more organization!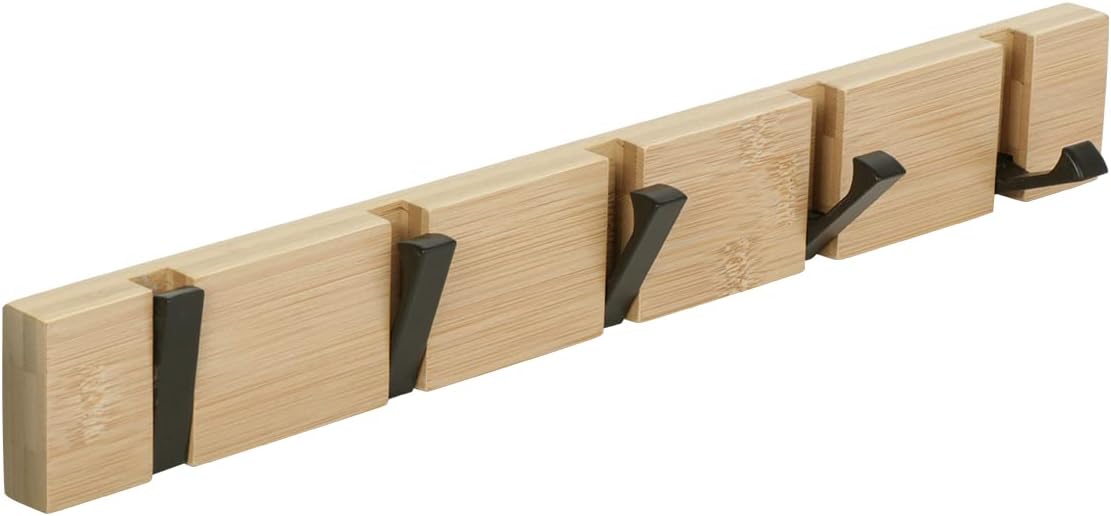 Entry Bench with Storage: This piece is perfect for storing shoes and giving you a place to sit to take them on and off. You can even add some fun baskets to hide anything you want to store!
Entry Table: Maybe you don't need to store much but need a catch all place for mail and keys when you come home! 
Don't forget the fun decor pieces!! 
MORE ABOUT ORGANIZING:
«
Your Guide to Laundry Stripping: Revive Your Clothes with Deep Cleaning
»
Elevate Your Organizational Game with Erin Condren's 2024 Planners