Trying to organize and declutter when you're a hoarder, packrat, or clutterbug is a lot like fighting an uphill battle…in a tornado…while wearing a parachute. What I'm saying is, decluttering for hoarders ain't easy. But, with hard work, dedication, and a hefty dose of patience, it is possible. Here are ten life-changing decluttering tips for hoarders, packrats, and clutterbugs.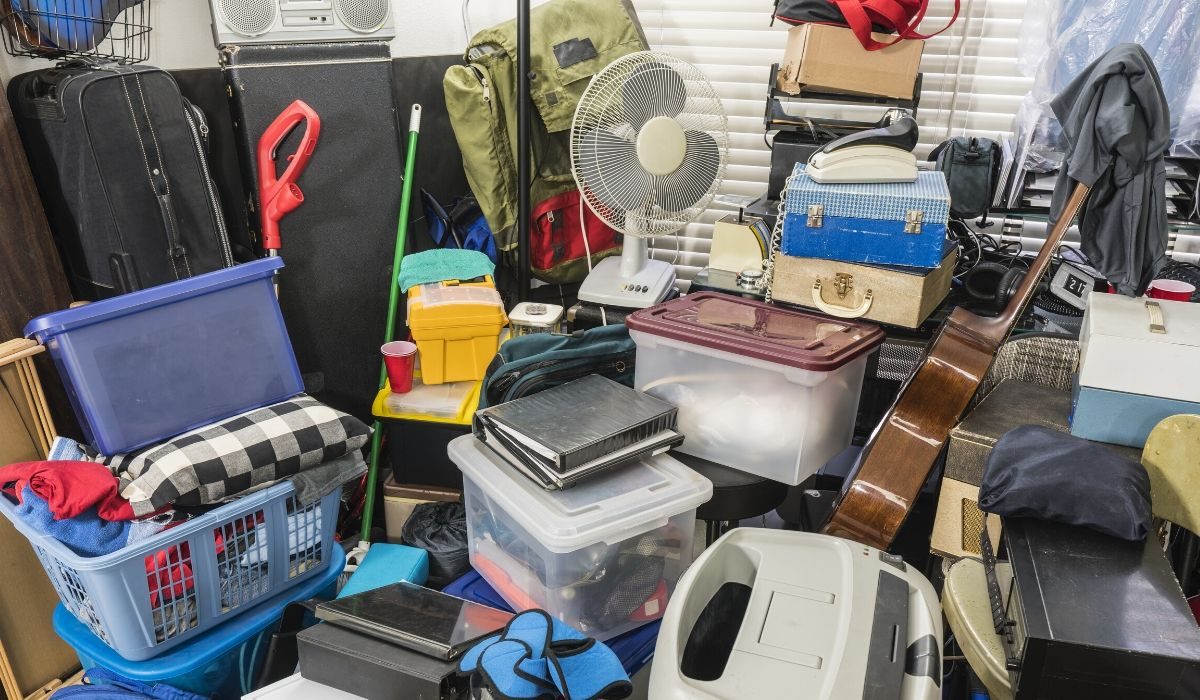 Disclaimer: I am neither a doctor nor a mental health professional. Please do not take the information contained in this post as medical advice. If you or someone you love suffers from hoarding disorder, I urge you to seek treatment today.
WHY PEOPLE HOARD
Ultimately, people hoard out of fear. Fear that they may need a specific item 'one day' and when that day comes, they worry that they may not be able to afford to replace the item or that it won't be available for them to purchase.
Some people hoard information in the form of books, papers, receipts, etc. out of fear that if they were to part with the item, then the information would be lost forever.
Other people begin hoarding in response to a traumatic life event such as the death of a loved one (where they often inherit their belongings), a divorce, or a sudden loss of one's personal possessions due to a natural disaster.
Hoarders experience elevated levels of stress and anxiety when faced with discarding items; this anxiety, coupled with a crippling fear of making the wrong decisions about which items to keep versus which to discard, often results in homes filled to the brim with clutter in the form of trash, neglected collections, mountains of clothes, and countertops full of expired food and dirty dishes.
UNIQUE CHALLENGES HOARDERS FACE WHEN DECLUTTERING
Decluttering is different for hoarders.
The fairy-tale scenario of removing all of one's belongings from their house and neatly stacking everything on the front lawn, while a cleaning team flutters about scrubbing the empty home, and a team of professional organizers, therapists, and junk removers help declutter and sort the curated piles before expertly organizing the surviving treasures back into the home all within an hour's time only works in tv land.
Hoarders face unique challenges and obstacles with it comes to organizing and decluttering their homes. The standard decluttering tips of one-in-one-out, get rid of anything you haven't used in a year, and remove duplicates simply won't work with a hoarder.
Why the 'if you haven't used it in a year, donate it' rule doesn't apply to hoarders, packrats, and clutterbugs. The reality is, most hoarders have piles of items that haven't seen the light of day in a decade or more, so asking them to give up their 'latest' treasures is bound to trigger their anxiety which will shut down any decluttering attempts.
Why the one-in-one-out rule doesn't work with hoarders. They'd need to change the math to zero-in-fifty-out in order for decluttering to be effective. And, let's face it, expecting someone with a hoarding disorder to NEVER bring another item into their home simply isn't realistic.
Why the 'get rid of duplicates' rule doesn't apply to hoarders. Duplicates? Of course, there will be duplicates in a hoarder's home! There's no point in trying to convince a hoarder to let go of duplicates. The mandate of "You have fifty spatulas, get rid of all but one," would likely send the average hoarder into a full-blown anxiety attack. It's simply too much to expect of them all at once.
It's important to remember that hoarders (as well as some packrats and clutterbugs) have immense difficulty making decisions. Every single piece of clutter in a hoarder's home serves as a constant reminder of a wrong (or potentially wrong) decision.
On one hand, a hoarder will beat himself up for purchasing yet another unnecessary item. On the other, he'll refuse to give it up because he 'might need it someday'.
LEVELS OF HOARDING
Can you be just a 'little bit' of a hoarder? Turns out, you can.
According to the Institute for Challenging Disorganization, there are 5 levels of hoarding:
Level One- All doors, windows, and stairs are usable. Plumbing, HVAC, electrical in working order. All rooms are able to be utilized. No excessive clutter. Home contains working smoke detectors and carbon monoxide detectors. No evidence of pests.
Level Two- One major exit blocked. One major appliance, HVAC, or plumbing not in working condition during season needed. No functional fire or CO detectors. Pet waste can be detected by sight or smell. Light-medium evidence of pests. Odors present from dirty dishes, mildew, and/or garbage cans. Clutter prevents some key living areas from being utilized properly.
Level Three- The exterior of the home is cluttered with items normally kept indoors. One area of home contains light structural damage which has been present for at least 6 months. Plumbing, electrical, and/or HVAC not working for longer than one season. Animals poorly cared for. Evidence of pests/spider webs. Clutter prevents key living areas from being functional. Clutter is piled up around key travel paths within the home. At least one room is unable to be used due to clutter. Large quantities of foul odors present.
Level Four- All of the above plus: Structural damage due to leaking or broken pipes, backed-up sewer, and broken windows. Animals not taken care of within ordinances. Pests clearly heard and seen including spiders, mice/rats, cockroaches, fleas, etc. Clutter blocks exits. Key living spaces are so cluttered they have limited accessibility. Rotting food present. Dishes and utensils are unusable.
Level Five- All of the above plus: Excessive outdoor foliage. Broken-down machinery on property. Living spaces are unusable. Rooms cannot be used for their intended purpose. Pest infestation is present in the home. Toilets, sinks, tubs are not in working order. Clutter has created hazardous conditions throughout the home. Human waste is present. Home has become a health hazard.
10 DECLUTTERING TIPS FOR HOARDERS
Clutter has a way of multiplying when we aren't looking. It piles up secretly, behind closed doors. For hoarders, (or people with hoarding tendencies), clutter often takes the form of trash, broken and unusable objects, or collections gone wild.
A hoarder's home is rarely just a little bit messy. It's often unsafe, unsanitary, and, in some cases, unlivable.
Here are 10 decluttering tips for hoarders that actually work.
1.) GET HELP
Help for hoarders can come in many forms. First and foremost, if you suspect you (or someone close to you) is a hoarder, please seek counseling. Having a professional, licensed counselor on your side will allow you to process the grief of letting things go in a healthy way.
Once you've secured a counselor, you should find a trusted person (or people), whether it's a spouse, friend, or another family member who can help with the decluttering process.
It's important to know that you are not in this alone! People will help if you reach out to them.
2.) STOP THE INFLOW OF STUFF
As I said before, expecting a hoarder to completely stop the inflow of stuff is unrealistic and has the potential to backfire in the form of binge shopping sprees.
Instead, if you or someone you love is a hoarder, the goal should be to simply rid your home of more items than you bring in. Aim for more decluttering days and fewer shopping days.
3.) START SMALL
As tempting as it may be to want to 'help' a hoarder by decluttering their entire home in a weekend, doing so could cause PTSD-like symptoms which could result in a rapid escalation of hoarder tendencies.
Even if you're an 'all-or-nothing' kind of person (I can relate), it's important to take baby steps (one tabletop, one corner of a room, one drawer) in the beginning in order to maintain the momentum.
Work inch by inch, then foot by foot, and finally, room by room until you reach your goals.
4.) CLEAR A PATH
The first thing you should do when decluttering a hoarder's home is to clear walking paths leading to and from the key living areas in the home. These key areas are the kitchen, bathrooms, and sleeping areas.
Safe navigation is vital when decluttering. After all, you won't be able to clear the clutter until you can actually get to the clutter.
5.) START WITH TRASH
This is where family and friends can be helpful to a hoarder. Many hoarders do not trust other people to touch their stuff. They fear things will be thrown out without their knowledge, or even 'stolen' out from under them.
If you are helping a hoarder declutter, start by asking them for their permission to discard items that are clearly trash such as empty cans, food wrappers, and used paper towels.
This will not only build trust between you and them, but it will also free-up the homeowner so they can focus on decluttering more sentimental items.
6.) FOCUS ON SAFETY
The most critical areas to declutter in a hoarder (or packrat's) home are the kitchen, bathrooms, and sleeping areas. Equally as important is to clear safe pathways required to travel back and forth from these spaces.
If you are helping a hoarder declutter remind them that the ultimate goal is not to get rid of all of their stuff, it's to make their home safe for them to live in. As such, they need a kitchen clean and uncluttered enough to prepare meals in, a functioning bathroom for hygiene purposes, and somewhere safe and clean to sleep.
7.) STAY MOTIVATED
The best way to stay motivated when decluttering is to limit the amount of time spent on each decluttering session. It can help to set a timer and work in 15-minute increments several days in a row rather than having a single marathon decluttering session after which you are too exhausted to continue for several more days.
Another way to stay motivated as you declutter is to take before and after photos. This will help you visually track your progress which is extremely rewarding.
Decluttering doesn't have to be boring! You can listen to uplifting music, take frequent breaks, or treat yourself to a favorite beverage (wine, anyone?).
Challenge yourself to declutter a certain number of items in a set period of time, play a game and declutter only blue items…or purple…or white, be creative while you work as long as it helps you stay motivated.
8.) STAY FOCUSED
Many people with clutter issues also suffer from attention deficiencies. Meaning, it's harder for them to stay focused than it is for the average person.
The best way to deal with distractions is to turn off notifications on your phone, avoid watching tv while you declutter, and make quick decisions as you sort. Do NOT allow yourself a 'maybe' pile!
The words 'maybe' and 'one day' should be avoided at all costs when decluttering!
Also, make a point to donate and discard items immediately after the completion of a decluttering session. Remove them from the home ASAP.
When you come across a valuable item you wish to sell, place it in a separate box to be priced and listed at a later time. Seal the box at the end of the session in order to avoid reclaiming any of its contents.
9.) GIVE YOURSELF GRACE
You didn't wake up to a cluttered home overnight. Therefore, you shouldn't expect the clutter to disappear overnight.
When it comes to eliminating clutter from your home, cut yourself some slack.
Don't let feelings of guilt, remorse, or anger stop you from decluttering. These are all perfectly normal, expected responses which absolutely should be felt, however, be cautious not to dwell on them or they can quickly become stumbling blocks.
If you find yourself unable to make decisions, take a brief break. Walk around the block to clear your head. Then, begin again when you are ready.
10.) HIRE A PROFESSIONAL
When all else fails, you may want to hire a professional to declutter your home. This is especially helpful if the home poses a health hazard or is structurally unsound.
The average cost to clear and clean a hoarder's home varies depending on the amount of clutter, the location of the home, as well as the overall safety of the home.
The average cost for clutter removal with 1-800-GOT-JUNK is between $140-$500. Level 4 & 5 hoarder homes require special equipment and a biohazard crew may be necessary. The average cost of a biohazard cleanup can range between $3,000-$5,000.
It's important to know that waste removal often does not include professional cleaning for hoarder homes. Expect to pay above the going rate for a professional house cleaner in your area for a deep, thorough cleaning.
I truly hope these decluttering tips for hoarders have been an encouragement to you. If you or someone you love is a hoarder, there is hope!
MORE DECLUTTER & ORGANIZE TIPS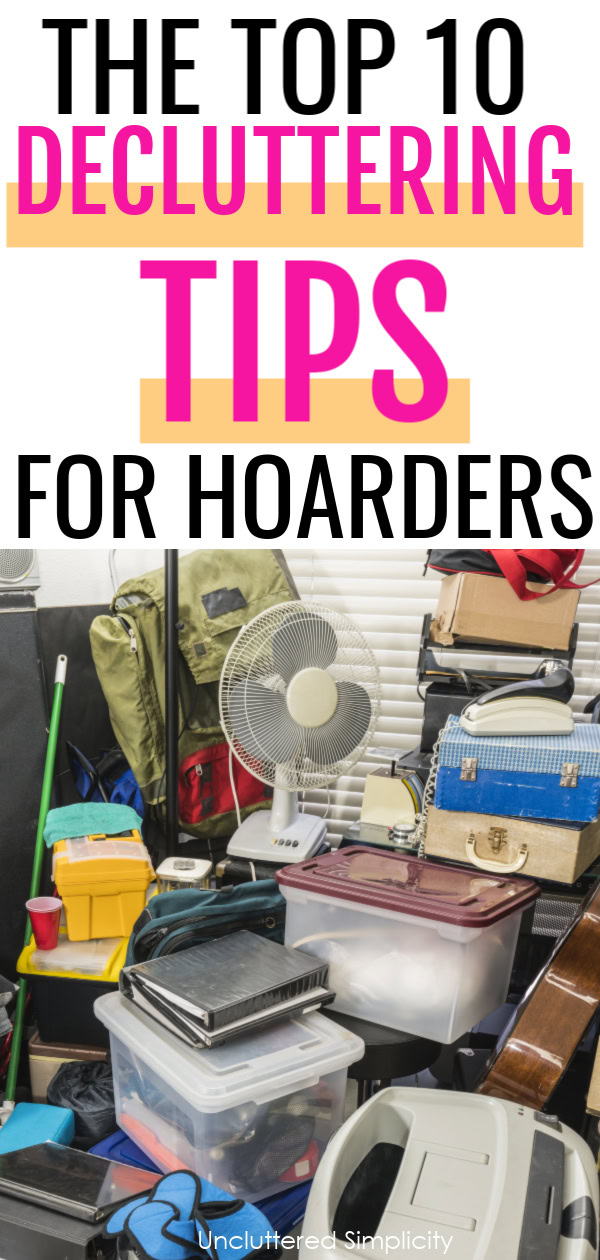 «
Free Printable May Calendars For 2020
»
20 Dollar Store Organizing Ideas For Your Entire Home