Do you struggle with decluttering electronics? All the old televisions, mobile phones, personal computers, video and music players that have somehow found their way into your home but never left when replaced by newer models? And what about the endless amounts of unused cords you've accumulated during the years? Here you'll find 10 steps to declutter electronics safely.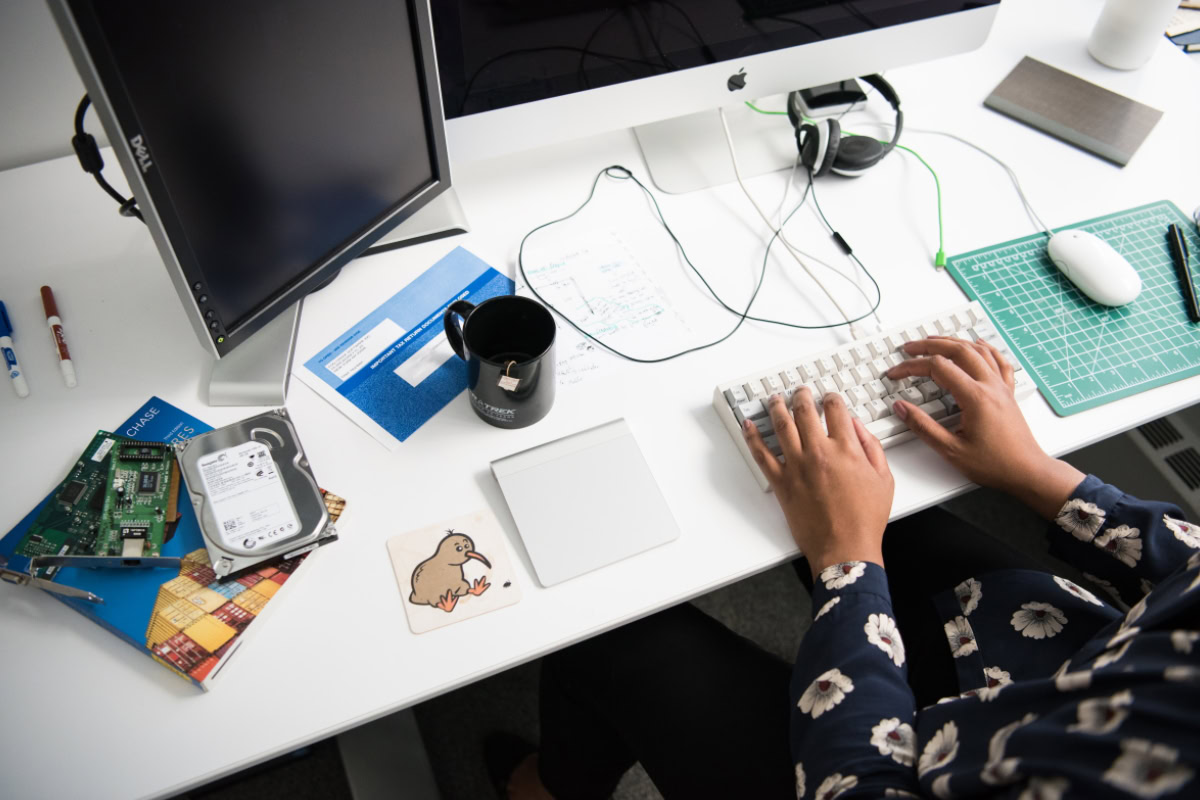 10 Steps To Declutter Electronics
To be honest, I have made attempts to declutter and organize my electronic and tech devices over the years. But more than once I've lost my nerve halfway through the process.
Because frankly, I didn't always know which cord was for which device. Nor how to dispose of the sensitive data stored in and on these devices (you don't want your kids pictures found on a shadowy website because someone decided to rummage through the stuff you discarded). So I've procrastinated for a long time before finally doing something about it. Do you want to get started as well?
First things first: prepare yourself. Because the REAL first step to declutter electronics is to mentally and physically prepare yourself.
Grab yourself a nice drink, put on some comfy clothes and play your favorite music. If you have children, make sure they are at school, in bed for the night, or see if someone can entertain them while you work. Your schedule needs to be cleared.
Note: If dinner needs to be on the table sometime soon, be prepared to order take-out or wait until another time to begin this process.
1) Collect all electronics in your home
After preparing, the next step is to collect all electronic devices from all your closets, drawers and other storage spaces such as your junk drawer, and place them in an open area.
This is an essential step in your decluttering process and is part of the Shock Treatment Declutter Method. It aims to help you realise you don't ever want to return to such a moment. You might feel shocked at the sight of it all.
You might also experience feelings of regret (for the money wasted) and amazement (where did it all come from). These feelings are perfectly normal and it is vital that you allow yourself to feel them.
So let's get to it! To help you with this step, I'll give you some examples of what I mean by electronic devices:
Laptops
Personal computers
Mobile phones (and earphones)
Wireless speakers or other home sound systems
E-readers
Headphones
Printers (and cartridges)
Routers, switches and such
Televisions
CD/DVD/Blu-ray-players
MP3-players
Radio's
(Vintage) turntables
Cables and cords for all of these items (nowadays most are wireless but you get the idea).
HOW DO YOU FEEL?
Did this essential step overwhelm you? Allow yourself to be amazed at the large amount of electronic devices residing in your home. Now take a deep breath and focus on the fact that you're about to do something about it…
2) Set aside devices and cords you use on a daily basis
After eyeing the whole pile of electronics, you may want to 'save' all of the electronic devices you use on a daily basis.
For example, your mobile phone and those of your family members, laptops, tablets, home sound system and such.
The only requirement is that you be honest about the daily usage of each item. See? That was easy. You've now taken the first step in deciding what to keep and what to discard, well done!
3) Are you dealing with junk?
The next step is also not too hard, but you might want to bring in an extension cord.
You now have to check if you're dealing with junk: if a device is broken, (partly) disfunctional or ugly due to traces of use, it's junk… Put these items in the 'junk' pile.
If a screen on a device stays black, you might want to find its adapter first in order to determine whether you're just dealing with a low battery or if the device is broken altogether.
4) Decide what to keep and/or discard
After these first and rather easy steps, the next step might be slightly harder to take. You now have to ruthlessly eliminate anything you don't need, use, or love.
For some practical guidelines to help you decide, check out these Questions To Ask When Decluttering (that aren't Does It Spark Joy?).
My preferred method of decluttering requires you to gather all items of a certain category together, sort into like subgroups, then declutter the items in each subgroup.
5) Sort into 6 categories
To begin this step, you'll need five boxes or bags for the items you will be parting with, as well as one box or bag for the electronics you'll decide to keep.
One thing about cords: they push my buttons like nothing else…. they are everywhere! Why are there so many different types? The easy part is to immediately spot the ones that are still wrapped or packaged, because if you've never used them, you likely don't need them.
Therefore, you can put them on the junk pile asap (together with all the accompanying instruction papers).
Keep – because you either need, use or love it.
Some really creative (and affordable) ways to organize cords and electronics:
*Click here for some of the Best Home Organization Products available on Amazon. Your goal for organizing your new space should be to have it serve your needs. Your home does not need to be Instagram or Pinterest-worthy! It simply needs to be worthy of you.
2. Check – with the owner: your partner or child, especially when the stuff belongs to them!
3. Do Something First – all devices that need to be cleared of sensitive, sentimental, financial or other personal data.
4. Donate – take a moment to consider sentimental items or those that were expensive, as these might be useful for somebody else. Check with your friends and family members to see if they can use the item before donating it to a donation center.
5. Sell – these items you plan to sell through consignment, yard sale, or an internet site.
6. Junk – anything that's broken, disfunctional, ugly or really, (really!) old fashioned.
6) Double check with the owner
Put anything you don't recognize, you can't figure out, or anything that's not yours, on the 'check' pile.
Ask the owner (your partner, child, neighbour, friend etc.) what to do with it. Before you ask your man (or any man) for help, check out the 10 Ways to Get A Man To Help You, so you'll get the best results.
7) Re-evaluate your keep pile
Well done! You've created some sort of order out of the chaos.
One of the hardest parts of decluttering your belongings is parting with sentimental items. You probably found a few of these items going through step 1 to 5, am I right?
The good news is, you already started parting with sentimental items while picking them up, traveling down memory lane and deciding on which items to keep.
Now, you will need to go through your 'keep' pile and re-evaluate each item. Check these practical Questions To Ask When Decluttering if that helps.
8. Do something first
When you stumble upon a personal computer, laptop or old mobile phone you want to dispose of (or in my case many of them), you'll first want to take a few steps to safeguard the sensitive information stored on them.
This is especially the case when you want to sell your device or donate it to another person. I am no techie, but my husband is so you might consider asking for help in this particular department just like I did.
Mobile phones
Online there are many interesting tips on how to sell or discard mobile phones. To sum it up: before you dispose of it, you'll have to back up all of your important data, wipe it and reset it. After that, you can either sell or donate it or put it on the 'junk' pile to recycle it.
Personal computers and laptops
If you would like to sell or donate: save and backup important files, wipe your hard drive clean by deleting files and overwriting them, delete your browser history, uninstall programs, and deauthorize your computer.
If you want to recycle: just take out the hard drive (you'll have to unscrew the casing off the device and locate the hard drive). You can either store the little box or you can destroy it by demolishing it with a hammer. Let me tell you, nothing is more satisfying…
Ways to donate or sell
Ask if anyone else in the family wants the item.
Donate to your local preservation society.
Donate to thrift stores such as Salvation Army or Goodwill (often, larger thrift stores will pick up items for free).
Donate the items to a charity auction.
Sell items via classifieds, eBay, Amazon, Facebook, or Craigslist.
Have a Yard Sale (here you'll find 10 Yard Sale Tips to make this a success).
Now last but not least: what to do with the 'junk' pile?
The best way to dispose of your electronic devices and cables is to recycle them. Many items contain toxic substances that will harm the environment when just thrown away. If you recycle them, valuable parts will be harvested and re-used.
You can check out your local Solid Waste Authority for tips on how to recycle electronic devices and cables in your town.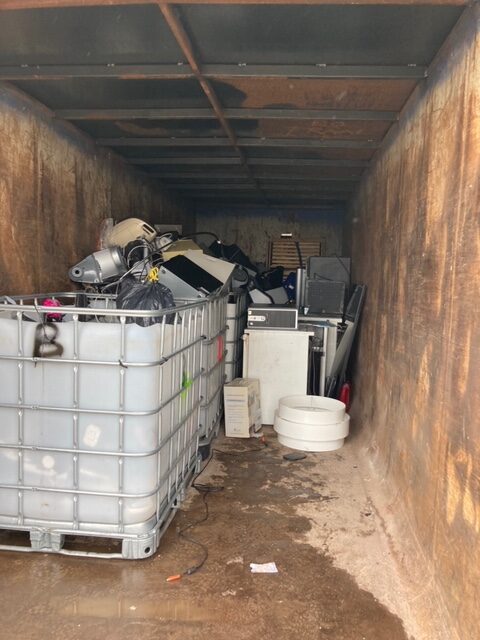 10. Treat yourself
This is my favorite part! Treat yourself to some nice storage boxes for the items you've decided to keep. 
Declutter electronics…all done!
So, how did it go? You will now have so much extra space in your home.
Take a moment to appreciate all that you've done, and all of the extra space you've created that's now available for the things in life that really matter to you and your family.
The key now will be to maintain your electronic clutter free home.
When a new electronic device suddenly appears in your home seemingly out of nowhere – in my case the usual suspect is my husband but it could also be from your child(ren) – ask yourself these three questions:
Which parts do you need on a daily basis? Store those in an easy accessible place.
Which parts will not be used? Store these only if you use the parts in the next three months. If not, check if you can dispose of it.
Is a device replaced by another, newer model? Check step 8!
---
MORE DECLUTTER & ORGANIZE TIPS
«
20 Dollar Store Organizing Ideas For Your Entire Home
»
Organizing Jewelry Like A Queen: 5 Simple Steps