Do you recognize this? You receive mail but instead of opening it, you place it on the big pile of papers already there. You don't read messages and e-mails, you forget about automatic debits. The stack of magazines, leaflets but also important papers and bills on your desk keeps getting higher and higher. How to organize important papers and bills if you can't find them anywhere?
Although you will often intend to clean up your paper clutter, you really dread it and go do something else. That is why the pile of paper and mail remains and emails disappear at the bottom of your mailbox without ever reading them.
If you feel ashamed reading this, don't worry, you are not alone! This scenario is a reality for many people and has been my own reality for many years. But this situation can be very annoying because it can lead to unpleasant surprises such as payment arrears, missed appointments, or higher interests. Or you forget things that you would like to have arranged anyway.
Fortunately, you can quickly solve this by organizing your important papers and bills, which is easier than it initially seems. So don't put it off any longer and start today!
Pin for later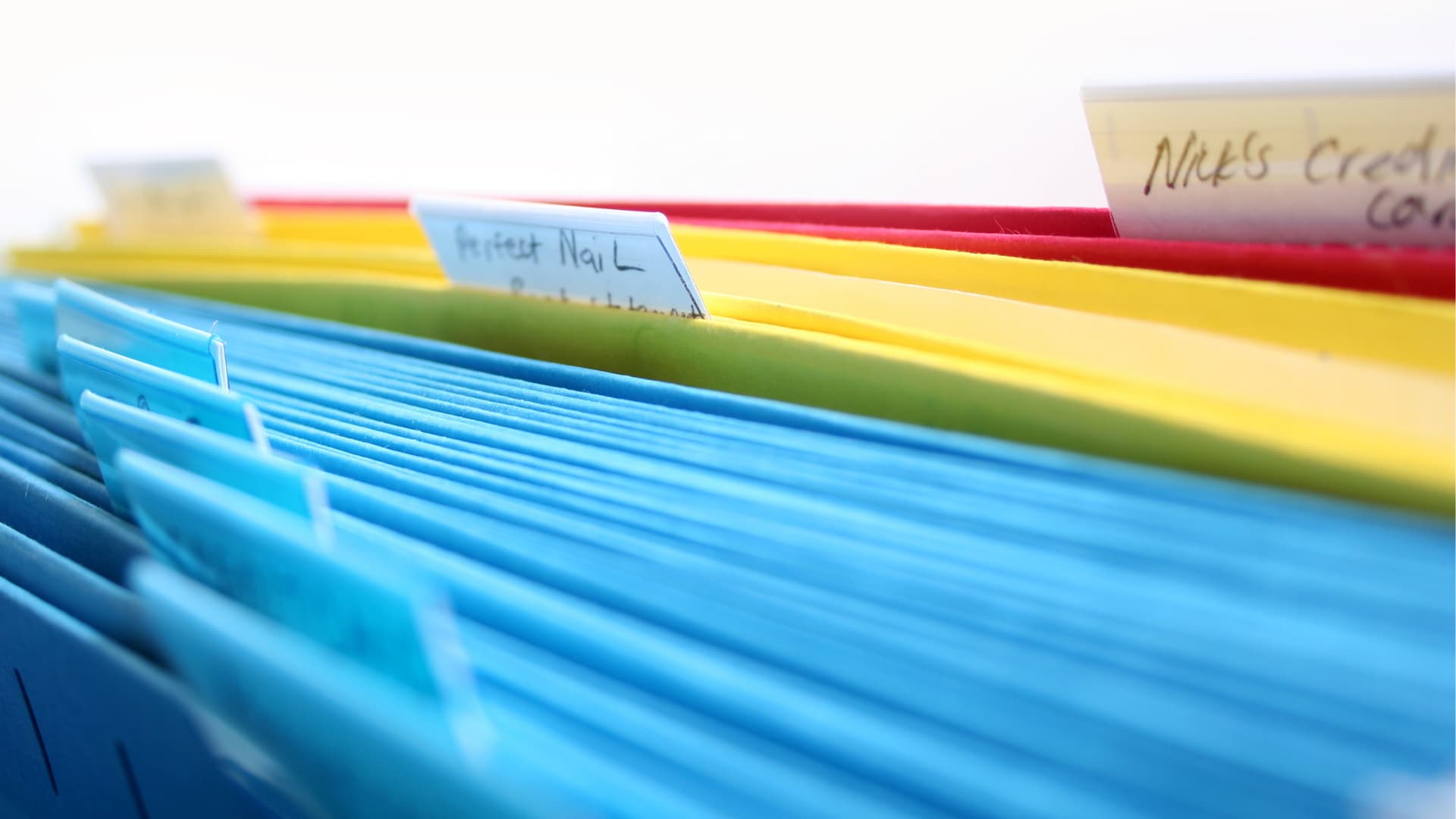 How To Organize Important Papers And Bills
The greatest advantage of good management of your important papers and bills is that you keep an overview of your income, expenses, bills, requests, and taxes. Administration may not sound very exciting, but creating some order in your paper chaos, will bring you peace. And everyone can learn how to do this. I will tell you how in this post!
Step 1: Categorize All Your Papers And Incoming Mail
The first step in tackling your paper clutter is to collect all the papers in your home. Search every room, every desk and bring every pile of paper to one place where you can sort things out. Put everything on a big pile and add your latest incoming mail to it. All kinds of leaflets, cards, newspapers, and magazines come in at the same time as your important letters and bills. They are all certainly interesting, but most of your mail doesn't belong in your administration. Start by taking out all magazines, newspapers and advertising leaflets. You will instantly notice that your pile is a lot smaller!
Related Articles On Paper Clutter Organization
Tip!
If you notice that you often receive mail you don't care for (like advertising leaflets or a newspaper you no longer read), you can place a polite "No Junk Mail" sticker on your letterbox to notify your mailman you no longer want to receive those. Check out this No Junk Mail sticker. This selection at the door will save you lots of time later.
Tip!
If you find it difficult to start sorting your pile of paper, you can ask a friend or family member to support you. Especially starting this whole process can be difficult and it can be nice if someone is there to support you. Keep in mind that once your administration is neatly sorted, it is very easy to keep it up to date!
Step 2: Make A Plan
How would you like to organize your important papers and bills?
You can organize every category by first using a name tag in alphabetical order and secondly by date.
But you can also create separate folders for banks, insurances, taxes, income, and so on. I recommend this way of organizing, since you don't always remember the name of a specific company, but you always know the category you're looking for.
Step 3: Sort Paper Per Topic
Whichever filing system you choose, you start by sorting paper per topic as mentioned below. Put every category on a separate pile.
Taxes (assessments, refunds, and returns)
Subscriptions (gym, magazines)
Charities (gifts, sponsorships)
Home (rental agreement, purchase agreement, mortgage, purchase, and mortgage deeds)
Bank (credit cards, account information, annual statements, paid loan statements)
Transportation (license information, paid vehicle titles)
Insurance (policies, liability insurance, health insurance)
Utility statements (energy, water, telephone, internet, maintenance)
Income (pay stubs, employment contracts)
Study (diplomas, certificates, trainee agreements)
Guarantee certificates and proof of purchase for large and more expensive purchases (such as your car, a bicycle, a computer or laptop, your washing machine, dryer, refrigerator).
Tip!
If you're wondering how long you'll have to keep certain important papers and bills, please take a look at this schedule. I created this graphic to help you remember what papers you should hold onto and how long you need to keep them.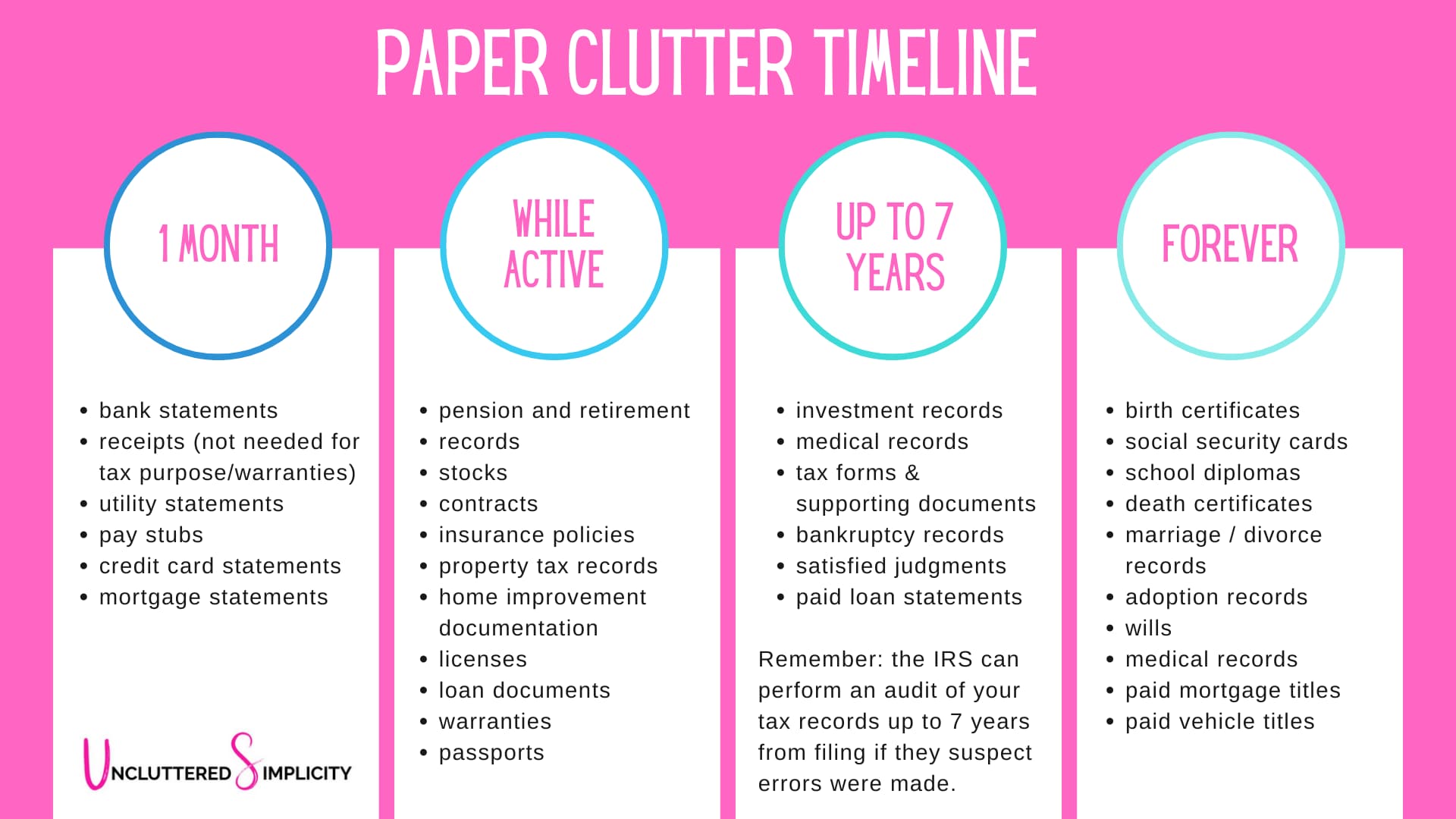 Storage Solutions For Important Papers
Step 4: Archiving Magazines And Newspapers
You can archive magazines, newspapers, or certain articles that you would like to keep in a storage box or binder. You can also store cards or other keepsake memories the same way.
Related Articles On Card Organization And Keepsake Memories

Step 5: Organizing Newly Arrived Mail

Decide for yourself what works best for you, keeping in mind that items should be easy for you to locate. When new mail arrives, you can deal with it immediately and put it in it's specific folder. This way your administration remains neatly organized in the future. Your pile of mail is finally gone and you will undoubtedly have a much better overview of your important papers and bills. This will get you a long way on the right track. Now everything is located in physical or digital folders and new mail goes directly in there.
Have you tried the Cozi App? It's one of the best tools available to help you declutter paper. AND, it's FREE! Click here to check it out.
Step 6: Schedule And Plan

In addition to sorting your mail, it is important to plan the payments you need to make and the things you need to take care of. A few examples are:
Filing tax returns
Collect a passport
Pay bills
Schedule automatic debits
An invoice usually contains a final payment date. You can use this for timely payment of your bill in order to prevent additional interest. You may use a paper planner or digital calendar to support your planning. The advantage of a digital planner is the option to enter reminders in order to receive a notification when your payment date is due. If you don't receive notifications, it is important to consult your agenda regularly.
Household Bill-Butler – Buy on Amazon
Erin Condren Budget Book – Buy on Amazon
Simplified Planner by Emily Ley – Buy on Amazon
The Happy Planner Kit – Wealth & Budget Theme – Buy on Amazon
Tip!
Station your (paper) planner in a place you often visit, for example, your kitchen counter. Train yourself to look into it every day. That way you don't forget anything and you stay on top of things. Another way to schedule is by using a whiteboard or perhaps by creating a hidden command center in one of your kitchen cabinets. This way all family members will have an overview of appointments and planned activities.
Bonus: Overview Of Income And Expenditures
Do you find it difficult to keep an overview of your income and expenditure? A ledger might also be helpful. How does it work?
Record Income & Expenses – Buy on Amazon
Basically, you put your income next to your expenses. Your income may consist of salary, benefits, study allowance, tax refunds, or child benefits.
In addition to all income, you list your expenses. You include fixed expenses such as insurance, utility expenses (water, energy, electricity), subscriptions, and taxes.
And finally, you list your daily or weekly expenses on groceries, clothing, hairdresser, medicines, children, pets, and so on.
If you have listed your income and expenses next to each other, you can immediately see what your spending pattern is. And what adjustments you may need to better balance your income and expenses.
Simple Saving Tips To Balance Income And Expenses
Find out which supermarket in your neighborhood is the cheapest. Do the majority of your shopping there. If you have to spend too much extra gas for this trip, choose a supermarket closer to your home (that is still cheaper than the one closest to you).
Buy your fruit and vegetables at a local farmers' market.
Cook bigger meals and make good use of your freezer.
Don't go shopping when you're hungry. You'll tend to buy more when you have an appetite.
Keep an eye on special offers and product promotions. If it's an offer on a product you regularly use, try to buy in bulk (and yes, you initially need more money to do so, but in the end you will have a better price per product).
Only wash your clothes when they're dirty. Usually, it's unnecessary to wash your clothes after wearing them once. Collect laundry until you have a full drum and measure your laundry detergent.
How To Organize Important Papers And Bills – Wrap Up
Hopefully, I've given you some practical tips on how to organize important papers and bills. Do let me know of your experiments in the comments section below!
Want More Tips On Paper Decluttering?
Are you really excited about organizing paper in your home? Check out these articles!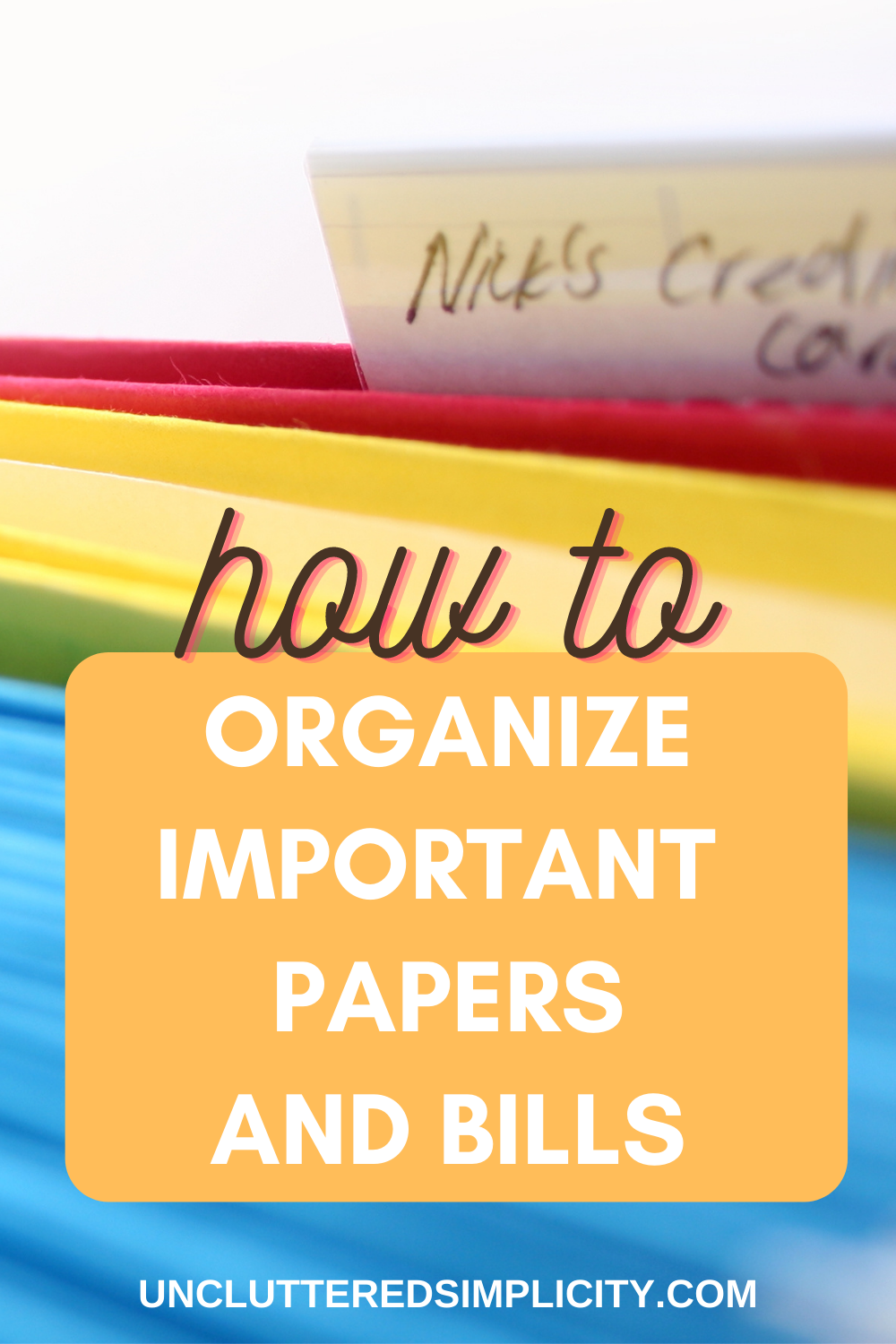 «
Cómo Organizar los Cinturones - 11 Ideas Brillantes
»
The Best Planners And Organizers For 2023 (With Reviews)