Start a bullet journal they said. All you need is a notebook and a pen, they promised. It will be easy. Yeah right. They failed to tell me I'd have to have to master the art of penmanship, purchase a bunch of art supplies, and spend hours of my day figuring out the bullet journal system. No thank you. I think I'll just stick to using my iPad and whatever scrap paper I find lying around.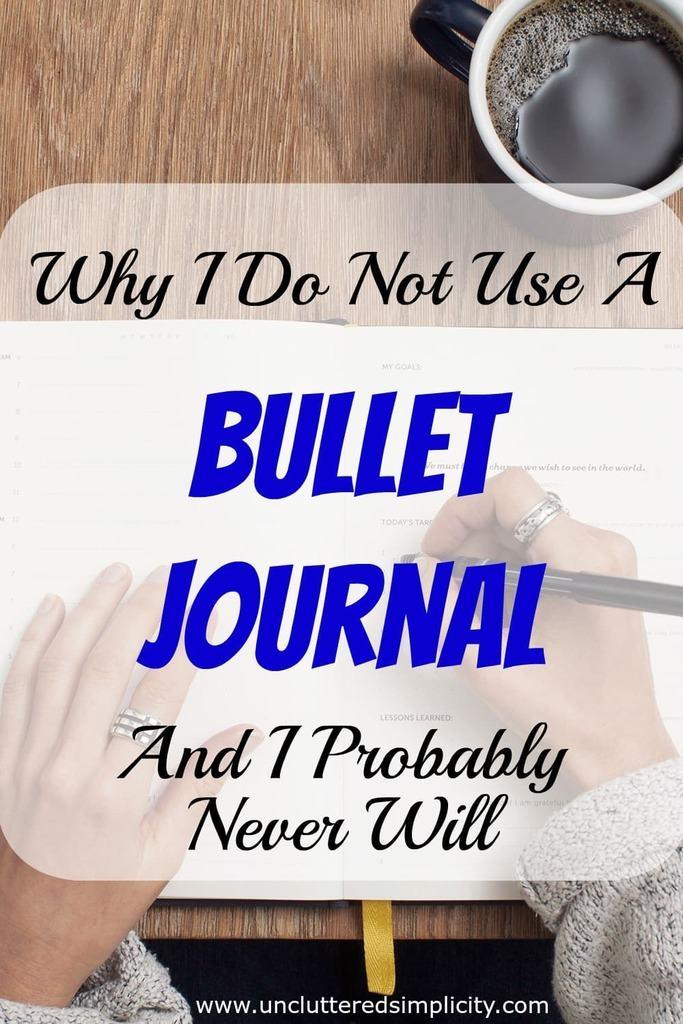 What the heck is a bullet journal?
In case you somehow missed all the hype, a bullet journal is actually a variety of things all contained in a single notebook. A bullet journal can be used for to-do lists, a day planner, diary, art book, a place for inspiration and more. I encourage you to browse Pinterest, YouTube as well as Instagram for all the information you'll ever need about bullet journals. Really, on Instagram alone, there are over 500,000 #bulletjournal posts. There are thousands of ways you can customize pages in a bullet journal. You can have pages for monthly budgets, grocery lists, errands to run, goals to achieve, favorite Bible verses, inspirational quotes, bucket lists, etc. The possibilities are endless.
Why I have been unable to convince myself to use a bullet journal
The main reason I haven't hopped on the bullet journal express is due to the fact that I am a minimalist. While I am sure there are many minimalists who use bullet journals, I cannot be one of them. You see, one of the reasons I turned to minimalism is because of my personality. I am an all or nothing kind of person. If I am going to do something, I am going to do it right. Which means a simple notebook and pen will not do. Oh no, I would need to purchase every art supply known to man before I even attempted to start a bullet journal. I'd buy a multitude of markers, highlighters, gel pens, watercolor paints, stamping supplies, stickers, as well as notebooks. In case I messed up the first one.
The cost of these items alone would be enough to send my budget of a financial cliff. Just thinking about how much I spend on school supplies each year is enough to bring a tear to my eye. Imagine if I had to have $200 worth of supplies in order to create my very own bullet journal.
Also, the fact that I am a minimalist prevents me from wanting to fill my home with clutter. Clutter stresses me out. Say I went ahead and purchased everything I (thought) I would need for my journal. Then, I would have to find somewhere in my small home to put it all. More than likely I would have to acquire some storage containers so I could keep everything all neat and tidy.
My heart is starting to race just thinking about it.
There are only so many hours in a day
Another reason I do not use a bullet journal is that (again because of my personality), I would end up spending hours upon hours each day trying to make it absolutely perfect. I just know I would waste hours of my precious time scanning Pinterest for ideas on what pages to include in my journal, which colors I should use, and how other people use their planners.
As a result, I would waste all of my time "planning" and would have little time left over for "doing".
Between homeschooling, blogging, cooking, cleaning, and everything else that comes with being a wife and mom, I simply do not have the time for a bullet journal. And I am not interested in it enough to want to make time for it.
I'm organized, but not THAT organized
I consider myself to be a rather organized person. I try to stay on top of the things that need to be done (to the best of my ability). In fact, I know where everything is in my home. (I really do). I've watched more than my fair share of YouTube videos on how to properly utilize a bullet journal. And, oh my goodness! It's stinking complicated!
There are special symbols you need to use to represent whether you've completed a task, moved it to another day, or otherwise altered it in some way. You'll need to create an index, as well as daily, monthly, and yearly log pages. And there's more. So much more.
When I have something I need to get done, I write it on the dry-erase calendar on my refrigerator. When I have finished the task, I erase it. Sometimes, I use the "notes" feature on my iPhone or iPad. I use bits and pieces of scrap paper to jot down my groceries list as well as errands that need to be run. Then, I toss them in the trash when I am done. When I am feeling really lazy, I'll say, "Hey, Siri remind me to…"
My handwriting stinks
The final reason I cannot use a bullet journal is that my art skills are lacking and I have really ugly handwriting. Honestly, I am not just saying that. When I was in elementary school (the prime time for perfecting one's handwriting), I was hospitalized for an extended period of time. No big deal, right? I could have just done my schoolwork while I was in the hospital. Except for the fact that the nurse put the obtrusive IV in my right arm. AND I am right-handed. I begged her to put it in my left arm, but she apparently liked the veins in my dominate hand better.
Upon my release from the hospital and subsequent recovery, I fell way behind in my handwriting practice. Eventually, I was able to make-up all of my schoolwork, but the damage to my penmanship was already done.
It's not surprising, then, that I now prefer the keyboard over the pencil.
If you like to use bullet journals, I support you
If you absolutely love bullet journals and you feel you would be lost without yours, I fully support your decision to use one. I actually enjoy seeing other people flex their "creative" muscles. In fact, I have an entire Pinterest board dedicated to all things bullet journal.
I just don't see myself purchasing hundreds of dollars worth of art supplies, spending hours of my time, or endeavoring to make my handwriting legible enough so that I can even read it. At least, not anytime soon.
READ MORE:
«
How Do You Know If You're A Hoarder? 20 Symptoms of Hoarding Disorder
»
How To Be Content No Matter What Life Throws At You